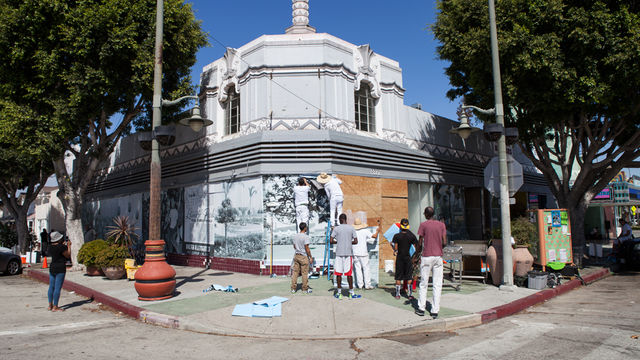 Program Series
Art + Practice
Art + Practice Foundation
(A+P), a new art and social service organization in Leimert Park, was created by the artist Mark Bradford, the philanthropist and collector Eileen Harris Norton, and the social activist Allan DiCastro. The Hammer, with support from the James Irvine Foundation, is developing a model for collaborative, offsite arts programming with A+P through July 2016. 
Learn more about the partnership
.
Art + Practice is located at 4339 Leimert Boulevard, Los Angeles, CA 90008.
Hours: Tuesday-Saturday 11 a.m.–6 p.m.
Art + Practice and Hammer Museum partnership
11/20/2014---Art + Practice Foundation (A+P), a new art and social service organization in Leimert Park, was created by the artist Mark Bradford, the philanthropist and collector Eileen Harris Norton, and the social activist Allan DiCastro. The Hammer, with support from the James Irvine Foundation, is developing a model for collaborative, offsite arts programming with A+P through fall 2016. http://hammer.ucla.edu/art-practice/