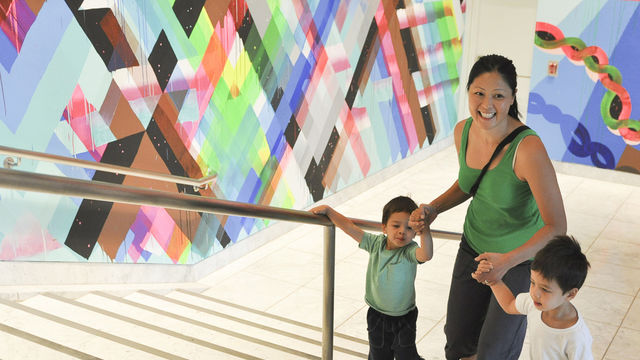 Family Visits
The Hammer is dedicated to providing families with a comfortable and engaging experience for all ages.
We want to help you make the most of your visit. We encourage you to call 310-443-7020 during museum hours for assistance.
Strollers and Bags
Strollers are welcome at the Hammer. You may also bring a diaper bag and front baby carrier into the museum. For safety reasons, backpacks are not permitted. Backpacks and other large carriers may be left at the museum's coat check, located at the welcome desk in the Wilshire Lobby.
Diaper Changing Stations
The restrooms on the courtyard, in the Billy Wilder Theater, and the family restroom on level three are equipped with diaper changing stations.
Take a Break!
When available, enjoy table tennis with the family at the Sound Piece for the Hammer Museum by Machine Project. Younger children may enjoy playing with building blocks, created by architecture firm Marmol Radziner. Feel free to sit and rest in our courtyard or on various benches located around the gallery level.
Drop-Offs
Visitors can be dropped off and picked up at the entrance on Lindbrook Avenue. Located on the north side of the Museum between Westwood Boulevard and Glendon Avenue, this entrance has an accessible ramp up to the courtyard level.
Visitors may also be dropped off in the parking garage underneath the museum, where there is an accessible ramp. Drivers spending less than 10 minutes in the parking garage will not be charged a parking fee. Access the parking garage from Westwood Boulevard during museum hours. The parking entrance on Glendon Avenue is only open on weekdays.
Explore the Neighborhood
There are lots of family-friendly things to do in the neighborhood, including more museums, theaters, and great kid-friendly food.
Search "Westwood for families" online for activities, or enjoy other arts and cultural experiences at UCLA: