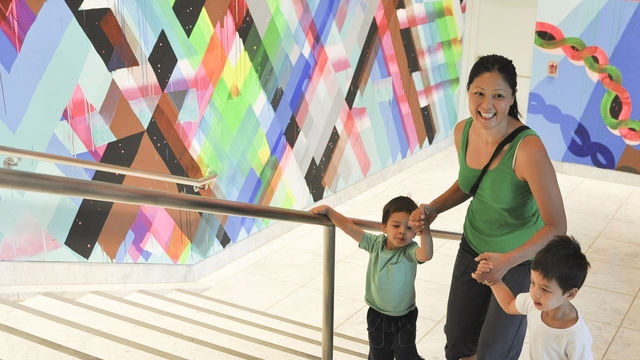 Family Visits
The Hammer is dedicated to providing families with a comfortable and engaging experience for all ages. We want to help you make the most of your visit. We encourage you to call 310-443-7020 during museum hours for assistance.
To ensure safety of all visitors, read our COVID-19 safety guidelines.
Download one of our Family and Teen Guides ahead of your visit to enhance understanding of our exhibitions.
Prepare for Your Visit
We want to help you make the most of your visit. We encourage you to call 310-443-7020 during museum hours for assistance.
Strollers and Bags
Strollers are welcome at the Hammer. You may also bring a diaper bag and front baby carrier into the museum. For safety reasons, backpacks are not permitted. Please note, the Hammer's coat and bag check is currently closed while the museum lobby is under construction. Please leave large purses, bags and backpacks at home or in your car. 
Diaper Changing Stations
The restrooms on the courtyard level and the family restroom on level three are equipped with diaper changing stations. Please note that bathrooms currently have occupancy limits, for visitor safety.
Take a Break!
Feel free to sit and rest in our open courtyard or on various benches located around the gallery level.
There is no permanent seating in the galleries. Portable stools are available upon request and are disinfected before and after each use. Ask any Hammer Ambassador stationed in the galleries.
Drop-Offs
Visitors can be dropped off and picked up at the entrance on Lindbrook Avenue. Located on the north side of the Museum between Westwood Boulevard and Glendon Avenue, this entrance has an accessible ramp up to the courtyard level.
Visitors may also be dropped off in the parking garage underneath the museum, where there is an accessible ramp. Drivers spending less than 10 minutes in the parking garage will not be charged a parking fee. Access the parking garage from Westwood Boulevard during museum hours. The parking entrance on Glendon Avenue is only open on weekdays.
Family and Teen Guides
Enhance understanding of our exhibitions by downloading an educational guide and bringing it with you the next time you visit the Hammer.
Guide to Thomas Heatherwick's Spun Chair (PDF, 1 p., 40KB)
For families and K–12 students and teachers 
This one-page guide lists fun facts and activities to inform your experience of Thomas Heatherwick's Spun Chair. Several chairs are usually placed throughout the Hammer courtyard.
Discovery Guide (PDF, 8 pp., 380KB)
For families and K–12 students and teachers
This guide is designed to help you make meaningful connections to artworks of your own choosing. We encourage you to pick a place in the museum that interests you, and use the prompts provided to discover more about art.
Art Cards (PDF, 2 pp., 36KB)
For K–12 students and teachers
Art Cards is a resource for teachers visiting the museum with their students. These cards will help you facilitate discussions around the artwork in any gallery and foster conversations among classmates.
Make in L.A. (PDF, 10 pp., 2MB)
For grades 6 and up
Take inspiration from Los Angeles artists and foster reflection, discussion, experimentation, and creativity. Learn more about the related exhibition, Made in L.A. 2020. 
Looking for more activities to engage kids with art? View resources created for K–12 teachers.
Looking at Art with Kids
BEFORE YOUR VISIT
Explore the exhibitions page to see what's currently on view. Consider organizing your visit around a theme and just choose a few works of art to look at during your visit. Talk about what the pieces had in common (or didn't!). Try focusing on identity, material, or color, or explore what art is and can be. Wonder what inspired artists and search for your own inspiration.
Old and New: At the Hammer Museum, you'll see artworks made by artists living today and art made hundreds of years ago. Compare works in our Armand Hammer Collection with the Hammer Contemporary Collection. What differences and similarities do you notice? 
Road|View: Don't just keep your eyes on the road for this exercise but look out your car window (when at a stop light, of course). A windshield or window can be a framing device to see the world around you in a new way. What compositions do you see within the frames? What shapes and forms can you see on your commute to the museum?
High-Five! Hold up your hand. Can you name 5 things—one for each finger—that you can do in a museum? You can talk with someone you came with, bring paper to sketch with pencil…what else? While museums can be places of endless adventure, there are a few guidelines to remember. Share snacks and drinks in the courtyard beneath the sunshine and not in the galleries. To preserve art for others to experience, remind kids not to touch artwork (unless you're explicitly asked to). Inform them that natural oils and dirt from our skin can damage artwork.
Print family-friendly activities: Check out our family and teen guides in advance of your visit and bring your favorite activities with you to the museum. (Note: Printed copies of our Discovery Guide are available at the museum.)
DURING YOUR VISIT
Explore Art. When you visit the Hammer, take time to look at a few works of art rather than walking quickly through the galleries. Try the following activities to engage slowly and meaningfully with individual artworks.
Look Together. Explore artworks in the galleries that engage the whole family. Pick up a Discovery Guide when you arrive at the museum or download educational activities on this page in advance of your visit.
What's in a frame?  Stand a few feet away from a work of art and inspect it as if you had a magnifying glass. Then carefully take a few steps back. How does distance affect what you see? Create a framing device by forming a rectangle with your fingers. What more can you notice through the frame?
Movement Aloud. If an artwork made noise, what sounds would you hear? Turn each sound into a movement you can make and see with your body. Find an outdoor scene in the Armand Hammer Collection. How can you move your body to mimic the sound of trees rustling in the wind? What might Paul Gauguin's Bonjour Monsieur Gauguin sound or look like?
Frozen: Find an artwork with something interesting happening. Imagine you just hit pause or that you are a film director and yelling "CUT!" The scene before you is now frozen in time. It's up to you to describe what happened before and what will happen once you press play.
Look Out for Abstract Art. Abstract art uses shapes and colors, rather than familiar images from reality, to express emotions or ideas. Find a work that is abstract. How do you feel when looking at the piece? Where or what is your eye drawn to? Use the work as inspiration for your own abstract artwork. Choose something meaningful to you (your dog, best friend, bed, or a book). Draw what it looks like in real life, and then make it abstract using only shapes and lines.
That's a wrap.  If you could take home one work of art, which would it be and why? Who would you give it to as a surprise present? How would you wrap it? 
AFTER YOUR VISIT
The Stuff of Art: What kind of stuff can art be made from? Artists are constantly inventing new ways to make art, often experimenting with traditional materials or using everyday or found objects. What materials did you see in the galleries? How do materials help tell a story?
Make at Home: Where do artists find inspiration to create? What can you see in a water splotch? All you need to spark your imagination is a cup of water, chalk, and a sunny day. Pour water over concrete. Trace the outline with chalk and use the shape to inspire a drawing. Although the water will evaporate, you can capture your imagination through drawing. 
About Art |Art About: Many artists are interested in what's going on in the world around us—in the news, in education, in politics, or to the environment. They create art as a way to communicate concepts or explore issues. Do you think art can say something important? What's important to you and your family? How can you use art to express your view of the issue? Repurpose everyday, household materials to create art that conveys a message without words.
Academic Programs at the Hammer Museum are supported by The Hearst Foundations and The Rosalinde and Arthur Gilbert Foundation. 
 
Hammer Kids is made possible through the generosity of the Anthony and Jeanne Pritzker Family Foundation, with additional funding from The Winnick Family Foundation. Hammer Kids also receives support from friends of the Hammer Museum's Kids' Art Museum Project (K.A.M.P.), an annual family fundraiser.