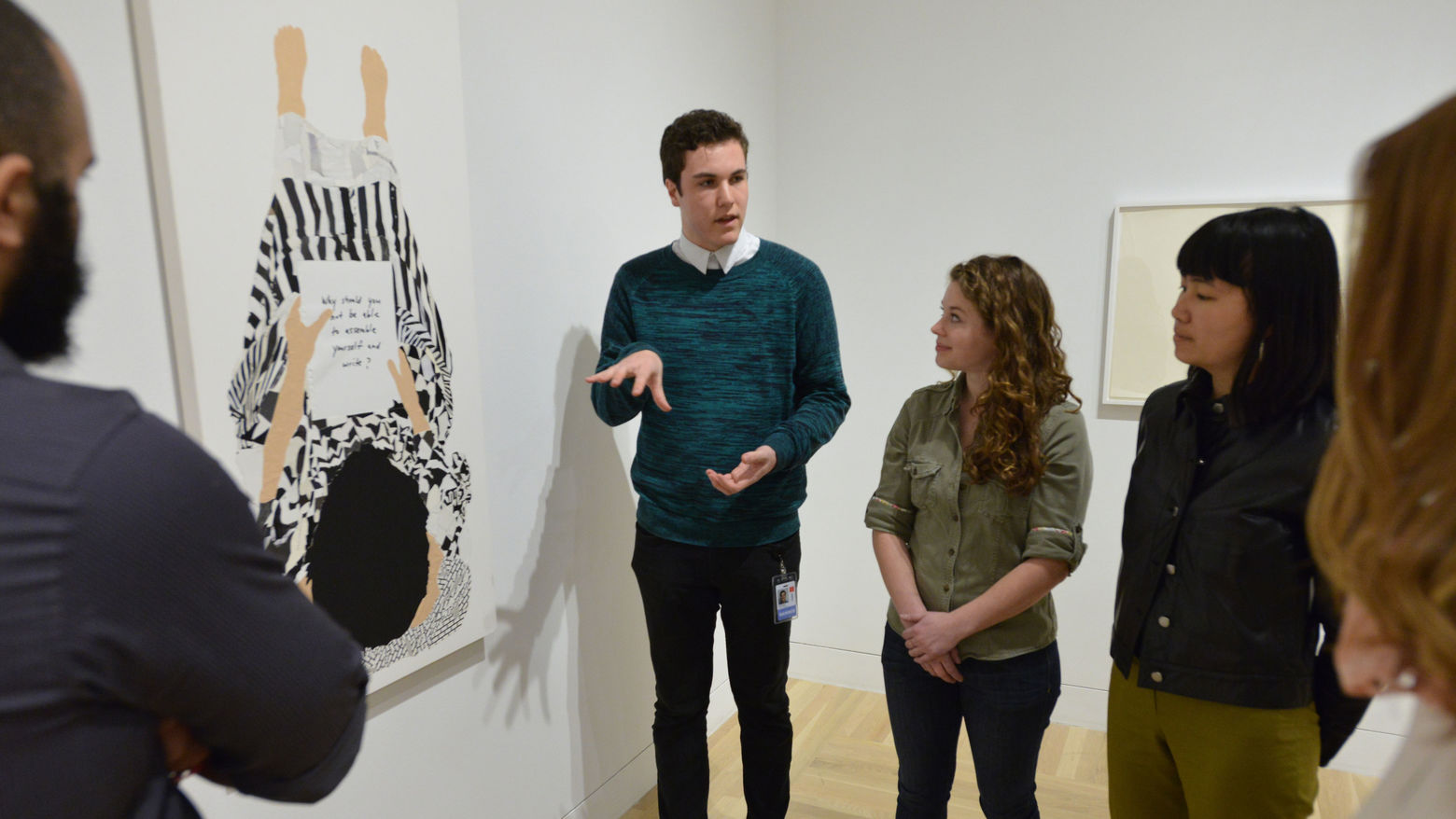 Free Weekly Tours
Free tours of special exhibitions led by Student Educators are held Saturdays at 1 p.m. No reservations are required.
Group Tours
The Hammer Museum offers a variety of options for your group to experience art. Request a guided or self-guided tour of a special exhibition, the Armand Hammer Collection, or the Franklin D. Murphy Sculpture Garden located on the UCLA campus. You may also make an appointment for your group to view prints in the Grunwald Center for the Graphic Arts. Appointments are required for all visits by groups of 10 people or more.
All K-12 grade groups require at least 1 adult chaperone for every 15 students. Get more information about K-12 Tours.
Our recent trip to the Jim Hodges show Give More Than You Take was absolutely fantastic, engaging, experiential, and meaningful to the students. The pacing was spot on – an hour with 4 artworks in depth to explore the themes and then leaving us time to explore the rest of the exhibit on our own. As an educator I appreciate the attention to the both the depth of the experience and the awareness of the pacing, attention span, and needs of this group. They came away very inspired and excited. I give your educators and tour program my highest recommendation. –Carole Silverstein, Sierra Canyon School
Guided Tours
Group tours at the Hammer Museum are led by Student Educators, UCLA students from diverse disciplines who bring unique perspectives to the artwork on view. Spanish-speaking educators are available upon request with advanced notice and are also subject to availability.
The Hammer Museum offers two types of guided tours to accommodate the specific needs of your group:
60 minutes: This tour highlights key works in a selected exhibition or the permanent collection. The experience is discussion-based and encourages guests to look closely, ask questions, and talk about what they see. This tour is appropriate for all ages.
20/20: This tour begins with a 20-minute gallery talk, followed by 20+ minutes of self-guided viewing, while the Student Educator remains on-hand to answer questions and discuss works of art with members of the group. This tour is appropriate for high school students and older.
Self-Guided Visits
Bring your group or class in to explore the exhibitions at your own pace. Reservations are always required for groups of 10 people or more. Due to limited space in the galleries, lecturing in the galleries for groups over 10 must be prearranged. Self-guided visits are appropriate for high school students and older.
Book Your Visit
To request a visit, please refer to our Adult, College, and Senior or K-12 tour booking pages for upcoming available tour dates. Tour availability begins three weeks from the current date. After you select your preferred date, you will be prompted to complete a tour request form.
A member of the Academic Programs team will follow up with you via email once your request has been submitted. Tour requests are subject to availability.
Questions? Please call 310-443-7041 or email [email protected].
Note: These forms are best viewed from a desktop computer.
Tour Costs
All tours at the Hammer Museum are free of charge.
Grunwald Center for the Graphic Arts
K-12 school and college groups can request a visit to the Grunwald Center for the Graphic Arts, which comprises more than 45,000 prints, drawings, photographs, and artists' books dating from the Renaissance to the present. The Grunwald Center Study Room is open to middle school students and up, by appointment only. For further information or to request an appointment please call 310-443-7078.
Prepare for Your Visit
Looking for resources to prepare you and your group for a visit to the Hammer Museum? Explore the following areas of our website for helpful tips and tools:
Tips and Activities for Families