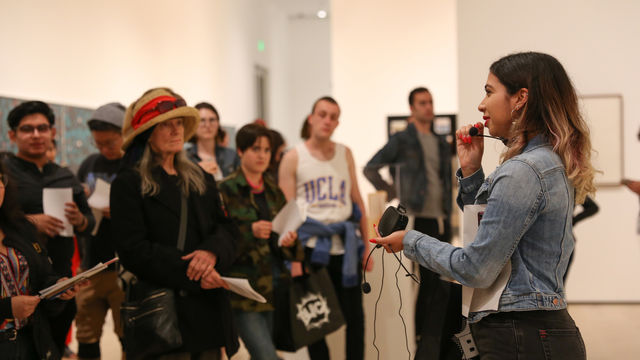 Tours
Hammer tours are conversation-based and led by paid Student Educators. Educators are UCLA students from diverse disciplines who bring unique perspectives to the artworks. Through discussion, visitors of all ages are invited to make authentic and personally relevant connections to art.
Educadores hispanohablantes podrian ser disponibles bajo solicitud.
Public Tours & Talks
Exhibition Tours: 1-hour tours of special exhibitions. Saturdays at 1 p.m.
Art in Conversation: 30-minute conversations about two works of art. Sundays at 1 p.m.
Lunchtime Art Talks: 15-minute discussions about one artwork. Led by curatorial staff, Wednesdays at 12:30 p.m.
All public tours are free and do not require reservations.
Private Tours
Learn about our tour options and book tours:
Book College and Adult Group Tours
Note: The request form is best viewed on a computer, or an iPad or iPhone. Android users may have issues with the form.
A member of the academic programs team will follow up with you via email once your request has been submitted. Tour requests are subject to availability.
Questions? Please email tours@hammer.ucla.edu.
Grunwald Center for the Graphic Arts
Academic Programs at the Hammer Museum are supported by City National Bank, the Rosalinde and Arthur Gilbert Foundation, and Mary Kitchen and Jonathan Orszag. Additional support is provided by the Brotman Foundation of California, the Sydney D. Holland Foundation, and Ellen and Teddy Schwarzman.