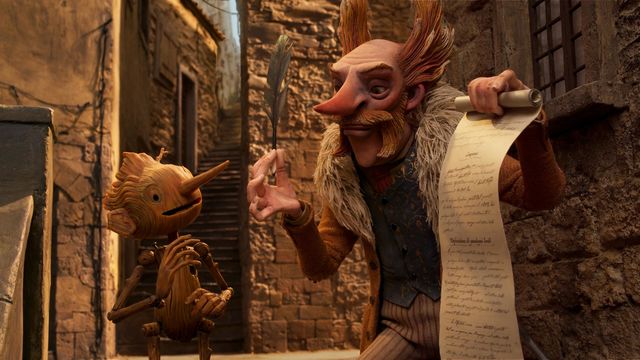 Guillermo del Toro's Pinocchio, with director Guillermo del Toro
THU DEC 15, 7:30 PM
In-person intro by director Guillermo del Toro
"From my many wanderings on this Earth, I had so much to say about imperfect fathers and imperfect sons," begins Sebastian J. Cricket, chronicler of the life of the wooden boy, Pinocchio. Directors Guillermo del Toro and Mark Gustafson transport Carlo Collodi's 1883 book to Fascist-era Italy in del Toro's first stop-motion-animated feature film. While Collodi—and the many, many subsequent retellings of the classic story—focus on the obedience of children, del Toro celebrates righteous disobedience, chosen family, and what it means to be truly alive.
Brought to life by Wood Sprite to heal a grieving Geppetto, Pinocchio navigates the exploitative worlds of the military and the entertainment industry as he tries to find out what it means to be a good son. Though del Toro and Gustafson take a naturalistic approach to their handmade animation, the fantastical creatures Pinocchio meets along the way wrap the film in an aura of otherworldly magic. An international production that spanned from Portland, Oregon, to Guadalajara and Manchester, Guillermo del Toro's Pinocchio is a sweeping love letter to—and a towering achievement in—the craft of stop-motion animation.
(2022, dir. Guillermo del Toro and Mark Gustafson, DCP, color, 117 min.)
Tickets
Presale tickets for this screening are no longer available. Limited tickets for Guillermo del Toro's Pinocchio may be available at the museum the night of the screening on a first come, first served basis—any unclaimed tickets will be released at 7:20. Admission is not guaranteed.
$10 Hammer members with valid discount code
Current members, check your email for your link to buy tickets, or email membership@hammer.ucla.edu.
Not a member? Become a member today for 50% off tickets!
$20 general admission 
This film program is organized by Rajendra Roy, The Celeste Bartos Chief Curator of Film, and Sean Egan, Producer, Film Exhibitions and Special Projects, The Museum of Modern Art, New York.
The Hammer Museum's presentation is made possible by The Billy and Audrey L. Wilder Foundation.
ATTENDING THIS PROGRAM?
Read the Hammer's full COVID-19 safety guidelines.
Ticketing: Limit 2 tickets per customer. Seats will be assigned on a first come, first served basis on the night of each screening. Hammer members receive priority seating. No late seating; any unclaimed tickets will be released at 7:20 p.m. No refunds and no exchanges. Post-screening guests are subject to change.
Member Benefit: Members receive priority ticketing until 15 minutes before the program. Learn more about membership.
Parking: Valet parking is available on Lindbrook Drive for $10 cash only. Self-parking is available under the museum. Rates are $7 for the first three hours with museum validation, and $3 for each additional 20 minutes, with a $20 daily maximum. There is a $7 flat rate after 6 p.m. on weekdays, and all day on weekends.
Read our food, bag check, and photo policies.