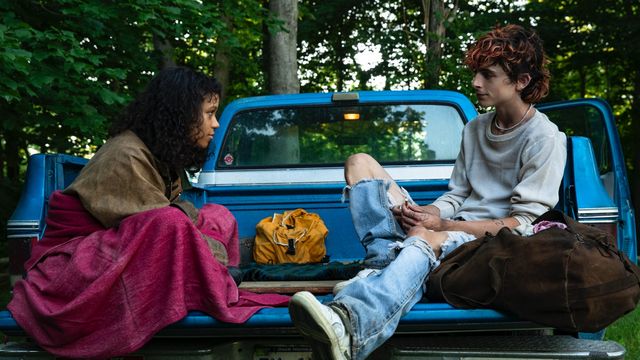 Bones and All, with actress Taylor Russell
WED DEC 14, 7:30 PM
Followed by a conversation with actress Taylor Russell
Hammer Channel includes 1,000+ talks, performances, artist profiles, and more. Search, clip, and share topics ranging from politics and activism to art, film, and literature.
Captions and full transcripts are available on Hammer Channel.
Maren (Taylor Russell), a teenager who survives by eating human flesh, has spent her life roving from town to town with her father. As soon as she turns eighteen (and bites a girl from school), her father abandons her, leading Maren to finally search for her mother who left when she was a small child. Along her journey, Maren encounters Lee (Timothée Chalamet), who shares her affliction, sparking the flame of first love and first true kinship. Masterful performances by the young leads and supporting cast (Mark Rylance, Michael Stuhlbarg) are captured by Arseni Khachaturan's stunning cinematography, set against the promise and terror of American landscapes. Director Luca Gudagnino crafts a textured balance of the goriness of his Suspiria (2018) and the tenderness of Call Me by Your Name (2017), resulting in a singular tale of love on the margins. Based on the novel by Camille DeAngelis.
(2022, dir. Luca Guadagnino, DCP, color. English, 130 min.)
This film program is organized by Rajendra Roy, The Celeste Bartos Chief Curator of Film, and Sean Egan, Producer, Film Exhibitions and Special Projects, The Museum of Modern Art, New York.
The Hammer Museum's presentation is made possible by The Billy and Audrey L. Wilder Foundation.
ATTENDING THIS PROGRAM?
Read the Hammer's full COVID-19 safety guidelines.
Ticketing: Limit 2 tickets per customer. Seats will be assigned on a first come, first served basis on the night of each screening. Hammer members receive priority seating. No late seating; any unclaimed tickets will be released at 7:20 p.m. No refunds and no exchanges. Post-screening guests are subject to change.
Member Benefit: Members receive priority ticketing until 15 minutes before the program. Learn more about membership.
Parking: Valet parking is available on Lindbrook Drive for $10 cash only. Self-parking is available under the museum. Rates are $7 for the first three hours with museum validation, and $3 for each additional 20 minutes, with a $20 daily maximum. There is a $7 flat rate after 6 p.m. on weekdays, and all day on weekends.
Read our food, bag check, and photo policies.