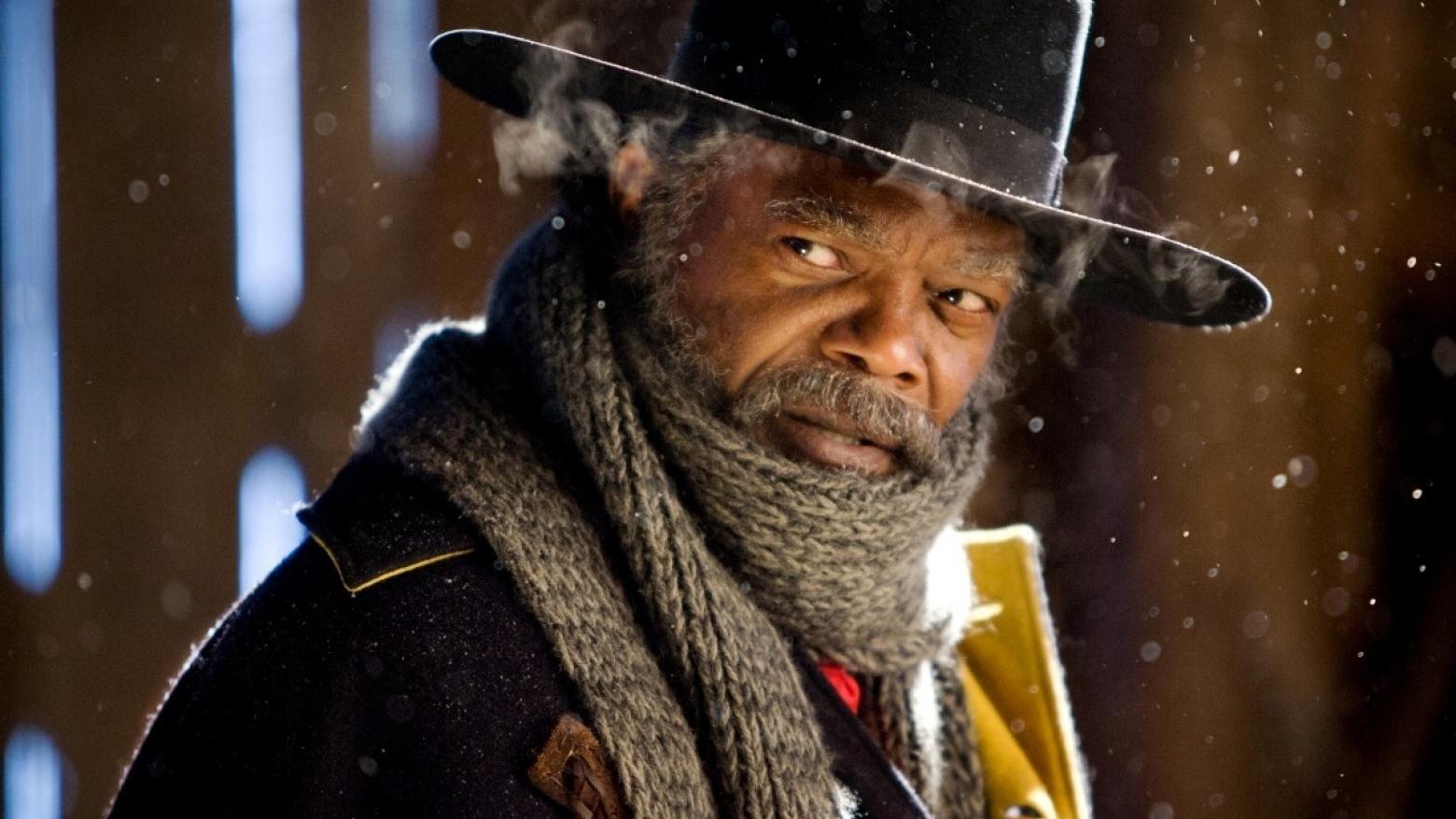 The Hateful Eight with Quentin Tarantino
Thursday
Jan 7, 2016
7:30 PM
This is a past program
*Spoiler alert: this Q&A includes spoilers about the film.
Quentin Tarantino revisits the Western following Django Unchained (2012) in grand fashion with this latest Ultra Panavision 70 spectacle, The Hateful Eight.
Set some years after the Civil War, the film opens with a lone stagecoach racing across a forbidding wintry terrain. Bounty hunter John Ruth (Kurt Russell) is on his way to collect his reward for capturing Daisy Domergue (Jennifer Jason Leigh), a notorious gang criminal. They encounter two unlikely strangers along the way in the middle of a blizzard: Major Marquis Warren (Samuel L. Jackson), also a bounty hunter and former union soldier, and Chris Mannix (Walton Goggins), self-proclaimed new sheriff of the town where Ruth is to collect his prize money. Mutual suspicion ensues but the four end up traveling together and finding refuge in a stagecoach stopover where four mysterious individuals, played by Demian Bichir, Bruce Dern, Michael Madsen, and Tim Roth, await their arrival. Sizing each other up, the characters slowly unmask one another's secrets. The initial calm gradually explodes into a grisly bloodbath. Who will be the last one standing?
Shot on 65mm film stock and released initially on the almost-obsolete super widescreen 70mm projection format, complete with an overture and intermission, The Hateful Eight brings back a bygone era of cinema when movie-going was a glitzy event.
A Q&A with director Quentin Tarantino follows the screening, moderated by Rajendra Roy, The Celeste Bartos Chief Curator of Film, The Museum of Modern Art, New York.
The Hateful Eight. 2015. USA. Directed by Quentin Tarantino. Photo Credit: Courtesy of The Weinstein Company. 182 min.
Tickets
$15 General Admission
$10 Hammer Members with valid discount code 
Advanced, online ticket sales for this film are closed. On-site tickets will be available the night of the screening on a first-come, first-served basis. Box office opens 1 hour prior to screening start time.
Tickets can be picked up starting at 6:30 p.m. the night of the screening. Any unclaimed tickets will be released at 7:15 p.m. A standby line for a limited number of tickets will be available the night of the program.
Refunds cannot be provided.
Attending this Program?
Location: Billy Wilder Theater at the Hammer Museum
Parking: Under the museum, $3 flat rate after 6 p.m. (cash or check only)
Food and Drink: Enjoy happy hour in our open courtyard café, AMMO at the Hammer beginning at 4 p.m. Food and drink may not be carried into the Billy Wilder Theater. 
Membership: Members receive a discount on tickets and priority seating. Sign up for membership today, and you'll receive a discount code for The Contenders with your confirmation email.
This film program is organized by Rajendra Roy, The Celeste Bartos Chief Curator of Film, and Sean Egan, Producer, Film Exhibitions and Projects, The Museum of Modern Art, New York.
The Hammer Museum's presentation is made possible by The Billy and Audrey L. Wilder Foundation.
Media sponsorship is provided by The Hollywood Reporter.