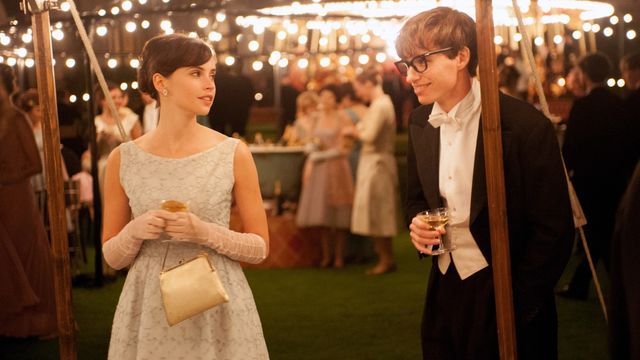 The Theory of Everything with Eddie Redmayne, Felicity Jones & Filmmakers
Wednesday
Jan 7, 2015
7:30 PM
This is a past program
Professor Stephen Hawking knows more than most of us — about the universe, yes, but also about how to live a full life in it. This remarkable chronicle of one of the greatest minds of our time is also the story of an unstoppable spirit.
Young Hawking (Eddie Redmayne) is both brilliant and awkward as a Cambridge graduate student. Even as his ideas about theoretical physics and cosmology challenge his peers and his teachers, he struggles to find his place. Just as he's beginning to show flashes of a quick-witted charm, he meets Jane Wilde (Felicity Jones). Although her intellect is merely sharp rather than intimidating, she can more than hold her own with Hawking, and they fall in love.
Director James Marsh has shown a knack for telling remarkable true tales in documentaries like Project Nim and the Academy Award-winning Man on Wire. Here he crafts The Theory of Everything as, above all, a love story. Stephen and Jane are a unique couple — bright, curious, thoroughly unconventional. When Stephen begins to show symptoms of motor neuron disease, he and Jane both tackle the challenge with exceptional strength. 
Redmayne (Les Misérables) gives a gripping performance as Hawking. His physical transformation is on par with those of Daniel Day-Lewis in My Left Foot and Mathieu Amalric in The Diving Bell and the Butterfly. Redmayne immerses himself not just in the detail of Hawking's changing body but also in the character of a man fighting that change. As his ideas expand to encompass all of time and space, his physical abilities contract. To watch how he and Jane contend with both limits and limitlessness is to witness a truly remarkable marriage. (Cameron Bailey, TIFF 2014). Courtesy of Focus Features.
A Q&A with actor Eddie Redmayne, actor Felicity Jones, director James Marsh, Screenwriter & Producer Anthony McCarten, and Producer Lisa Bruce follows the screening. 
Tickets
$15 General Admission 
$10 Members with valid discount code 
Impact level members and higher may reserve two FREE tickets to the screening of your choice. Book now while supplies last by calling The Contenders reservation line at (310) 443-7026. To renew or upgrade, please call the membership department at (310) 443-7050 or visit our membership page.
We encourage ticketholders to arrive by 7PM. Any unclaimed seats will be released at 7:15PM. Due to limited availability, tickets are non-refundable.
Purchase tickets below, or in person at the Welcome Desk.
Online tickets sales have closed. Tickets for each screening will be available at the box office on the night of each screening on a first-come, first-served basis. Box office opens 1 hour prior to screening start time.
The Contenders
Selected from major studio releases and top film festivals by curators in MoMA's Department of Film, selections shown in The Contenders represent the best of mainstream movies, independents, foreign-language films, documentaries, and art-house sensations. Now in its seventh year, the series highlights films that are contenders for lasting historical significance.
This film program is organized by Rajendra Roy, the Celeste Bartos Chief Curator of Film, and Sean Egan, Producer, Film Exhibitions and Projects, The Museum of Modern Art, New York.
The Hammer Museum's presentation is made possible by Tiffany & Co. and The Billy and Audrey L. Wilder Foundation.

Media sponsorship is provided by The Hollywood Reporter.