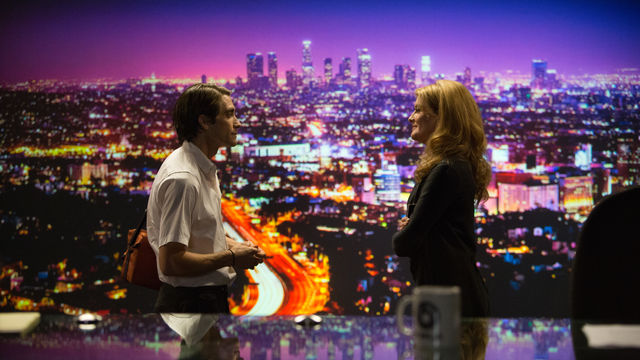 Nightcrawler with Dan Gilroy & Rene Russo
Thursday
Dec 18, 2014
7:30 PM
This is a past program
Dan Gilroy's debut film takes the viewer deep into nocturnal Los Angeles and into the world of his singular creation, freelance videographer Louis Bloom. As played by an electric Jake Gyllenhaal, Louis is opportunistic, intelligent, and a sociopath. The film is a commentary on the 'if it bleeds, it leads' ethos of contemporary television journalism and an intense character study of a unique twenty-first century creature who lives on the fringe of society until he discovers a path to power in the media world. Rene Russo shines as a new producer whose ethics have been corroded by her profession and who meets her match (and then some) in the mercurial Bloom. Gilroy, inspired by the work of pioneering photographer Weegee, creates a memorable tableau of Los Angeles as a back lot of grisly crime scenes and shady operators. Nightcrawler noir not to be missed.
A Q&A with writer/director Dan Gilroy and actor Rene Russo follows the screening.
Tickets
$15 General Admission 
$10 Members with valid discount code 
Impact level members and higher may reserve two FREE tickets to the screening of your choice. Book now while supplies last by calling The Contenders reservation line at (310) 443-7026. To renew or upgrade, please call the membership department at (310) 443-7050 or visit our membership page.
We encourage ticketholders to arrive by 7PM. Any unclaimed seats will be released at 7:15PM. Due to limited availability, tickets are non-refundable.
Purchase tickets below, or in person at the Welcome Desk.
Online tickets sales have closed. Tickets for each screening will be available at the box office on the night of each screening on a first-come, first-served basis. Box office opens 1 hour prior to screening start time.
The Contenders
Selected from major studio releases and top film festivals by curators in MoMA's Department of Film, selections shown in The Contenders represent the best of mainstream movies, independents, foreign-language films, documentaries, and art-house sensations. Now in its seventh year, the series highlights films that are contenders for lasting historical significance.
This film program is organized by Rajendra Roy, the Celeste Bartos Chief Curator of Film, and Sean Egan, Producer, Film Exhibitions and Projects, The Museum of Modern Art, New York.
The Hammer Museum's presentation is made possible by Tiffany & Co. and The Billy and Audrey L. Wilder Foundation.

Media sponsorship is provided by The Hollywood Reporter.