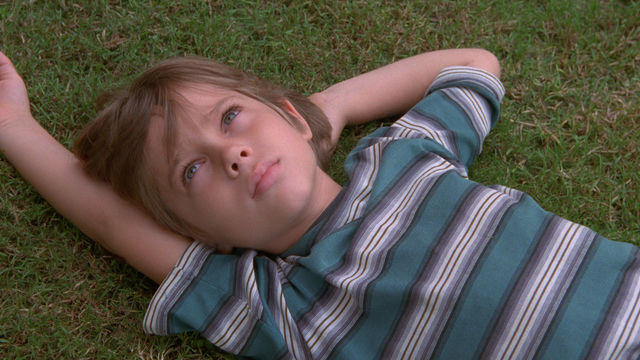 Boyhood with Richard Linklater, Ellar Coltrane, Patricia Arquette & Ethan Hawke
Thursday
Jan 8, 2015
7:30 PM
This is a past program
"In 2002, Richard Linklater started constructing a fictional story centered on a six-year-old boy named Ellar Coltrane. For 12 years, Linklater, Coltrane, actors Ethan Hawke and Patricia Arquette and several nonprofessionals (including the director's daughter Lorelei) got together once a year, working out a loose storyline and incorporating his young star's experiences into the mix. Stepdads come and go; ditto a girlfriend. Time is marked by fluctuating weights and heights, as well as a jukebox's worth of pop songs. Not much happens…just life, in all its messy glory. A boy becomes a man before one's very eyes. The result is nothing short of a masterpiece, an extraordinary collaborative gamble that succeeds in charting the rocky terrain of childhood like no other movie" (David Fear, San Francisco Film Festival, 2014). (Courtesy of IFC Films. 165 min. 2014. USA. Directed by Richard Linklater.)
A Q&A with director Richard Linklater and actors Ellar Coltrane, Patricia Arquette, and Ethan Hawke follows the screening.
Tickets
$15 General Admission 
$10 Members with valid discount code 
Impact level members and higher may reserve two FREE tickets to the screening of your choice. Book now while supplies last by calling The Contenders reservation line at (310) 443-7026. To renew or upgrade, please call the membership department at (310) 443-7050 or visit our membership page.
We encourage ticketholders to arrive by 7PM. Any unclaimed seats will be released at 7:15PM. Due to limited availability, tickets are non-refundable.
Online tickets sales for Boyhood have closed. Tickets for each screening will be available at the box office on the night of each screening on a first-come, first-served basis. Box office opens 1 hour prior to screening start time.
The Contenders
Selected from major studio releases and top film festivals by curators in MoMA's Department of Film, selections shown in The Contenders represent the best of mainstream movies, independents, foreign-language films, documentaries, and art-house sensations. Now in its seventh year, the series highlights films that are contenders for lasting historical significance.
This film program is organized by Rajendra Roy, the Celeste Bartos Chief Curator of Film, and Sean Egan, Producer, Film Exhibitions and Projects, The Museum of Modern Art, New York.
The Hammer Museum's presentation is made possible by Tiffany & Co. and The Billy and Audrey L. Wilder Foundation.

Media sponsorship is provided by The Hollywood Reporter.