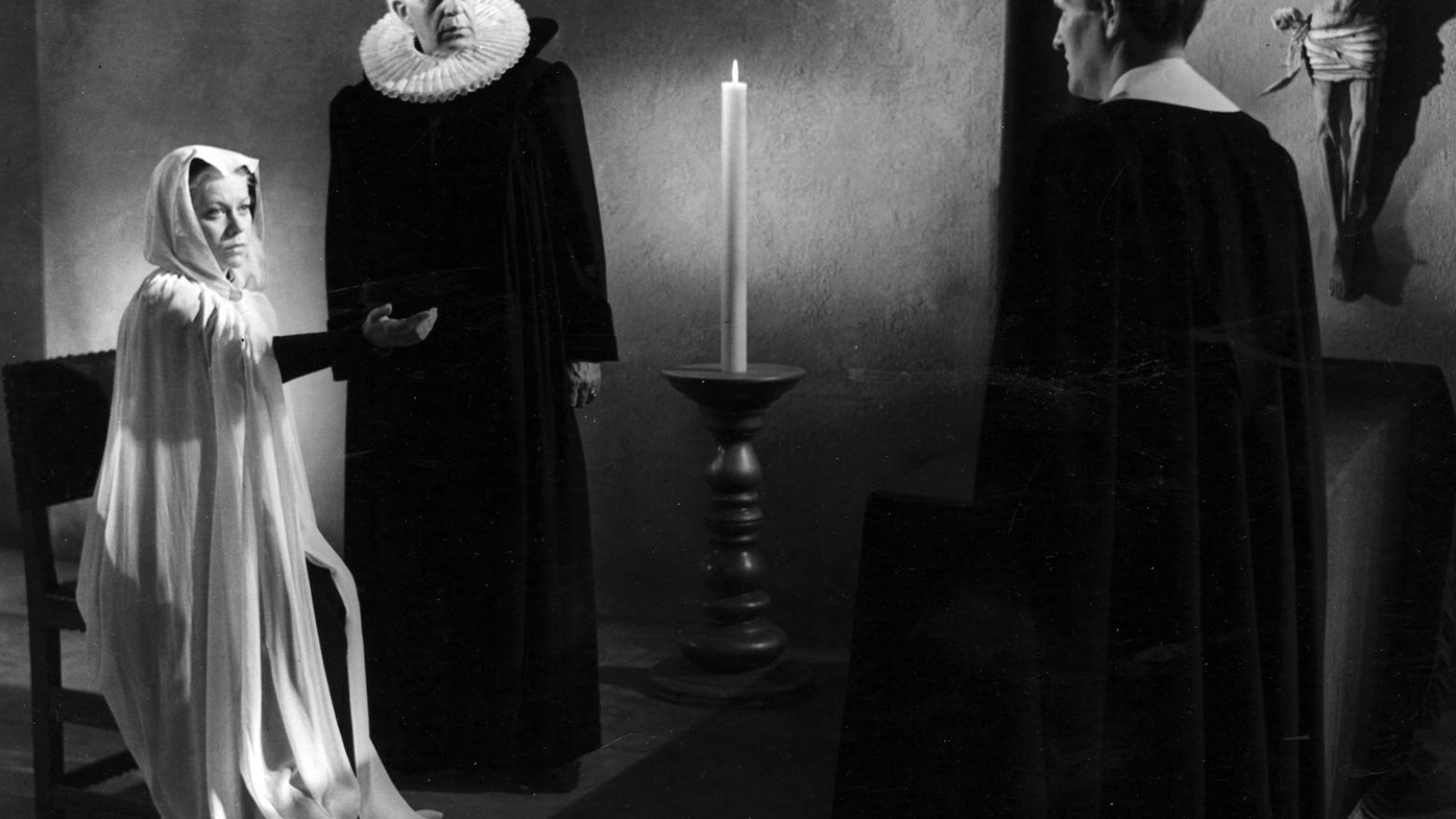 Day of Wrath (Vredens Dag)
Thursday
May 7, 2009
7:30 PM to 10:30 PM
This is a past program
Funded by the UCLA Arts Initiative and co-presented with the UCLA Film & Television Archive.
For Houseguest, a new series of artist-curated shows, Los Angeles-based artist Francesca Gabbiani has selected an eclectic range of works on paper, many from UCLA's own collections, that explore the subjects of witchcraft and sorcery—themes that are often subtly evoked in her own work. The works selected include drawings, prints and illustrated books ranging in date from the Renaissance to the present. To complement this exhibit, the artist and the UCLA Film & Television Archive have co-curated three evenings of film screenings (two with live musical accompaniment) that explore similarly occult themes. Two iconic films about witchcraft will be screened: Danish master Carl Theodor Dreyer's haunting Day of Wrath (1943) and the legendary Häxan (1922), by Benjamin Christensen—presented in a gloriously restored and tinted print from Sweden. The program concludes with an eclectic mix of short works from the silent era through the 1960s, including Kenneth Anger's Invocation of My Demon Brother (1969).
In conjunction with Houseguest: Francesca Gabbiani.
Day of Wrath (Vredens Dag)
In a small village, an elderly woman is accused of practicing witchcraft for growing herbs. Just before being burned at the stake, the elderly woman in turn accuses the pastor's young wife of cavorting with the devil. Filmed in Nazi-occupied Europe, director Dreyer offers a stark, brutal and haunting recreation of the persecution of accused witches in 17th century Denmark.
Based on the novel and play, "Anne Pedersdotter," by Wiers Jenssens. Producer: Tage Nielsen. Screenplay: Carl Theodor Dreyer, Mogens Skot-Hansen, Poul Knudsen. Cinematographer: Karl Andersson. Cast: Thorkild Roose, Lisbeth Movin, Sigrid Neiiendam. Presented in Danish dialogue with English subtitles. 35mm, B/W, 105 min.
Public programs are made possible, in part, by a major gift from Ann and Jerry Moss.
Additional support is provided by Bronya and Andrew Galef, Good Works Foundation and Laura Donnelley, an anonymous donor, and the Hammer Programs Committee.