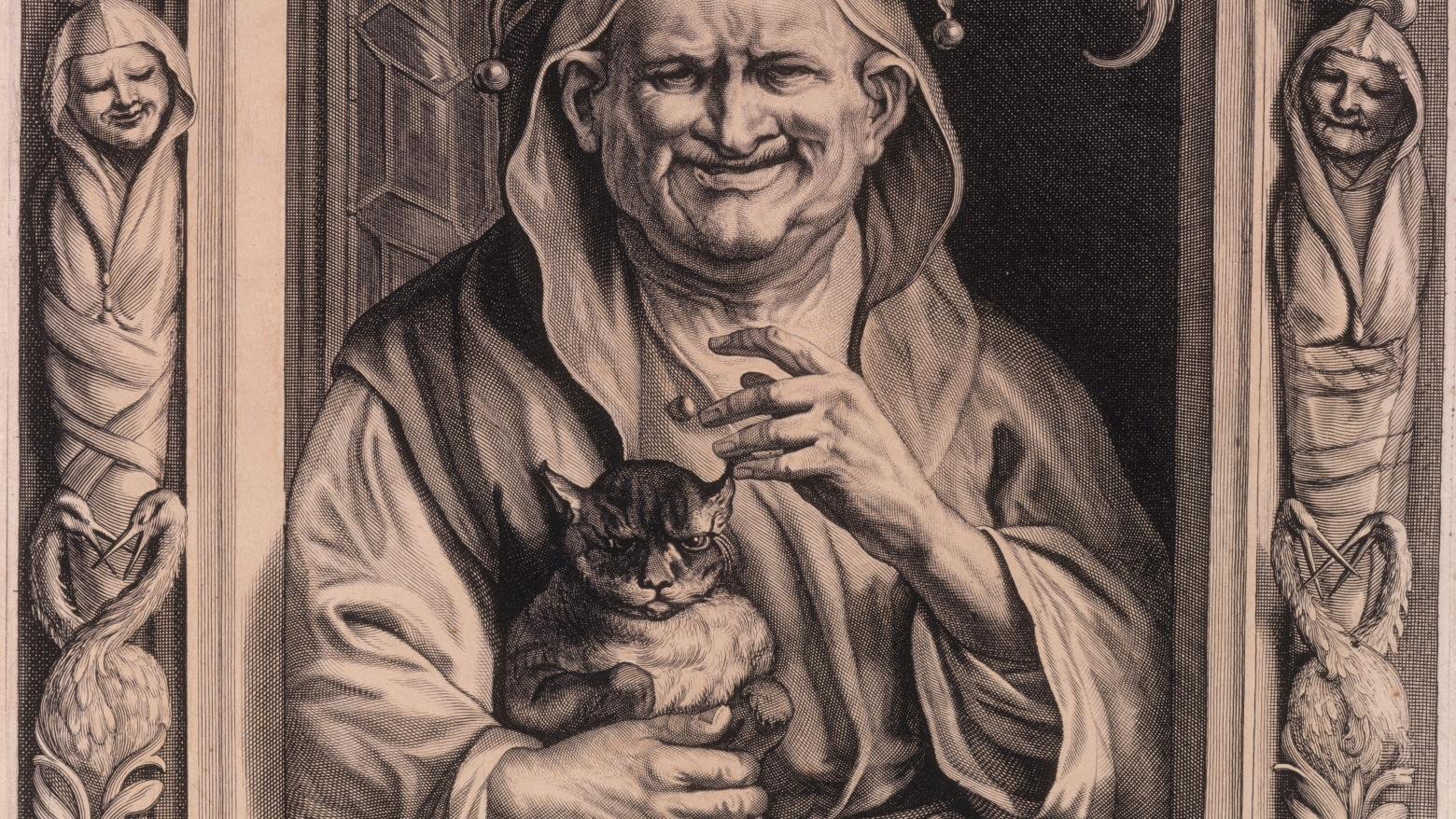 Houseguest: Francesca Gabbiani
Feb 15–May 24, 2009
This is a past exhibition
The Hammer Museum presents the second exhibition in Houseguest, a new series in which artists are invited to curate a show from among the university's diverse collections. For this exhibition, Los Angeles-based artist Francesca Gabbiani explores the subjects of witchcraft and sorcery. She browsed through the collections of the Grunwald Center for the Graphic Arts at the Hammer, and UCLA's Departments of Special Collections at both the Charles E. Young Research Library and the Louise M. Darling Biomedical Library. Gabbiani pursued her research with an eye for mysterious and macabre images, illustrations of poisonous and deadly plants, as well as representations of unearthly figures like saints and fairies. The eclectic selection of prints and illustrated books range in date from the Renaissance to the present. In this installation, Gabbiani proposes an intriguing exploration of mystical powers and magic spells.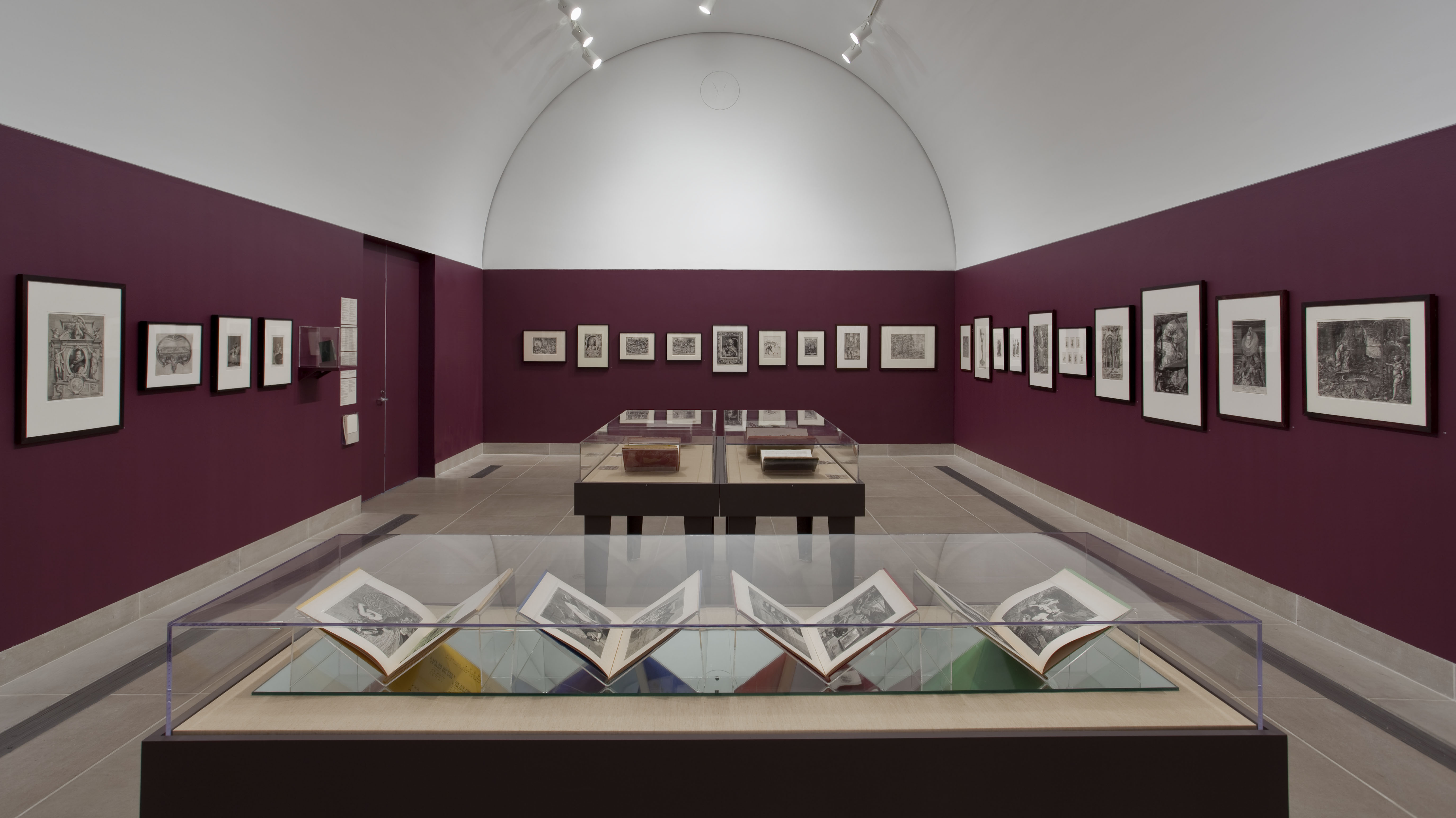 Biography
Francesca Gabbiani was born in 1965 in Montreal, Canada. In 1969 her family moved to Switzerland, and in 1992 she graduated from the Ecole Supérieure des Beaux Arts in Geneva. She studied at the Rijksakademie van Beeldende Kunsten in Amsterdam from 1993 to 1994 and received her MFA from the University of California, Los Angeles, in 1997. Gabbiani's work has been exhibited at the Museum of Modern Art, New York; the Museum of Contemporary Art, Los Angeles; the Frances Lehman Loeb Art Center at Vassar College, Poughkeepsie, New York; and the Museum of Modern and Contemporary Art, Geneva (MAMCO), among other venues. Her work was shown at the Hammer Museum in 2001 as part of the Hammer Projects series. Recent solo exhibitions include those at Patrick Painter, Santa Monica, California; Lora Reynolds Gallery, Austin, Texas; Monica de Cardenas, Zuoz, Switzerland; and Sara Meltzer Gallery, New York. Gabbiani currently lives and works in Los Angeles.
Essay
By Trinie Dalton
Opening Sir Walter Scott's little green field guide, Demonology and Witchcraft (1868), one is immediately enchanted by its incantatory sensationalism.
Letter One: Origin of the General Opinions Respecting Demonology Among Mankind
           —Belief in Immortality
           —Apparition of an Abstract Spirit Little Understood by the Vulgar and Ignorant
           —They Are Often Presented by the Sleeping Sense
           —Story of Somnambulism
           —Depraved State of the Bodily Organs
           —Difference Between This Disorder and Insanity
With such long-winded Victorian chapter titles illustrated by George Cruikshank's manic etchings of grim reapers stalking bedridden individuals (The Spectre Skeleton) or witches fiendishly surfing a churning sea (Witches Frolic), the manual serves as key to the dark spirits artist Francesca Gabbiani unleashes in this exhibition. For this exhibition, Gabbiani takes an elliptical curatorial approach by selecting a body of work that both stretches sorcery's definition to its outermost grotesque emotional, physical, and imagistic sources and shows common undercurrents in popular belief that have endured through time. What results with viewing is an uncanny reminder that there is an entire alternate universe looming alongside ours. In this way, the exhibition functions as a spell and is aptly installed in a ring around the Vault Gallery. This collection of prints and antiquarian books with botanical illustrations from UCLA collections has been curated from a delicate balance of modern and premodern female perspectives on witchcraft, sorcery, and magic.
Gabbiani—in the tradition of feminist scholars who have repurposed clichéd, sexually deviant, snaggle-toothed, spell-casting femme fatales into heroines—mashes images of aging, mutating, shape-shifting women and criminals against those of stately queens, vibrant gypsies, voluptuous whores, doomed classical goddesses, and sultry art nouveau beauties to propose a monstrous feminine that attracts and repels. As the image of the Western-historical witch was refashioned from the pagan, nature-worshipping, medicine woman under the dualistic confines of Christianity, with its belief in good and evil as dueling forces, it makes sense that Gabbiani has selected primarily black-and-white artworks (save one by Alphonse Mucha) that formally emphasize mystical concerns through light and shadow while glancing back, temporarily, at the shameful European historical legacy of witch genocide and ostracism. Yet she recognizes that the image of a charmed woman remains highly eroticized and does not get bogged down by past discussions of revisionary gender politics. In this exhibition she proposes a new, decivilized, decadent ideal based on the ancient, in which the most powerful sorcerers are multifaceted. Violent and gentle, pure and abject, the ideal witch in Gabbiani's fantasy disregards gender, sees no wall between human and wilderness, and has no moral boundaries. 
Given her Swiss heritage, it is fitting that Gabbiani launches her art historical investigation into witchcraft with several fifteenth- and sixteenth-century German, Dutch, and Flemish prints depicting social upheaval, spiritual/biblical hysteria, and mythologized interpretations of the witch craze. Pieter Bruegel's Ira/Anger (1558)—taken from his Vices series, in which the Seven Deadly Sins are depicted as vices, or "continuing evil habits or practices rather than single sins, or isolated, individual acts transgressing moral laws"—recalls Hieronymus Bosch in its assessment of humanity as medieval, depraved, and war-obsessed in this specific vice's case.1 Using Ira/Anger and four engravings and woodcuts by Albrecht Dürer as a springboard, the exhibition contains several seminal early Renaissance artworks likely informed by Heinrich Kramer and Jacob Sprenger's notorious treatise on witch-hunting, Malleus Maleficarum (Hammer of Witches, 1486). 
Hans Baldung Grien's Bewitched Groom (1544) depicts in the foreground a husband, paralyzed or dead, lying beneath his horse's ass, in the background, while a witch, presumably his wife, cackles and waves her broom. This woodcut not only exemplifies fears and suspicions of women promoted by Malleus Maleficarum but also indicates the beginnings of a post-Dürer artistic style brought about by the Reformation, which ushered in new artistic freedoms that eventually unbound the artist's imagination from religious concerns. In this piece, Baldung fused "an almost systematic linear control: hardened, homogeneous, contour lines course around solid forms," indicative of Dürer's belief that artistic creativity was a direct reflection of God's, with Baldung's own fantasized rendition of the "horse's assertive plasticity and its outward-directed, demonic energy."2 By inserting his own expressive marks and tackling subject matter that was borderline erotic, Baldung radically deviated from God-fearing views of his day, paving the way for the modern period, which includes the rest of the artists Gabbiani has selected for their artistic dedication to a wild unconscious.
A handful of seventeenth- and eighteenth-century etchings in the exhibition select architectural subject matter to symbolize the Enlightenment's "new mechanical philosophy, which stripped away spiritual forces, harmonic connections, and natural sympathies between objects and materials from the operations of the universe."3 Jacques Callot's etching L'Eventail (The Fan, 1619) and two of Giovanni Battista Piranesi's etchings of imaginary prisons (1749–78) offer ominous depictions of labyrinthine, stone-carved nightmares that can metaphorically represent a disturbed inner mind. Though the images are devoid of human presence, one senses humanism underpinned by an inescapable fear of enchantment. Similarly, Dominique Vivant Denon's Sorceress—an eighteenth-century depiction of a robust matron seated in her magic circle with a witchy crone, the goat-headed Devil, and occult accoutrements—evokes Napoleonic France's taboo fascination with magic. This was the period following Voltaire's call to "crush infamy" (écrasez l'infâme), directed mainly against superstition, which Enlightenment thinkers defined as "anything remotely related to magic, demons, ghosts, spirits, and organized religion, especially the Catholic church, with its claims of effective ritual drawing down active divine power into the world."4 The sorceress in Denon's etching looks as innocuous as a rural homemaker, reiterating how magical beliefs and their incumbent archetypal imagery survived through folk culture during a history of attempted suppression. The notion of exchanging secret information visually informs Gabbiani's own artwork, in which delicately sliced swatches of colored paper are collaged into re-creations of haunted architectural spaces and the charmed objects that inhabit them. Her reconstructions of horror film sets, memento mori, or shamanistic and poisonous plants have always dovetailed with her desire to build historical frameworks through depictions of architectural spaces and the charmed objects that inhabit them, arguing for sorcery's enduring power.
La comédie de la mort (1854), a lithograph by Rodolphe Bresdin, bridges the nineteenth-century gap between the scientific revolution and those romantic artists who thematically rejuvenated mysteries of death and afterlife, especially the French decadents, the symbolists (Bresdin was Odilon Redon's art instructor), and later the surrealists. J. K. Huysmans, in À rebours (Against the Grain, 1884), applauded this macabre landscape, which also inspired Théophile Gautier's novel of the same title. Made concurrently were Francisco de Goya's politically satirical Caprichos, four of which are included in this exhibition.
Gabbiani leaps here into modernism, with artworks by Marc Chagall, Paul Klee, and German expressionists Käthe Kollwitz and Christian Rohlfs. In Klee's lithograph Die Hexe mit dem Kamm (The Witch and the Comb, 1922), the witch's hair accessory and her arrow-shaped hands link past notions of ritualistic conjuring implements to a revival of symbol usage that provides access to the subconscious. Offering only two more contemporary pieces, by Alexander Chmutin and Vija Celmins, Gabbiani clearly emphasizes our art historical past. In doing so, she considers what remains of premodern magical thinking after civilization, favoring a return to intuition that early modernists cultivated—"a state of passive inspiration and abandoning oneself to the powers of the soul."5 She expresses a hope that the artistic process can be as soupy and mysterious today as superstitious magic was when science and spiritualism commingled. As Klee elegantly stated, "Art does not represent the visible, but makes visible."6
Notes
1. H. Arthur Klein, Graphic Worlds of Peter Bruegel the Elder (New York: Dover, 1963), 98.
2. Linda Hults, catalog entry in Hans Baldung Grien: Prints and Drawings (New Haven, Conn.: Yale University Art Gallery, 1981), 261, no. 82.
3. Michael D. Bailey, Magic and Superstition in Europe: A Concise History from Antiquity to the Present (Lanham, Md.: Rowman & Littlefield, 2007), 207.
4. Ibid., 209.
5. Peter Gorsen, "The Entrance of Mediumism into the History of Art: Inexplicability—the Surrealist Key," in The Message: Art and Occultism (Cologne: Verlag der Buchhandlung Walther König, 2008), 197.
6. Quoted in the introduction to Max Huggler, The Drawings of Paul Klee (Alhambra, Calif.: Borden Publishing, 1965), unpaged. 
Trinie Dalton lives in Brooklyn. She is author of four books, including Wide Eyed (Akashic). Her new book, MYTHTYM (Picturebox), is a compendium of her handmade books about mythological themes.