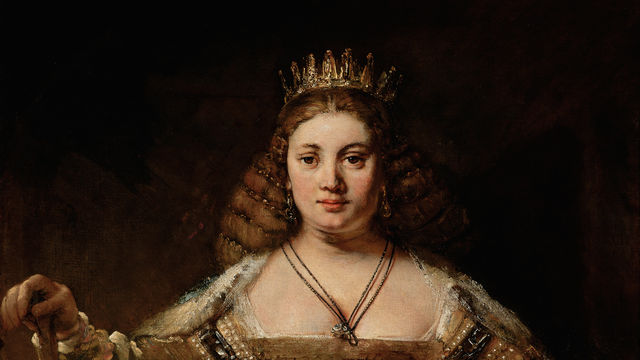 In anticipation of Made in L.A. 2023: Acts of Living, the Armand Hammer Collection gallery will close Sunday, August 27, 2023. The collection will return in February 2024.
About the Collection
The Armand Hammer Collection features works of art from the sixteenth through the twentieth century that reflect the interest and dedication of the founder of the museum, Armand Hammer. Selections from the collection are on permanent display at the museum, offering visitors a small but distinguished group of European and American paintings, sculpture, and works on paper, with special emphasis on French art of the nineteenth century.
Armand Hammer's entrepreneurial acumen, matched by his artistic discernment, enabled him to pursue art collecting throughout most of his life. Over the years he engaged in a variety of different business ventures, yet collecting art remained a constant diversion alongside these other pursuits, and Hammer continually refined his collection by buying and selling works of art. From 1965 until his death in 1990 he amassed the works that form the basis of the Hammer Museum's collections. The Armand Hammer Collection installation presents outstanding examples of European art dating from the Renaissance to the early twentieth century, with additional important works by American artists from the late nineteenth and early twentieth centuries.
The Armand Hammer Collection provides an impressive overview of the major movements of nineteenth-century French art, with significant examples of realism, orientalism, the Barbizon school, impressionism, postimpressionism, pointillism, and symbolism by artists such as Paul Cezanne, Edgar Degas, Paul Gauguin, Edouard Manet, Claude Monet, Gustave Moreau, Camille Pissarro, and Henri de Toulouse-Lautrec. Portraiture and landscape both figure prominently in the collection, and several artists are represented by more than one work. Moreau's jewel-like King David (1878) and evocative Salomé Dancing before Herod (1876) are two of the artist's most renowned works, while Vincent van Gogh is represented by three important paintings, including the remarkable Hospital at Saint-Rémy (1889).
European old master paintings include two major works by Rembrandt van Rijn from both the earlier and later periods of the artist's career, Portrait of a Man Holding a Black Hat (ca. 1637) and Juno (ca. 1662–65), as well as paintings by Titian, Peter Paul Rubens, Jean-Honoré Fragonard, and Francisco de Goya y Lucientes. Among the American artists in the collection are George Bellows, Mary Cassatt, Thomas Eakins, John Singer Sargent, and Gilbert Stuart. Sargent's dazzling, over-life-size portrait Dr. Pozzi at Home (1881) is one of the most prominent works in the collection.
Large-print texts of the interpretive labels in this exhibition are available upon request. Ask any gallery attendant or staffperson for assistance.
Below are selected works from the collection. These are typically on view in the galleries, but please note that artworks may be removed at any time.