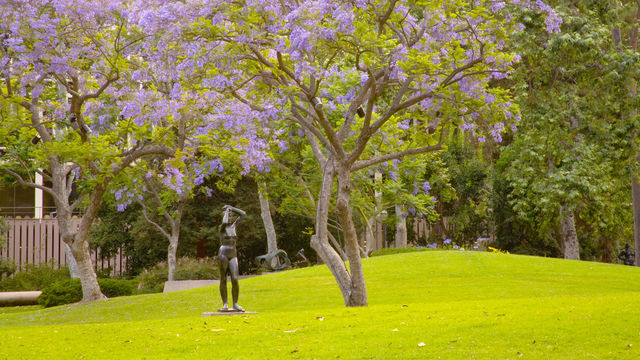 Franklin D. Murphy Sculpture Garden
One of the most distinguished outdoor sculpture installations in the country, the Franklin D. Murphy Sculpture Garden spans more than five acres of UCLA's campus with over 70 sculptures by artists such as Hans Arp, Deborah Butterfield, Alexander Calder, Barbara Hepworth, Jacques Lipchitz, Henry Moore, Auguste Rodin, and David Smith.
Firmly committed to the idea that works of art are most thoroughly enjoyed as part of everyday life, the Sculpture Garden was dedicated in 1967 by UCLA's third chancellor, Franklin D. Murphy. Murphy worked with UCLA's supervising architect, Ralph D. Cornell, to create an edifying environment that fosters the learning process. As a result of their vision, the Sculpture Garden transformed an area of north campus into a park-like setting for some of the finest sculpture of the nineteenth and twentieth centuries.  The garden features the distinctive flora of Southern California amidst the pleasant informality of a modern American campus, rolling across three distinctive areas: a formal plaza paved in brick, a walkway formed by a triple row of South African coral trees, and an informal sloping lawn cut with curving textured pathways.
Building on this environment, the Sculpture Garden brings together figural and abstract works that complement the landscape to create a harmonious setting for study and contemplation. Informal seating areas and open lawns were designed to invite passersby to pause, reflect, and enjoy the interplay of art and nature.
To schedule a tour of the Sculpture Garden, please visit our tours page or call the Academic Programs department at (310) 443-7041 for assistance.
Directions and Parking Information