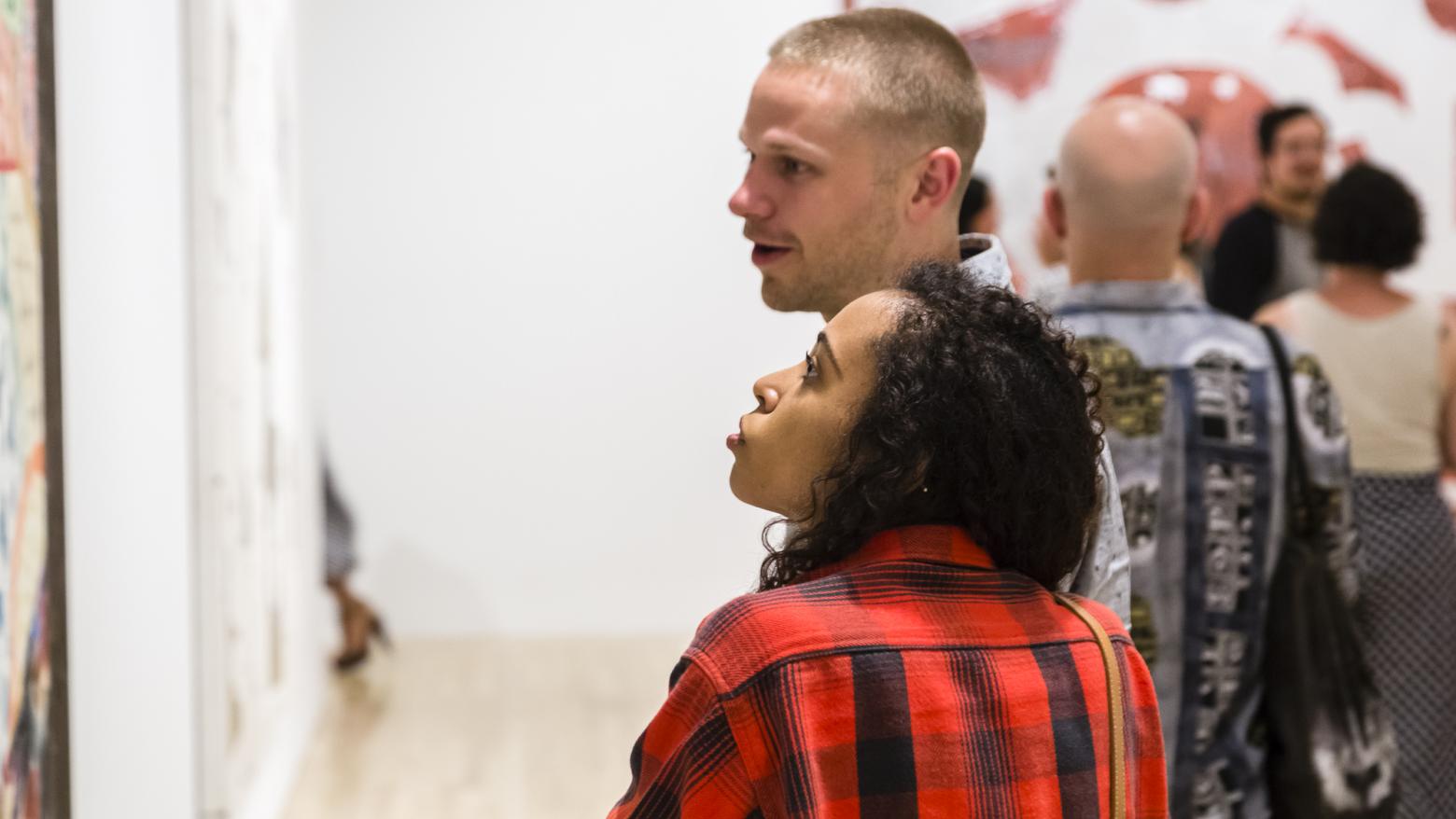 10 Things You May Not Know About the Hammer
This post is part of 10 Things, a blog series inspired by the Hammer's free membership program HAMMER10. Throughout the series, we'll share top 10 lists, highlight HAMMER10 members, give you tips and tricks to make the most of your visit, and more.
10/10 is HAMMER10 Day! To celebrate the stars (and numbers) aligning, we present to you 10 fun facts about the Hammer—some well-known, some that may be a surprise. We hope these fun facts inspire you to swing by and snag those HAMMER10 points by reading a book in the courtyard, studying using the free WiFi, grabbing a bite at AMMO, or picking up a treat-yourself treasure at the Hammer Store. Read on to get inspired:
1. Let's start with an obvious one: Admission to the Hammer is FREE! But how?
If you've ever visited the Hammer but got to keep your wallet in your pocket, you have Erika J. Glazer and Brenda R. Potter to thank. Staples of the art community, Glazer and Potter's generous donation cemented the Hammer as a center of art and culture that can be accessed by anyone and everyone. Free for everyone, and FREE FOR GOOD.
2. Who run the world? Students.
Students from local colleges and universities make up a whopping 40% of the staff here at the Hammer and work primarily in the Visitor Experience department. That means everyone you see checking you in at the Welcome Desk or keeping an eye on things in the galleries is a student! Having students on the front lines of the museum is an important step in making the Hammer a friendly, accessible museum. Don't hesitate to give them a high five at the Welcome Desk, ask them what their favorite work is in the galleries, or even where to get the best bite in Westwood. Our students are ready to help with whatever you may need.
3. Get with the program!
The Hammer's public programming is second to none, executing nearly 300 free events a year, 6 days a week. From lectures and symposia, to forums and performances, to readings and screenings, an evening at the Hammer is rarely a quiet affair. Pro tip: Your HAMMER10 membership gets you priority ticketing to any of our public programs, so get in (the much shorter) line and grab yourself a seat!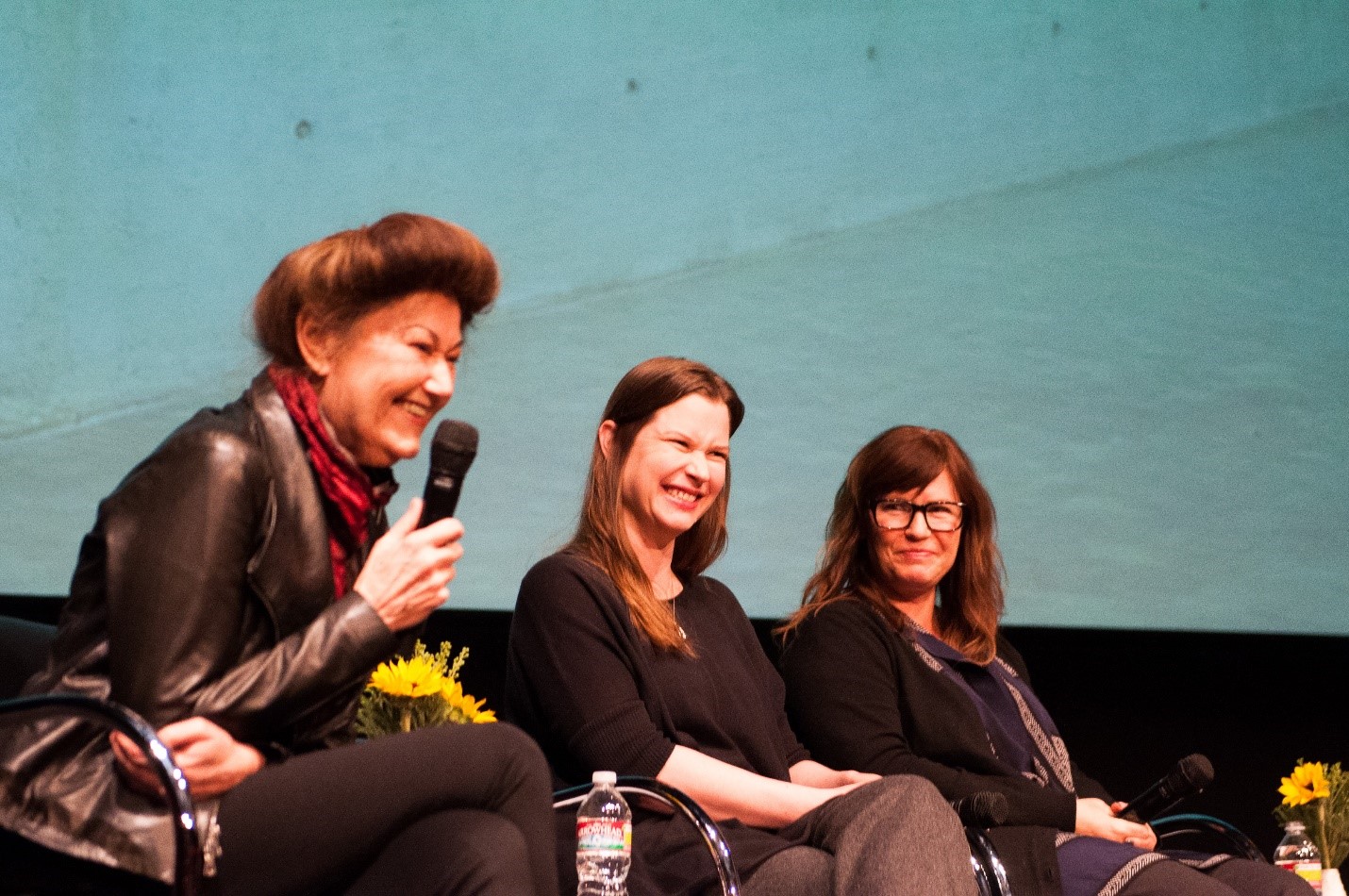 Hammer Conversation with Mary Kelly, Johanna Burton, and Anne Ellegood
4. Can't make it to the BWT? Catch a program *virtually* anywhere
The Hammer streams almost all of our public programs online, and you can find them all on our website. So if you're stuck on the 405 struggling to make it to Westwood on time, have no fear—get in your PJs, grab a cup of tea, and catch up here.
5. Wait—what's the BWT?
The BWT is our affectionate nickname for the Billy Wilder Theater, the beautiful onsite theater where most of our programs are held. The theater was made possible due to generous donation from Audrey Wilder, beloved widow of cinematic great Billy Wilder, and was opened in 2006 to mark the centennial of Billy Wilder's birth. Fun facts about the BWT: the theater was designed Michael Maltzan—Hammer friend and partner who is also working on the designs for our third floor gallery renovations—and holds 294 guests. The BWT is also the proud home of the UCLA Film & Television Archive.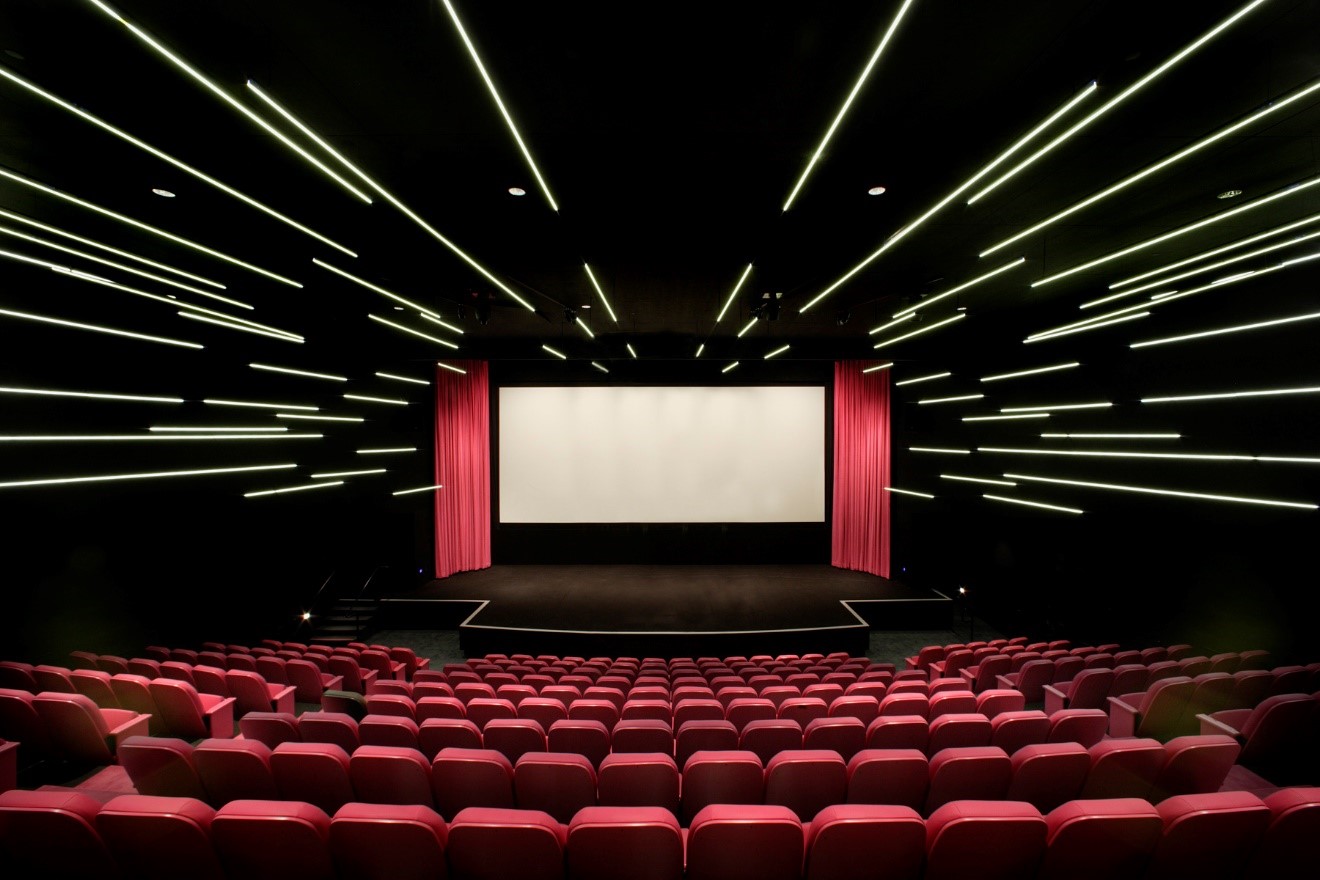 Billy Wilder Theater
6. The museum is a great place for children. No KIDding!
The Hammer Kids program works to make the museum experience fun and accessible for kids and parents. We have family friendly programming nearly every Sunday for the whole family to enjoy. Bring your little one and have more than a little fun.
7. Block Party!
The Marmol Radziner blocks are unlike any Legos you've ever seen. This massive bundle of wooden blocks and connectors were made specifically for the Hammer and are enjoyed by children (and adults!) of all ages. They're a museum staple—be sure to build something fun next time you're here.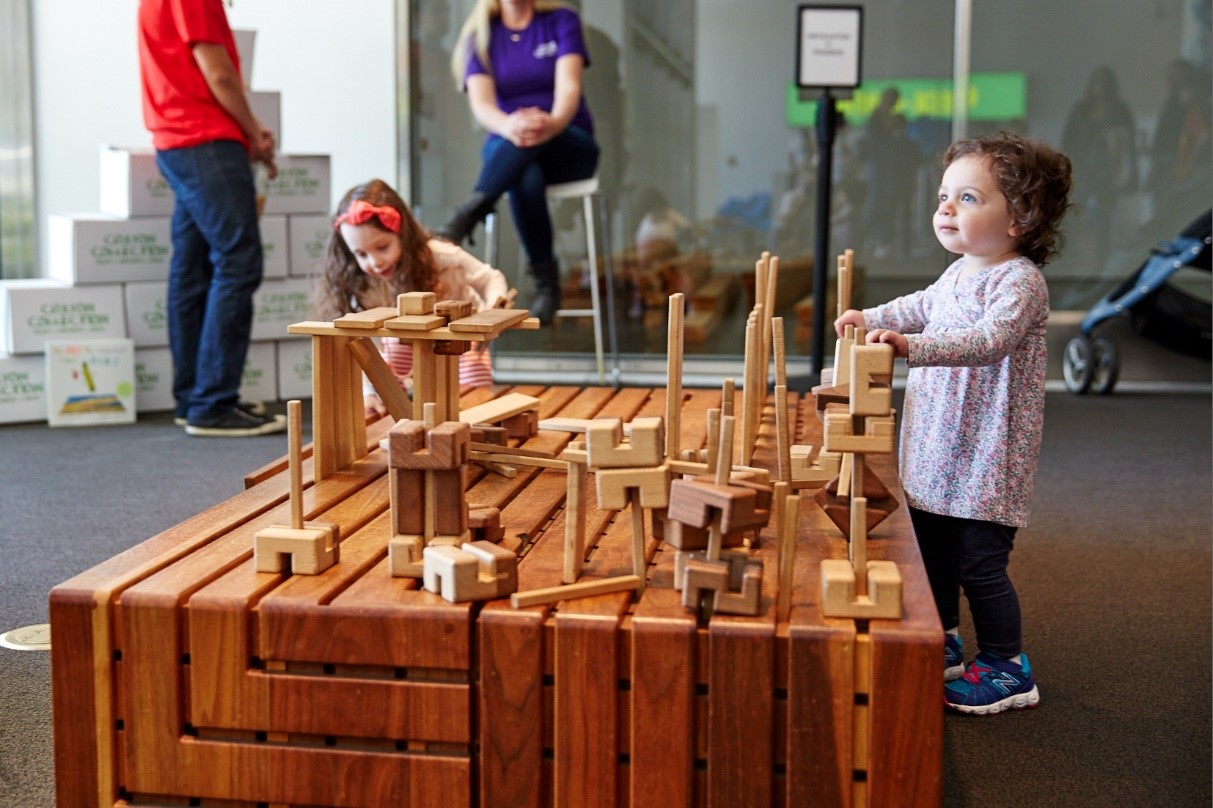 Marmol Radziner blocks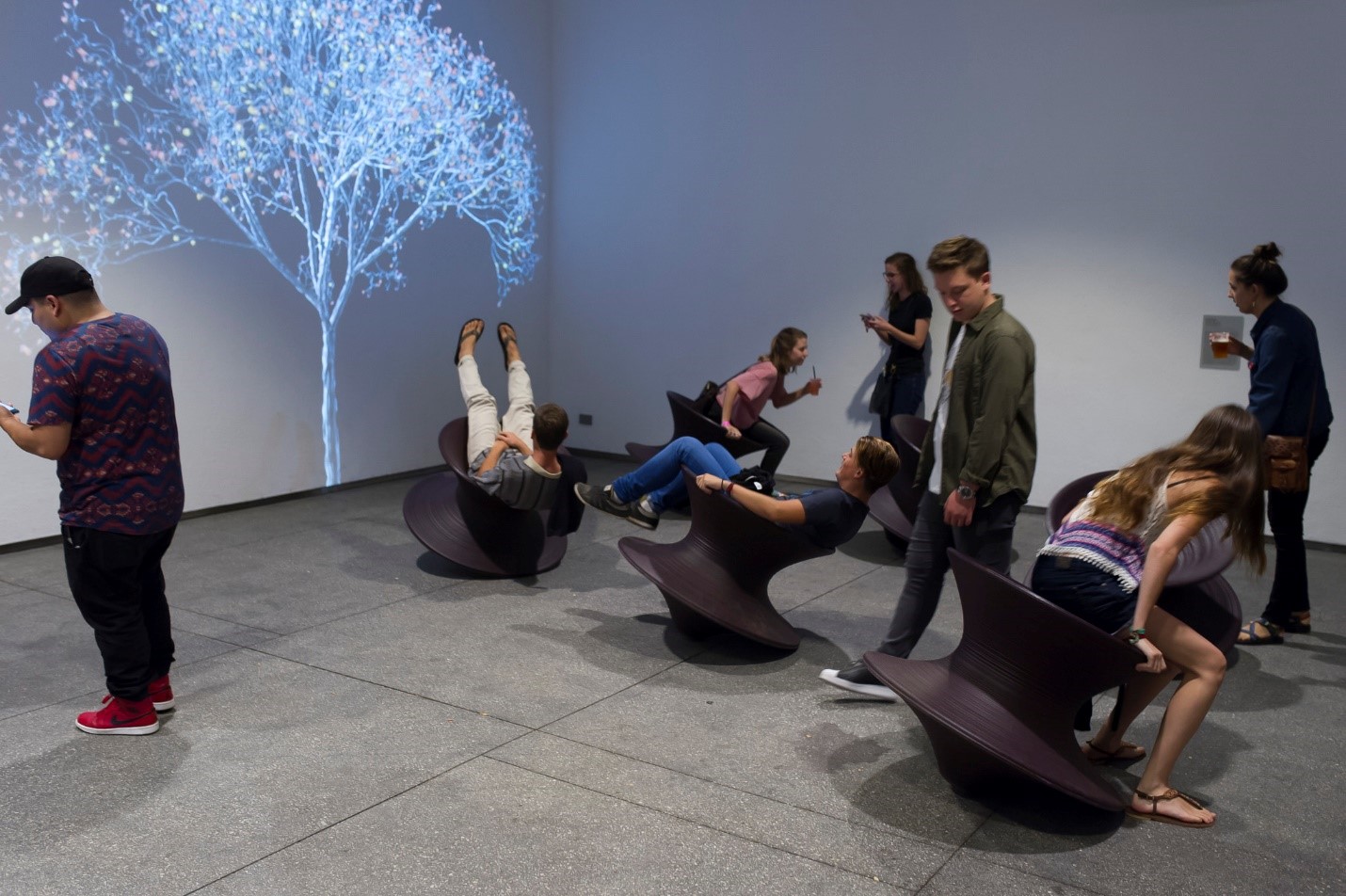 Visitors on Spun Chairs
That's 10 facts about the Hammer Museum! We hope you learned a little about your favorite cultural institution and that the next time you visit, you get to drop a little token of wisdom to a fellow visitor or friend.
LOOKING FORWARD:
October is all about Halloween (or should I say—Hammerween??) and here at the museum, we are quite partial to art-inspired costumes. Have a scary good artist costume? Share with us! Send us a picture of you dressed as your favorite artwork or artist to [email protected], and we'll feature some of our favorites here on the blog. Here's HAMMER10 member Hillary Mamaril doing her best Frida Kahlo impression for a little costume inspo: