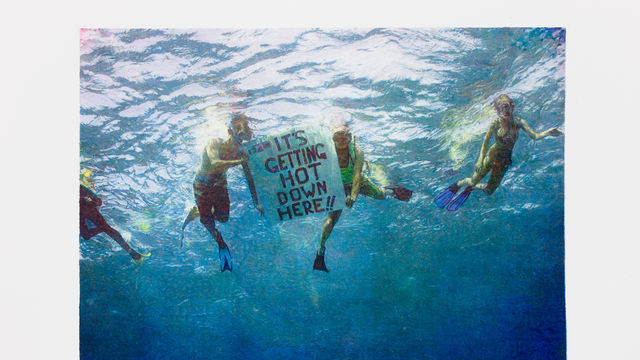 Andrea Bowers
–

This is a past exhibition
For more than 30 years, the Los Angeles–based artist Andrea Bowers (b. 1965, Wilmington, Ohio) has made art that activates. She combines artistic practice with activism and advocacy, speaking to deeply entrenched inequities as well as the generations of activists working to create a more just world. Bowers has built an international reputation as a chronicler of contemporary history, documenting activism as it unfolds and collecting research on the front lines of protest. Her practice contends with issues such as immigration rights, workers' rights, climate justice, and women's rights, illustrating the shared pursuit of justice that connects them.
Andrea Bowers, the first museum retrospective surveying more than two decades of the artist's production, traces the entire scope and evolution of her work. Bringing together approximately 60 works as well as a trove of ephemera, the exhibition reflects Bowers's embrace and experimentation with a wide range of mediums, including drawing, performance, installation, sculpture, video, and neon sculptures.
Download the Hammer's free digital guide to listen to an audio guide by Andrea Bowers during your visit.
Andrea Bowers is organized by the Hammer Museum, Los Angeles, and the Museum of Contemporary Art Chicago. The exhibition is co-curated by Michael Darling, formerly the James W. Alsdorf Chief Curator of the Museum of Contemporary Art Chicago, and Connie Butler, Chief Curator of the Hammer Museum, with Nika Chilewich, curatorial assistant, Hammer Museum.
The Hammer's presentation is made possible by lead funding from the Henry Luce Foundation.

Major support is provided by The Kaleta A. Doolin Foundation, with generous funding from Karyn Kohl, the LLWW Foundation, and Hope Warschaw and John Law. The exhibition is also supported by a gift from the Glenstone Foundation, with additional support provided by Charlotte Feng Ford, Bob Rennie and Carey Fouks, and Sidra Stich.