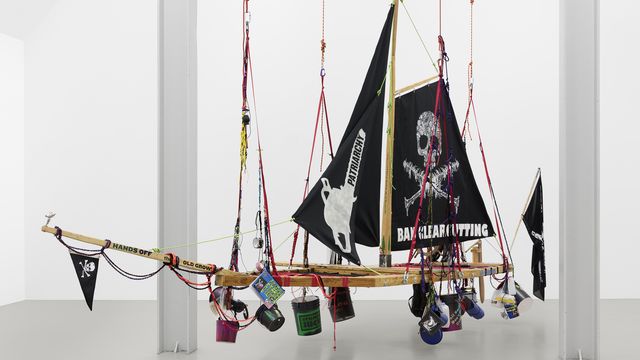 Andrea Bowers Walk-through: Shannon Jackson
SUN JUL 17, 3 PM
Shannon Jackson, author of Social Works, leads a walk-through of the exhibition Andrea Bowers.
Shannon Jackson is the Cyrus and Michelle Hadidi Professor of Rhetoric and of Theater, Dance and Performance Studies, and former Associate Vice Chancellor for the Arts + Design Program at UC Berkeley. Her research centers on collaborations across visual, performing, and media arts and the role of arts in social institutions and social change. An author of numerous books, her most recent titles includes Back Stages: Essays Across Art, Performance, and the Social (Northwestern, 2022) and the forthcoming The Human Condition: Media Art from the Kramlich Collection (Thames & Hudson). Her writing can also be found in Art Practical, Representations, In Terms of Performance (intermsofperformance.site), created alongside the Pew Center, and dozens of museum catalogues, journals, blogs, and collections. She has received awards such as the Guggenheim Fellowship, the Lilla Heston Award, the ATHE Best Book Award, and an Honorable Mention for the John Hope Franklin Prize.
Jackson is the Program Director for the Kramlich Collection and Art Foundation. She serves on the board for the UC Berkeley Foundation, BAMPFA, the Berkeley Center for New Media, the Oakland Museum of California, The Crucible, and Headlands Center for the Arts. She has spoken at the Venice Biennial, the Goteburg Biennial, ArtCOP21, the Chicago Humanities Festival, the PUBLIC Theater, Tate Modern, Sorbonne, and MoMA. She has organized numerous conferences, symposia, and artist residencies with Berkeley Arts + Design, the Arts Research Center, the Global Urban Humanities Initiative, Art Practical, BAMPFA, Open Engagement, American Society of Theatre Research, and other reputable organizations, as well as the civic governments of Berkeley, San Francisco, and Richmond in California.
Jackson received a BA in Modern Thought and Literature from Stanford (1989), a PhD in Performance Studies from Northwestern (1995), and served as an assistant professor of English and Literature at Harvard from 1995 to 1998.