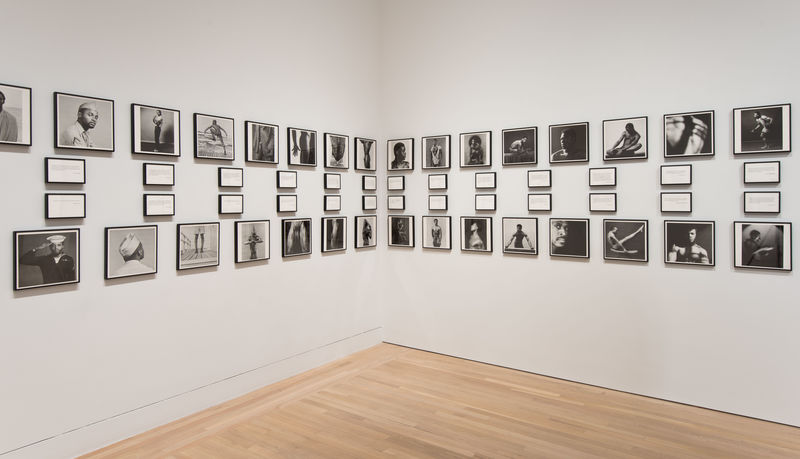 Glenn Ligon, Artist
Notes on the Margin of the "Black Book"
, 1991–93
Medium
91 offset prints and 78 texts
Dimensions
Offset prints, 11 1/2 x 11 1/2 in. (29.2 x 29.2 cm) each (framed); text pages, 5 1/4 x 7 1/4 in. (13.3 x 18.4 cm) each (framed)
Credit Line
Solomon R. Guggenheim Museum, New York. Gift, The Bohen Foundation, 2001 (2001.180) All Mapplethorpe photographs © Estate of Robert Mapplethorpe. Used by permission. All rights reserved. Installation detail view at the Hammer Museum, Los Angeles; photography by Brian Forrest
In Notes on the Margin of the "Black Book," Glenn Ligon, like some other artists featured in Take It or Leave It, has taken as his subject matter the work of another artist. Seventy-eight distinct comments from a variety of political and cultural voices are presented here alongside ninety-one reproductions of Robert Mapplethorpe's controversial photographs of nude black men. By highlighting the heterogeneity of and discord between the many remarks, Ligon restages a debate that arose during the height of the culture wars of the 1980s and foregrounds the emotional, political, and unconscious aspects rarely acknowledged as driving them.