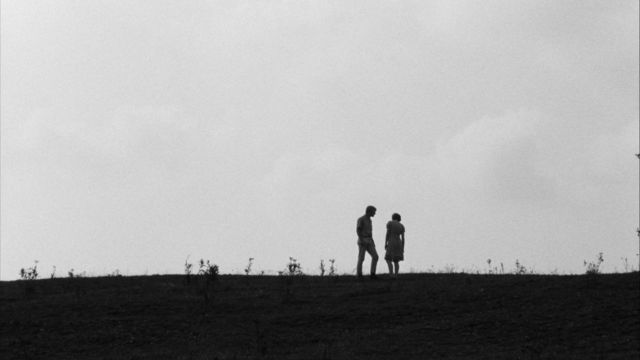 Spring Night, Summer Night / In the Middle of the Nights
Spring Night, Summer Night
North American digital restoration premiere Director J.L. Anderson's remarkable first—and only—feature, Spring Night, Summer Night has been claiming the attention of a growing number of critics as it has gradually emerged from decades-long obscurity following screenings, in recent years, at The Museum of Modern Art in New York, UCLA, and the Rural Route Film Festival. This stunning new 4K restoration promises to bring the film an even wider audience. Shot on location in rural southeastern Ohio, its rolling hills shimmering in eddies of black-and-white grain, accentuated by the film's low-key lighting, Spring Night brings an earthy poetry to its death trap portrait of small-town America.
In the clamor of the family dinner table, Carl (Ted Heimerdinger) and Jessie (Larue Hall), the eldest children in an extended brood, see the grinding trajectory of their lives laid out: from carefree youth to embittered adulthood to forgotten old age. Both secretly hungering for escape, they rebel against the ties that bind them to this place and to each other through an illicit act of love that brings both tender and traumatic consequences. Through these young ill-fated lovers and the hardscrabble world around them, Anderson captures in ethnographic detail the postwar bust of the Appalachians where regrets and recriminations are soaked in Blatz beer and fuel a pernicious rumor mill.
Dropped from the line-up of the 1968 New York Film Festival in favor of John Cassavetes's Faces, and with no other options for distribution, the film was picked up by exploitation distributor Joseph Brenner who tacked on some nude scenes and released a bastardized version under the title Miss Jessica is Pregnant. This restored version, screening at the Hammer, is Anderson's original cut, ready to take its place, finally, among the pantheon of American independent cinema. (1967, dir. J.L. Anderson, DCP, black and white, 82 min.)
New 4K restoration by Nicolas Winding Refn's ByNWR and Cinema Preservation Alliance, courtesy of Flicker Alley.
In the Middle of the Nights: From Arthouse to Grindhouse and Back Again
Following the feature, restorationists Peter Conheim and Ross Lipman present an in-person program of archival discoveries related to Spring Night, Summer Night, a long-lost gem of American cinema. This deep dive includes never-before-seen 16mm home movies of Spring Night's production as well as the world premiere of Lipman's new video essay on the film's troubled release history, including x-rated scenes and outtakes from its exploitation recut. (2020, dir. Ross Lipman, DCP, black and white, 14 min.)