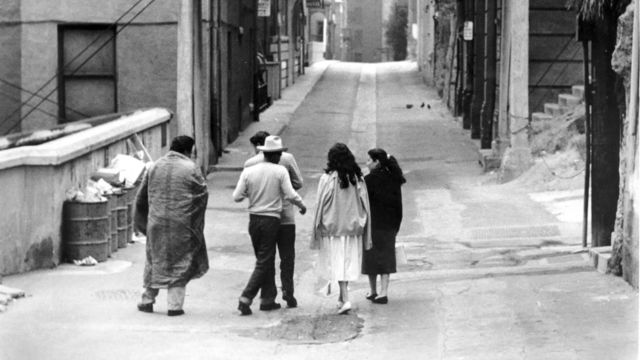 The Exiles / The Savage Eye
The Exiles
Director Kent MacKenzie renders an indelible portrait of an urban Native American community. We are introduced to three Native American youths living in downtown Los Angeles, facing diverse dreams and challenges. The film chronicles a typical nightly bar-crawl, ending in a night of drumming and dancing on a hilltop overlooking the downtown skyline. Displacement and cultural survival are given eloquent voice in this unique screen story. (1961, Kent MacKenzie, 35mm print from the UCLA Film & Television Archive, black and white, 72 min.)
Restored by the UCLA Film & Television Archive with funding from the National Film Preservation Foundation. Courtesy of Milestone Film & Video.
The Savage Eye
A quintessential Los Angeles independent film, The Savage Eye follows a woman waiting out her divorce while confronting the loneliness of an impersonal city. Seeking distraction from her boredom, she throws herself into the seedier side of Los Angeles life. Two stream-of-consciousness narrators, the woman and a poet-angel, dominate the soundtrack, carrying on a dialogue about what the woman sees and experiences. (1960, dir. Ben Maddow, Sidney Meyers, Joseph Strick, 35mm, black and white, 68 min.)
Restored print courtesy of the Academy Film Archive.