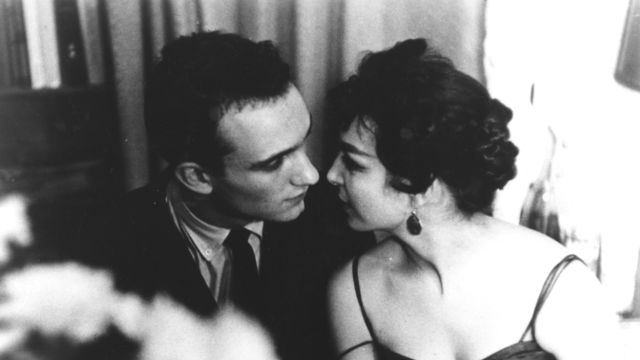 Shadows
Even in his first feature, director John Cassavetes was keying in on character study and episodic structure. Ben and Lelia are brother and sister, light-skinned African Americans who pass for white in the demimonde of 1950s New York. Dark-skinned Hugh is their protective older brother. As the siblings wander the city, their desires and anxieties come to the fore, coalescing into an ineffable poetics of being. (1961, dir. John Cassavetes, 35mm, black and white, 88 min.)
Restored by UCLA Film & Television Archive in cooperation with Faces Distribution Corporation. Preservation funded by The Ahmanson Foundation, The Film Foundation and the Hollywood Foreign Press Association.
On the Bowery
Lionel Rogosin's first film pulls no punches in its stark depiction of alcoholism in New York's Bowery. Spending six months exploring and researching the area, he chose railroad worker Ray Salver as his lead. The film dramatizes Salver's arrival on skid row, fresh from a job with cash in hand, and the subsequent theft of his suitcase while in a drunken stupor. It then traces his life in the following days. The film was photographed by Richard Bagley who obscured his 35mm Arriflex camera under a bundle to hide it while shooting bar scenes. Bagley, who had also shot Sidney Meyers's The Quiet One, was himself an alcoholic, and would pass five years later. The film was nominated for an Oscar for Best Documentary, and Salver's performance would lead to offers from Hollywood, which he declined. (1957, Lionel Rogosin, DCP, black and white, 65 min.)
Restored by L'Immagine Ritrovata. Courtesy of Milestone Film & Video.