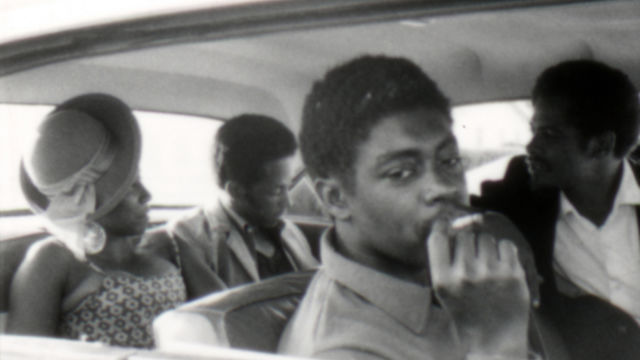 The Jungle / Several Friends / The Pocketbook / Grey Area
Saturday
Feb 8, 2020
7:30 PM
This is a past program
The UCLA Film & Television Archive presents classic film and contemporary cinema in the Hammer's Billy Wilder Theater.
Part of the series American Neorealism, Part One: 1948–1984, this shorts program is followed by a conversation between Ross Lipman and Paul Malcolm about the process of creating the series and including special archival material related to some of their selections.
Total running time: 174 min. All films preserved by UCLA Film & Television Archive.
The Jungle
This dramatized documentary was created by inner city high school students in Northern Philadelphia through a project initiated by Temple University social worker Harold Haskins. With the students creating everything from the credits to the soundtrack, this short is an early example of modern, independent African American filmmaking. With its raw fusion of documentary and fiction, it shows a unique view into street life through the lens of gang members themselves. The Jungle was named to the National Film Registry in 2009. (1967, dir. Charlie "Brown" Davis, Jimmy "Country" Robinson, David "Bat" Williams, 35mm, black and white, 22 min.)
Preservation funded by the National Film Preservation Foundation.
Several Friends
In director Charles Burnett's first student film, eccentric and endearing young people interact in a variety of everyday settings: outside a liquor store, in a living room, fixing a car. Burnett's ability to draw out vivid characterizations from an ensemble of actors—as well as his sensitivity to the expressive potential of working-class props and spaces—is already in ample evidence. (1969, dir. Charles Burnett, 35mm, black and white, 21 min.)
The Pocketbook
In the course of a botched purse-snatching, a boy questions the course of his life in this adaptation of Langston Hughes' short story, Thank You, Ma'am. (1980, dir. Billy Woodberry, 35mm, black and white, 13 min.)
Preservation funded by the National Film Preservation Foundation and Milestone Film & Video.
Grey Area
Monona Wali's UCLA thesis film takes an incident from the lives of an African American woman television reporter and a former Black Panther to explore the state of compromise that African Americans seemingly have to live in to survive in white society. (1983, Monona Wali, 16mm, black and white, 38 min.)