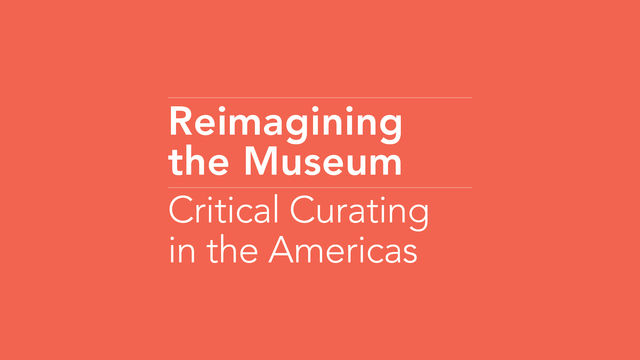 Reimagining the Museum: Critical Curating in the Americas
TUESDAY OCT 13, 2020 5 PM PDT
This second conversation in the Hammer's Reimagining the Museum series explores radical curatorial practices within Latin America and the Caribbean as models for the future of anti-racist, equitable, and inclusive work within US museums.
In response to calls for the eradication of the colonial practices integral to the history of the museum, institutions across the United States are faced with the task of developing methods for undoing their centuries-long relationship to the political and social project of colonialism. This practice of negotiating with art institutions' history of exclusion and erasure has been a concern for curators, activists, academics, and museum workers throughout Latin America, the Caribbean, and their international diasporas.
For this discussion, Hammer chief curator Connie Butler, along with curatorial assistants Vanessa Arizmendi and Nika Chilewich, joins Sandra Benites, (MASP, São Paulo); Natalia de la Rosa (Museo Comunitario Sierra Hermosa, Mexico); Miguel A. López (TEORética, Costa Rica); and María Elena Ortiz (Pérez Art Museum, Miami) to examine how institutional networks in Latin America have responded to museums' systematic erasure of indigenous, Black, queer, and other marginalized histories. Central to this discussion are the questions: What decolonial strategies have curators in the global south employed in response to racism, sexism, and classism? What lessons can US museums take from these strategies as they respond to the growing movement in the support for Black lives and against state violence?
By engaging with the different projects and areas of research put forward by the four speakers, this panel examines some of the legacies of decolonial organizing in museums that have existed globally, highlighting the challenges facing a newer generation of curators guiding the future of art institutions.
This is a bilingual program. Subtitles in English and Spanish will be provided for the presentations. Spanish subtitles for the live English question and answer session will be available after the event.
About Reimagining the Museum
Reimagining the Museum is an ongoing series of conversations initiated by the Hammer Museum in response to the call for the dismantling of colonial and racist histories in cultural institutions. Organized with the goal of providing a forum for these issues at a moment of enormous change within our field, these convenings are intended as a way of having a productive conversation in public about the history and future of museums.
ATTENDING THIS PROGRAM?
Join live: The program will play live on this page. RSVP to receive an email reminder on the day of the program.
Watch later: This program will be recorded. The recording will be available soon after on Hammer Channel, our video platform where you can watch 1000+ talks, performances, artist profiles, and more.
Need help?: Contact our visitor experience team at info@hammer.ucla.edu or 310-443-7000.
Give back: This program is free. The Hammer relies on your support in order to present its programs and exhibitions. Please consider making a contribution.
Please note that this event will be recorded. By attending, you grant the Hammer permission to use your image, statements, and actions in any medium or context without further authorization or compensation.
All public programs are free and made possible by a major gift from an anonymous donor.
Generous support is also provided by Susan Bay Nimoy and Leonard Nimoy, Good Works Foundation and Laura Donnelley, the Elizabeth Bixby Janeway Foundation, The Samuel Goldwyn Foundation, the City of Los Angeles Department of Cultural Affairs, an anonymous donor, and all Hammer members.
Digital presentation of Hammer public programs is made possible by The Billy and Audrey L. Wilder Foundation.
Hammer public programs are presented online in partnership with the #KeepThePromise campaign—a movement promoting social justice and human rights through the arts.