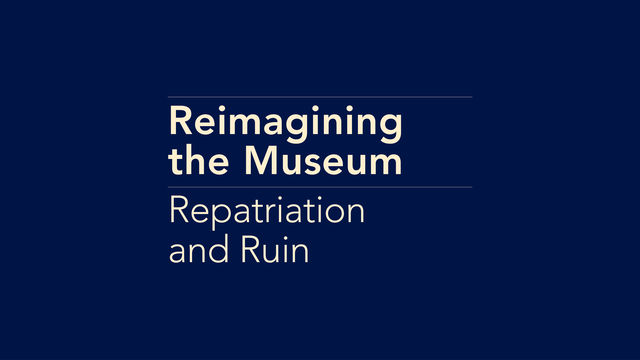 Reimagining the Museum: Repatriation and Ruin
SUNDAY JAN 31, 2021 12PM PST
There is a growing call for museums to take greater responsibility in attending to the objects and histories that they represent. The traditional Western ethnographic museum considers within its responsibilities the collection, preservation, and display of cultural artifacts from around the world. These "discovered" and "rescued" objects are often presented in museum galleries divorced from their context of origin, obscuring histories of theft, plunder, and violence.
The third installment of the Hammer's Reimagining the Museum series is organized around documentary and experimental films that critique ethnographic collecting practices and the narratives of Africa as written by Western art institutions. This program highlights the short films of Nii Kwate Owoo and Onyeka Igwe, whose respective practices grapple with the trauma of colonialism by simultaneously sitting with and subverting ethnographic representations and practices. Following the screenings, the artists join Berlin-based curator, publisher, and cultural historian Clémentine Deliss in conversation. Deliss's new book, The Metabolic Museum, offers a clarion call for museum practices, with a pointed critique of the staid engagement that ethnographic museums showcase with the artifacts within their collection. The program concludes with a screening of the foundational essay film Statues Also Die, directed by Chris Marker and Alain Resnais.
Reimagining the Museum is an ongoing series of conversations initiated by the Hammer Museum in response to the call for the dismantling of colonial and racist histories in cultural institutions. Organized with the goal of providing a forum for these issues at a moment of enormous change within the field, these convenings are intended as a way of having a productive conversation in public about the history and future of museums. This installment of the series is organized by Hammer curatorial assistants Nicholas Barlow and Ikechúkwú Onyewuenyi, and Robert Soros Curator Aram Moshayedi.
About the films
For his documentary short You Hide Me, Ghanaian filmmaker and scholar Nii Kwate Owoo gained unprecedented access to the British Museum's collection of African ritual artifacts, artworks, and cultural objects largely pillaged during ethnographic expeditions. You Hide Me was widely censored in the United Kingdom upon completion and banned from screening in Ghana for purported "anti-British sentiments." Recently remastered, the film is now deemed an early example of independent African cinema. (1970, dir. Nii Kwate Owoo, color, 17 min.)
London-based artist and researcher Onyeka Igwe's No Archive Can Restore You documents the abandoned offices of the former Nigerian Film Unit (NFU) in Lagos, Nigeria. Now in a state of ruin, the cobwebbed, dusty rooms of the NFU become the protagonist of the film. The work reifies the past and present through image and sound, as Igwe weaves a haptic soundscape with footage of blighted celluloid film cans littering the rooms. In Specialized Technique, Igwe reappropriates an early 20th-century ethnographic film of tribal dance, slowing, scratching, and manipulating the image as a way of freeing captive Black life. (2020, dir. Onyeka Igwe, color, 5 min.; 2018 dir. Onyeka Igwe, color, 6 min. Courtesy of the artist and LUX, London)
Filmed in the Musée de l'Homme (Museum of Man) in Paris in 1953, Présence Africaine's influential essay film Statues Also Die directed by Chris Marker and Alain Resnais uses dramatic and innovative editing and camera techniques in an attempt to remediate African artifacts within the museum. The groundbreaking documentary offers a damning critique of ethnographic institutions, which initially prompted the French Ministry of Culture to ban it upon its completion in 1953. (1953, dir. Chris Marker and Alain Resnais, black and white, 31 min.)
ATTENDING THIS PROGRAM?
Join live: The program will play live on this page. RSVP to receive an email reminder on the day of the program.
Watch later: This program will be recorded. The recording will be available soon after on Hammer Channel, our video platform where you can watch 1000+ talks, performances, artist profiles, and more.
Need help?: Contact our visitor experience team at info@hammer.ucla.edu or 310-443-7000.
Give back: This program is free. The Hammer relies on your support in order to present its programs and exhibitions. Please consider making a contribution.
Please note that this event will be recorded. By attending, you grant the Hammer permission to use your image, statements, and actions in any medium or context without further authorization or compensation.
All public programs are free and made possible by a major gift from an anonymous donor.
Generous support is also provided by Susan Bay Nimoy and Leonard Nimoy, Good Works Foundation and Laura Donnelley, the Elizabeth Bixby Janeway Foundation, The Samuel Goldwyn Foundation, the City of Los Angeles Department of Cultural Affairs, an anonymous donor, and all Hammer members.
Digital presentation of Hammer public programs is made possible by The Billy and Audrey L. Wilder Foundation.
Hammer public programs are presented online in partnership with the #KeepThePromise campaign—a movement promoting social justice and human rights through the arts.