John Outterbridge grew up exposed to the practice of recycling materials through his father, a hauler and mover who salvaged junk and used goods. The family's backyard was a place to discover and play with discarded furniture, scrap metal, and old appliances. From a childhood spent amid such cast-off items, Outterbridge developed an appreciation for both the practical and the aesthetic moti­vations for using found objects in his own art. Beginning in the 1960s, Outterbridge and other artists sought a new visual language to express the African American experience, one that did not depend solely on representation. Assemblage, coupled with the move toward abstraction, allowed such artists to work through themes and ideas that concerned them without having to fall back on visual types. For Outterbridge, the exploration through art of his heritage, his struggles, and his past intersected with his interest in community activism.
The artist studied engineering at North Carolina A&T State University in Greensboro in 1952 before enlisting in the army the next year. A tour of duty in Europe provided him with the opportunity to visit art museums and paint his surroundings. After his discharge in 1956, Outterbridge moved to Chicago to study com­mercial art and illustration at the American Academy of Art and quickly became part of a small but dynamic group of African American artists there. The city was the home of the South Side Community Art Center, and artists such as Archibald Motley and Margaret Burroughs served as early influences in Outterbridge's artistic and socially conscious positions. He relocated to Los Angeles in 1963, where, surrounded by artists who were experimenting with materials, he too began to use found objects as his new medium. Important works emerged from the detritus of the Watts rebellion in 1965, and the artist's use of recycled trash not only cut costs compared with traditional art materials but also harkened back to his childhood.
An educator and activist, Outterbridge began teaching at the Compton Communica­tive Arts Academy and the Watts Towers Arts Center in the mid-1960s. He became director of the academy around 1970 and of the arts center in 1975. Although the directorships limited his time for his own artistic pursuits, he was committed to art education and the role of community art centers for artists and audiences. While juggling these positions, Outterbridge also worked at the Pasadena Art Museum from 1967 to 1974 as a preparator and installer, a job that exposed him to the work of Mark di Suvero, Robert Rauschenberg, Andy Warhol, and other artists who experi­mented with materials and tools. 
Image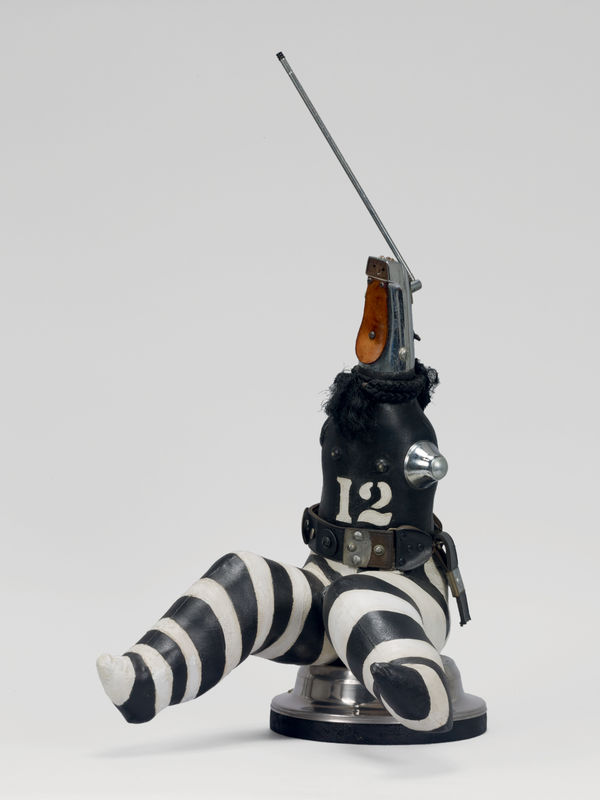 Outterbridge's own history and experiences play a large role in his works. Drawing on per­sonal stories that are inseparable from a larger history, the artist considers the past itself to be an assemblage. The materials bring with them their own history that calls to the viewer, who may or may not be aware of it, and the familiar becomes unfamiliar through the reworking of objects. Ethnic Heritage Group, a series begun in the late 1970s that returned to figuration with doll-like effigies, uses mate­rials such as fabric, beads, wood, and leather to create bodily forms. Even though the result­ing sculptures and their component parts are recognizable, the works are imbued with an unfamiliarity that derives from their construc­tion process and influences, such as central African ceremonial dancing figures and the practice of using scrap fabrics to create quilts. Tradition, family, community, and folklore are all referenced in Outterbridge's sculptures without becoming limiting or exclusive.
Rusted and shiny metal surfaces, painted fabrics stuffed and sewn together, recycled wood and leather are recontextualized by Outterbridge to create new forms. By moving away from the flat painted canvas and instead deconstructing found objects, junk, and other recycled materials, the artist breaks down the barriers created by both the art world's use of traditional materials and society's tolerance of exclusionary policies. The collapse of the frame, both physical and psychological, allowed Outterbridge to free himself from such boundaries. Reconstituted tin cans become hammered sheets; pieces of canvas become sculptural bodies that depart from the museum wall and enter into a three-dimensional space that is accessible to all viewers. The resulting assemblages, oftentimes hauntingly beautiful, weave together the personal and the public, reflections on the past and hopes for the future, and the stories of all those who have been inspired by the objects themselves to reflect on life's experiences. 
—Connie H. Choi 
Selected Exhibitions
Sixth Southern California Annual, Long Beach Museum of Art, 1968.
Dimensions in Black, La Jolla Museum of Art, California, 1970.
Five: Benny, Bernie, Betye, Noah & John, Lang Art Gallery, Scripps College, Claremont, California, 1971.
Los Angeles 1972: A Panorama of Black Artists, Los Angeles County Museum of Art, 1972.
Solo exhibition, Brockman Gallery, Los Angeles, 1982.
Solo exhibition, Watts Towers Arts Center, Los Angeles, 1988.
John Outterbridge: A Retrospective, California African American Museum, Los Angeles, 1993.
John Outterbridge, Tilton Gallery, New York, 2009.
Selected Bibliography
"John Outterbridge." In State of the Arts: California Artists Talk about Their Work, 117–22. Edited by Barbara Isenberg. New York: William Morrow, 2000.
LeFalle-Collins, Lizzetta. 19Sixties: A Cultural Awakening Re-evaluated, 1965–1975. Exh. cat. Los Angeles: California African American Museum, 1989.
Lewis, Samella S., and Ruth G. Waddy. Black Artists on Art, 1:24–25. Los Angeles: Contemporary Crafts, 1969.
Los Angeles 1955–1985: The Birth of an Art Capital. Exh. cat. Paris: Centre Pompidou, 2006.
Outterbridge, John, interview by Allen Bassing, January 3, 1973. Oral history interview. Transcript, Archives of American Art, Smithsonian Institution. 
Outterbridge, John, interview by Richard Candida Smith, 1989–90. African American Artists of Los Angeles, Oral History Program, University of California, Los Angeles. Transcript, Charles E. Young Research Library, Department of Special Collections, UCLA.