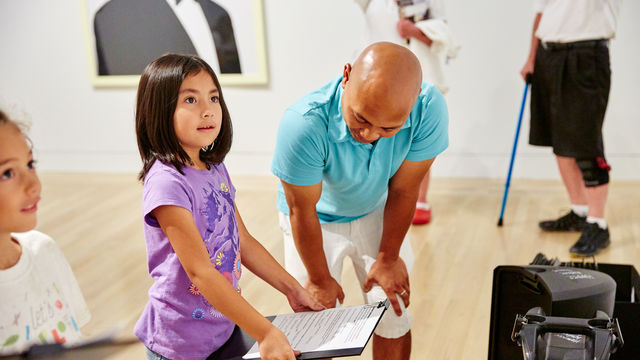 Family and Teen Guides
Enhance understanding of our exhibitions by downloading an educational guide and bringing it with you the next time you visit the Hammer.
Guide to Thomas Heatherwick's Spun Chair (PDF, 1 p., 40KB)
For families and K–12 students and teachers 
This one-page guide lists fun facts and activities to inform your experience of Thomas Heatherwick's Spun Chair. Several chairs are usually placed throughout the Hammer courtyard.
Discovery Guide (PDF, 8 pp., 380KB)
For families and K–12 students and teachers
This guide is designed to help you make meaningful connections to artworks of your own choosing. We encourage you to pick a place in the museum that interests you, and use the prompts provided to discover more about art.
Art Cards (PDF, 2 pp., 36KB)
For K–12 students and teachers
Art Cards is a resource for teachers visiting the museum with their students. These cards will help you facilitate discussions around the artwork in any gallery and foster conversations among classmates.
Make in L.A. (PDF, 10 pp., 2MB)
For grades 6 and up
Take inspiration from Los Angeles artists and foster reflection, discussion, experimentation, and creativity. Learn more about the related exhibition, Made in L.A. 2020. 
Looking for more activities to engage kids with art? View resources created for K–12 teachers.
Academic Programs at the Hammer Museum are supported by The Hearst Foundations and The Rosalinde and Arthur Gilbert Foundation. 
 
Hammer Kids is made possible through the generosity of the Anthony and Jeanne Pritzker Family Foundation, with additional funding from The Winnick Family Foundation. Hammer Kids also receives support from friends of the Hammer Museum's Kids' Art Museum Project (K.A.M.P.), an annual family fundraiser.