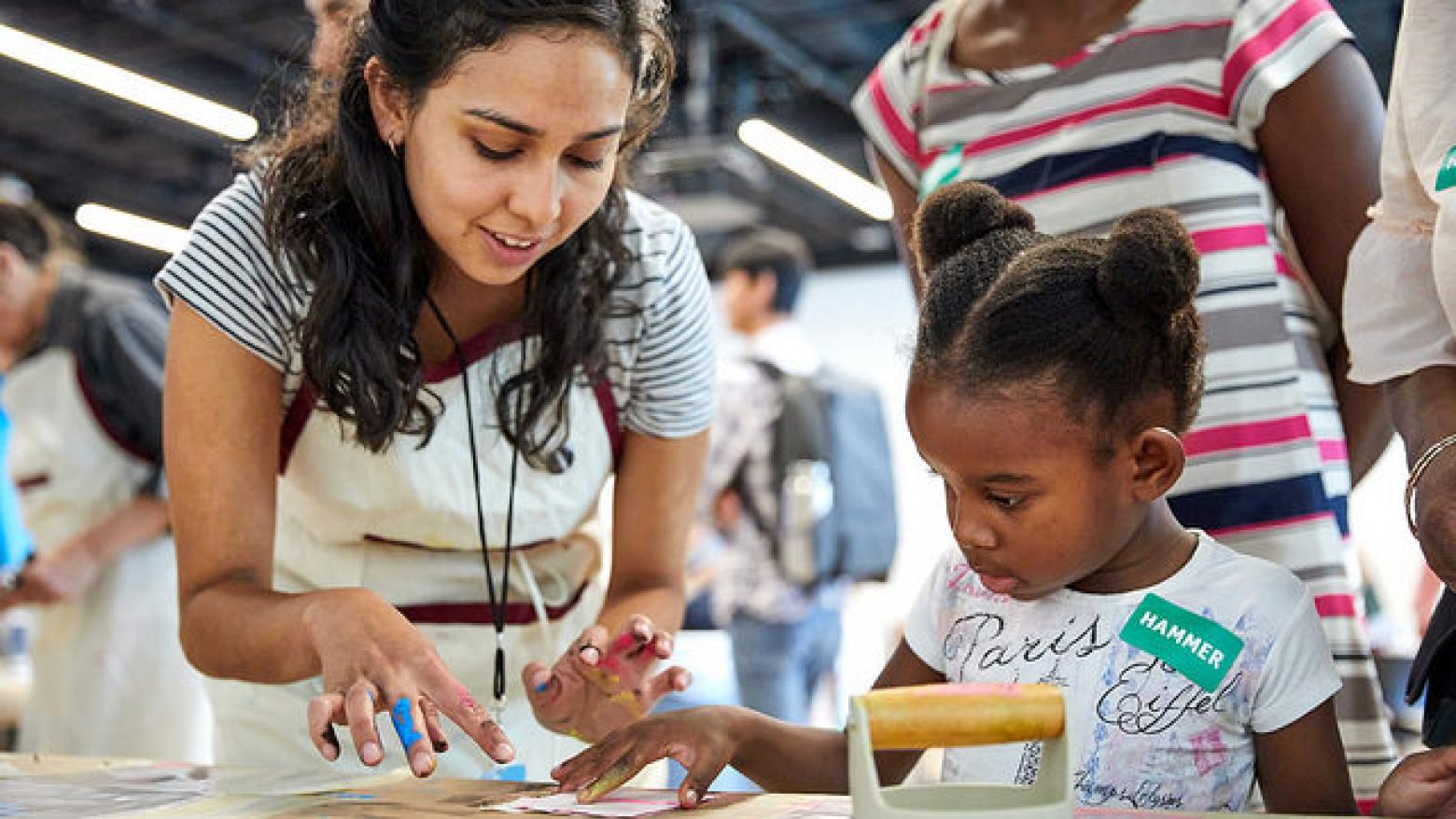 Ten Lessons Learned by Academic Programs in 2018
In the Academic Programs department, we often talk about lessons learned. How can we improve our programs and strengthen our own teaching practices? If a training or tour activity was successful, which aspects were most effective? What lessons learned from our professional work can be applied to our personal lives or the lives of others? The lessons we learn may be surprising or humbling, touching or—at best—revelatory. Here are ten of the most compelling lessons we learned in 2018.
Lesson 1: Art will eventually speak—even when silence is intentional
The phrase "art speaks" took on new meaning in 2018. Artist E.J. Hill stood silent on a podium for over 600 hours during Made in L.A. 2018, a powerful action of endurance after running "victory laps" around schools where he never felt fully accepted. One day, young writers enrolled in 826LA's Summer Writers Workshop shared space with the artist, reflecting on the lessons they learned, didn't learn, and wished they could unlearn in school. Hill was so moved by their reflections that he broke several weeks of silence. Speaking from the podium with tears in his eyes, he advised the students to keep going, to endure. 
We invited hundreds of kids of all ages to speak their minds through art at this year's Family Day: Kids for Peace, taking inspiration from young activists who have been speaking up across the country. Families created artwork about peace, solidarity, and community, including prints celebrating their neighborhoods that they could trade with one another in silent but powerful dialogues.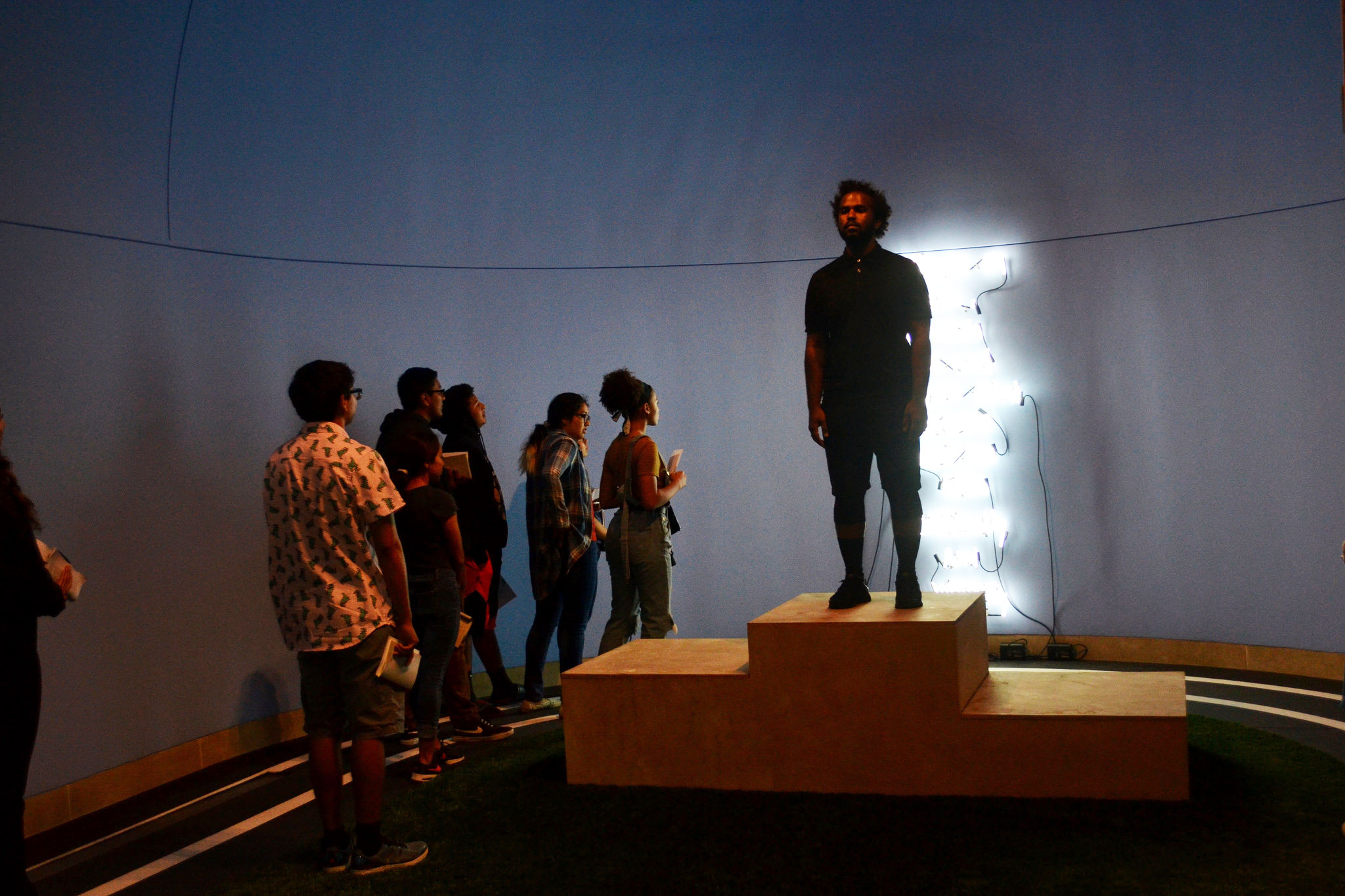 Students in EJ Hill's gallery
Lesson 2: Discussing art is an effective way to understand our biases
I've always believed that discussing art in a group is a great way to understand multiple perspectives—of the artist, each individual in the group, and oneself. I had a hunch that we could dig deeper into this understanding to uncover bias. After all, individual perspective and bias are inextricably linked. I began experimenting with activities designed to increase awareness of our implicit biases, and soon enough I began leading trainings on bias and privilege for museum colleagues.
When we analyze our associations with works of art, we can unpack how aspects of our identity and lived experiences influence our decisions and give rise to biases, whether consciously or not. Since the first step to mitigating implicit biases is to be aware that they exist, I'm hoping these trainings will be a step in the direction of greater equity and inclusion in museums.
Lesson 3: Making art is also an effective way to understand our biases
This year we launched a new partnership with Mann UCLA Community School, in which ninth grade students discussed works by Adrian Piper that explored issues of racism and sexism, and then created videos that explored an "ism" of their choosing. After lengthy discussions about race as explored in Piper's work, I incorrectly assumed that most students would explore racism they've experienced in their own lives. Instead, several students chose to focus their projects on heterosexism even though they expressed individual or cultural discomfort with homosexuality. Video production provided a safe space for students to bravely work through discomfort and ultimately deliver positive, inclusive messages, as seen in the screenshot below from a video that told the story of a student who was initially rejected by peers due to her sexuality and eventually became accepted and confident.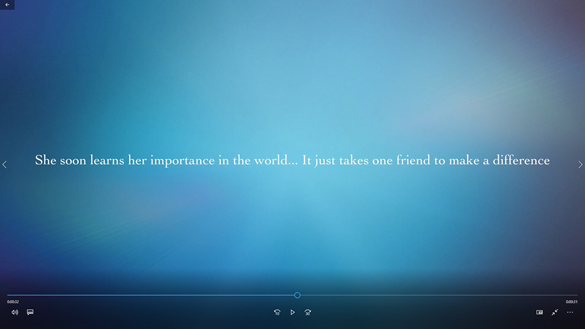 A student video depicts a character's journey as she accepts her sexuality as a result of a kind interaction.
Lesson 4: Art museums are excellent places for studying
During every finals week, university students clamor for space to hunker down with their laptops for hours at a time. With galleries conducive to study breaks and peaceful, beautiful spaces like the Hammer's bamboo-filled courtyard, art museums are perfect venues for stressed out students, as we learned this year.
Our quarterly Hammer Study Halls bring in more and more students with each iteration. It helps to provide dozens of power cords, soothing live music, and study breaks such as meditation in the galleries, drop-in art activities, or, most recently, funk dance lessons inspired by Adrian Piper's Funk Lessons. And of course, free snacks.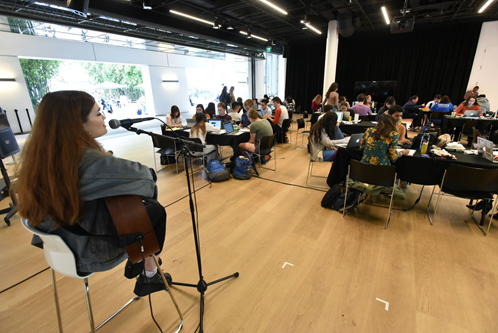 Live music performed by UCLA students such as Paige Shannon (pictured here) was the backdrop for the Hammer Study Hall during finals at UCLA.
Lesson 5: When students visit an art museum, they are more accepting of multiple interpretations of art
All art museums offer tours, though it wasn't until this year that a nationwide study measured what students gain from this experience. The Hammer was one of six museums selected to participate in this significant study, organized by the National Art Education Association and the Association of Art Museum Directors.
When comparing data at six diverse museums with different educators each leading a single hour-long visit, it is hard to imagine that any statistically significant commonalities would arise. Yet there are four important findings, listed below. I am particularly pleased that museums offer an alternative to the all-too-pervasive focus on standardized tests in schools. When students visit a museum, they are exposed to multiple interpretations rather than being forced to pick one option of a multiple choice test. In this way, museums are vital to fostering essential life skills.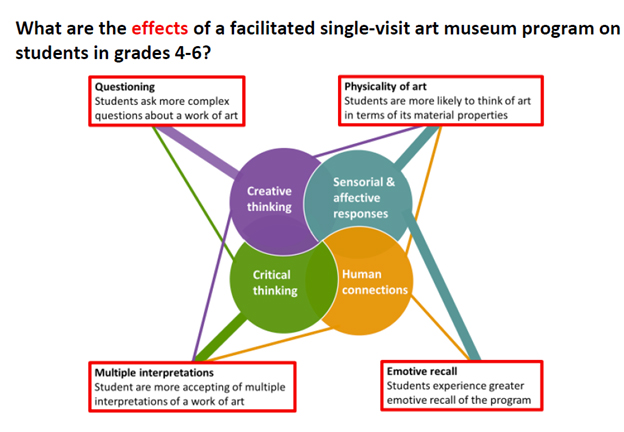 Summary findings from a nationwide study exploring what students get out of museum tours.
Lesson 6: Conceptual art is more inclusive than you think
If you hear an individual in a museum grumble, "My kid could make that," they may be talking about conceptual art. The fact that this statement is meant to be pejorative discounts the child who should be celebrated for creating interesting artwork. Our exhibition Stories of Almost Everyone encouraged children of all ages to celebrate the stories they attach to everyday objects, and the Hammer Kids Oral History Archive was born.
One of Adrian Piper's conceptual works is Calling Cards. In a series of performances, she would hand out cards with statements such as: "Dear friend, / I am black. / I am sure you did not realize this when you made/laughed at/agreed/ with that racist remark." We've seen UCLA students, children as young as five (depicted below), and homeless young adults write their own versions of calling cards to people who make assumptions about them based on their appearance, proving that conceptual art can be deeply meaningful to learners of all ages.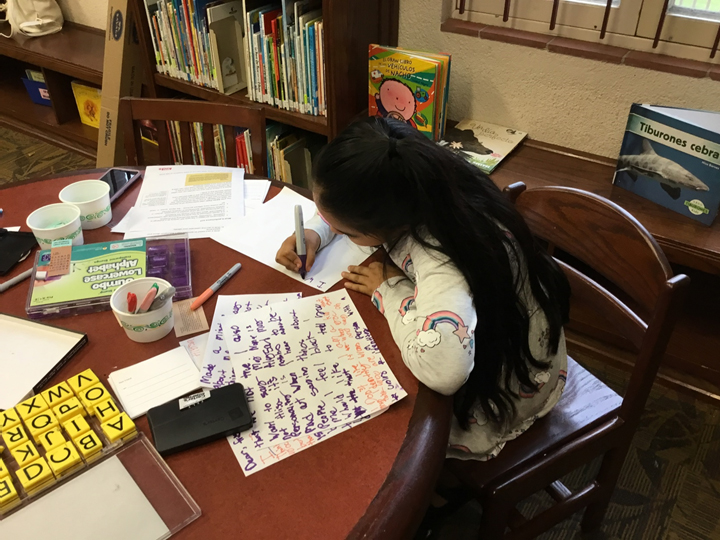 A young child writes a 'calling card' inspired by Adrian Piper's work.
Lesson 7: If we don't make an effort to diversify museum staff now, we will keep having the same conversations
This year we offered our first paid fellowship opportunity for an emerging museum educator from a historically underrepresented group with the aim of helping to diversify the museum field and reduce barriers among recent college graduates from acquiring full-time entry-level jobs.
Having spoken with many recent university graduates, it became clear that having a part-time job or internship in a museum while you are a student is not enough in a competitive job market. And because research shows that hiring managers tend to hire people who are like them, people of color are at a disproportionate disadvantage in the predominantly white museum field. We are chipping away at systemic racism with one person. You have to start somewhere.
Lesson 8: Experimentation in artistic processes is not unlike mindful meditation
When we view Victor Hugo's drawings of abstract forms and taches (stains), we can imagine the artist experimenting with ink and water in both planned and unpredictable ways. Similarly, when we meditate, we can bring awareness to what we can and cannot control. In mindful meditation sessions that we have led for UCLA staff and students, including health care professionals and medical students, educator Zoe Silverman has invited participants to consider works of art as anchors of attention. As we meditate, we are encouraged to return to the anchor and the present moment in nonjudgmental awareness. This practice of quieting judgment is an essential component of the artistic process.
Educator Zoe Silverman leads UCLA students in mindful meditation with drawings by Victor Hugo.
Lesson 9: Some of the most rewarding tours can be for one or two people
When only one or two people show up to join a tour, it may feel disappointing to the guide. However, when my team of educators share some of their most rewarding experiences in the galleries, they mention having a long dialogue on Sundays with one of our regulars, Brenda Goldmark, who looks forward to tours no matter what exhibition is on view, and without fail leaves voice mail messages afterwards to share what she loved about the tour. Or educators will recount personally meaningful conversations with two individuals, such as intimate but lively tours for people who were delighted to participate in a tour in their native language, during our Talk L.A.: Tours in Nine Languages series.
Lesson 10: Art provides an outlet for strangers to let loose together
Once you get past your initial inner critic, there is something about art that gives you license to step out of your comfort zone. Over and over again, we saw groups of strangers connect with one another in the process of making or discussing art.
Veterans participating in UCLA Operation Mend's intensive treatment program spent the first day of their program sharing insights about Rembrandt's painting of the goddess Juno. In a theater seating over 200 people, UCLA students learned that Adrian Piper taught funk lessons in universities in the 1980s, and then the students disclosed personal stories that revealed how their religions, upbringings, or cultural traditions are absent from academia. Teachers from various school districts created a collaborative performance about Los Angeles that combined poetry, movement, theater, and design inspired by an installation by Lauren Halsey. And within an hour of meeting one another at a professional development workshop, teachers trusted a partner to guide them in creative movement while keeping their eyes closed. I learned that art encourages risk-taking and builds community a very long time ago, but I'm happy to relearn this lesson year after year.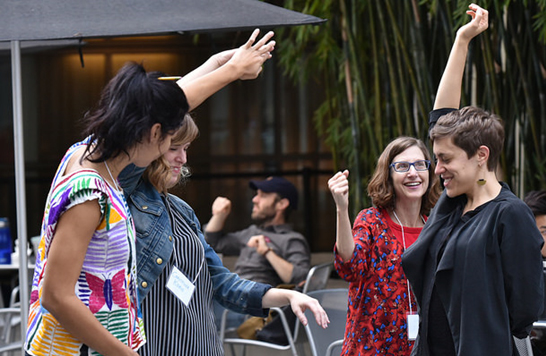 Teachers at a professional development workshop discover trust-building movement activities that they can incorporate in their classrooms.