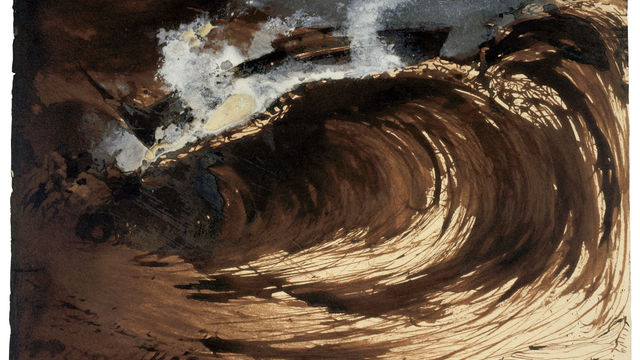 Stones to Stains: The Drawings of Victor Hugo
–

This is a past exhibition
This exhibition sheds new light on Hugo's experimental and enigmatic practice as a draftsman and includes over 75 drawings and photographs spanning the duration of his career.
Poet, novelist, playwright and critic Victor Hugo (1802–1885) was a preeminent figure in the social, political and cultural life of 19th-century France. One of the greatest writers of all time, he was also an accomplished draftsman and produced a lesser known but remarkable body of works on paper. Hugo's drawing practice was largely a private endeavor and although over 3,000 sheets by him survive today, they were rarely seen in public during his lifetime. Many were produced during his extended exile on the Channel Islands of Jersey and Guernsey between 1852 and 1870. The sole American museum exhibition devoted to his graphic work to date was organized by the Drawing Center in New York in 1998. The Hammer Museum's exhibition will reconsider Hugo's experimental and enigmatic practice as a visual artist for a new generation of audiences in America.
The title of the exhibition, Stones to Stains, alludes to the development of the artist's idiosyncratic form of draftsmanship and its relationship to the transformative properties of water. With its ceding and receding movement, the violence of its waves or the inexorable flow of drops, the persistence of water eventually erases or envelops all in its path, including the seemingly unassailable density of stone. In Hugo's ink and wash drawings, we witness a phenomenon similar to that of water's effect on stone.  The drawings vacillate between the depiction of landscapes and architecture and the rendering of abstract forms and taches (stains). They are characterized by Hugo's spontaneous approach and receptiveness to the myriad possibilities of medium and materials. He often relinquished his compositions to chance by soaking or turning the paper, allowing the ink to pool into spontaneous shapes. He also added to the complexity of his images with the use of stencil and collage, and by making impressions of various objects such as lace, leaves, or even his own fingertips.
This landmark exhibition will feature an important selection of over 75 drawings and photographs from major European and American public and private collections, including the Maison de Victor Hugo, the Bibliothèque nationale de France and the Musée d'Orsay in Paris, the Nationalmuseum in Stockholm, the Metropolitan Museum of Art and the Morgan Library in New York, and the Art Institute of Chicago.
The exhibition will be accompanied by a fully-illustrated catalogue with essays by the curators Cynthia Burlingham and Allegra Pesenti, independent scholar Florian Rodari, and a chronology by Matthieu Vahanian, curatorial assistant at the Grunwald Center for the Graphic Arts. Related programming in Los Angeles will include lectures, concerts, and screenings with the support of the Center for European and Russian Studies at UCLA.
This exhibition benefits from exceptional loans from the Bibliothèque nationale de France and the Maisons de Victor Hugo.
The exhibition is curated by Cynthia Burlingham, deputy director, curatorial affairs and Allegra Pesenti, senior curator and associate director, Grunwald Center for the Graphic Arts, Hammer Museum, in collaboration with independent scholar Florian Rodari.
Stones to Stains: The Drawings of Victor Hugo is made possible by lead support from Alice and Nahum Lainer. Major support is provided by Deanie and Jay Stein and the LLWW Foundation. Generous funding is also provided by Frances F.L. Beatty and Allen Adler, Catherine Benkaim and Barbara Timmer, the John R. Eckel Jr. Foundation, Nancy Lainer, Margo Leavin, Lee Ramer, Anne-Marie and Alex Spataru, Susan Steinhauser and Dan Greenberg, and Karen and Gary Winnick, with additional support from Clare Casademont and Michael Metz.