Holiday Gift Guide 2015: Hammer Staff Picks
Still searching for that perfect gift? We asked some of our most enthusiastic Hammer staff shoppers to tell us about their favorite items in the Hammer Store this holiday season.
RTH Pop-Up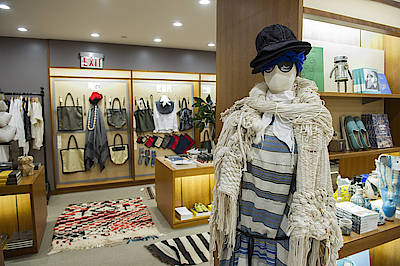 In the last few years we have begun to introduce new products from L.A.-based artists and creators at the Hammer Store. There is a very special space in our store right now, full of objects that have been hand-selected by Rene Holguin of the L.A. boutique RTH. I love the mixture of wonderful clothing, carpets, jewelry, and ceramics. –Ann Philbin, director
Bonne Maison Socks
I have been caught staring at, talking about, and revisiting the wall of Bonne Maison socks hung on the Hammer Store wall. They are beautiful little pieces of art in themselves and my way of "preparing for" "winter" in L.A. –Chisa Hughes, new media associate
5 year diary by Shopsin's General Store & The Ice Plant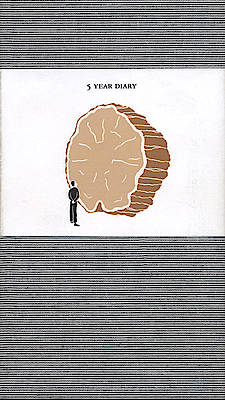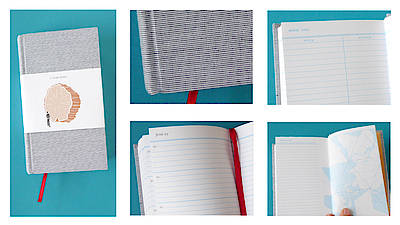 I love this little diary. Each page will eventually contain 5 years' worth of November 12s that you live through, and I look forward to looking back. It's the analog version of Facebook Memories without the forced nostalgia. –Nancy Lee, manager, public relations
Pauline Wolstencroft Ceramics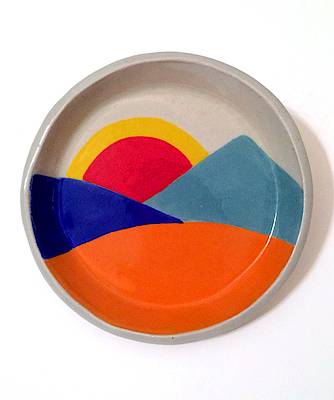 Made in her Los Angeles garage studio, Wolstencroft produces simple plates and vases that combine her passions for both painting and ceramics. Inspired by California, each object features an exuberant, hand-painted, minimalist landscape, made out of a series of colorful, geometric shapes. These one-of-a-kind vessels are small in scale, but surely stand out. –Christopher Mangum-James, visitor experience manager
I'm buying Pauline Wolstencroft Ceramics for my mom. The mountain scenes depicted on these small handmade plates are serene and elemental, but their deeply saturated colors are joyful. It makes a lovely accent in a small space. I hope my  mom will hang hers in the kitchen. –Emily Cregg, executive assistant to the director 
Darin's Annual Gift Bag
Old habits die hard, and this year I'll again be putting together small, thoughtfully curated gift bags for my near and dear. For a truly unique giving experience, combine small items from the Hammer store, such as the ones listed below, with something homemade, a flea market find, or baked goods. –Darin Klein, public programs associate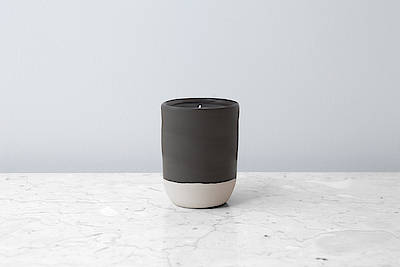 Norden Ceramic Candles. The Big Sur version of these soy wax candles reminds me of a romantic road trip my husband Arthur and I recently took along the California coast. Give the gift of an instant vacation with this sweet and earthy fire-lit fragrance. Bonus: the hand thrown ceramic containers can be washed out and reused when the candles are done.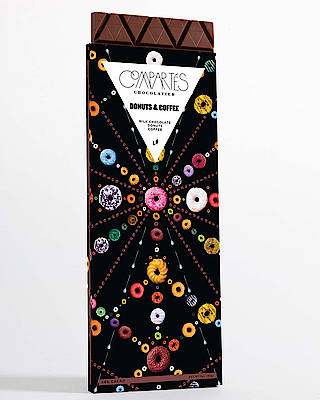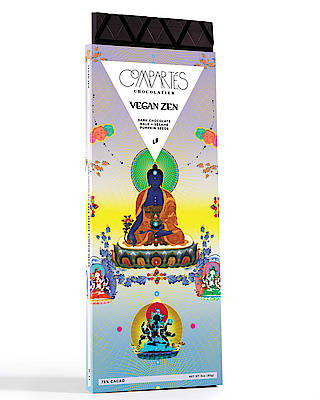 Compartés Chocolate Bars. Lots of choices in stock, from the fun (Donuts & Coffee) to the complex (Vegan Zen: Dark Chocolate, Kale + Sesame, Pumpkin Seeds). The wild and bold packaging is different for every flavor and clues you in to the rich, beautifully crafted, edible art inside. Varying degrees of milk and dark chocolate for all preferences.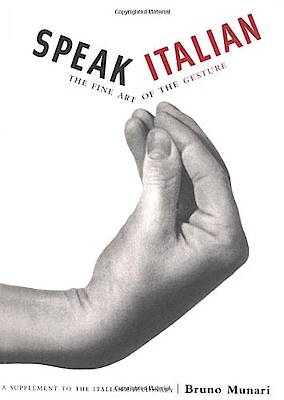 Speak Italian: The Fine Art of the Gesture by Bruno Munari. Originally printed in 1958, this small volume by the beloved Italian Futurist uses black and white photography to illustrate instructions for hand gestures and their meanings. Simple pleasures.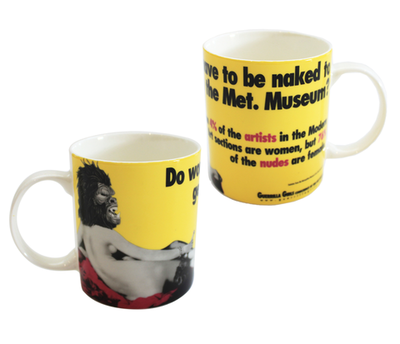 Third Drawer Down x Guerilla Girls mug / tea towel / handkerchief. Perhaps you have noticed that the Hammer Store does not sell cheesy, licensed reproduction merchandise. Instead, give the gift of these collaboratively created housewares by important artists/activists to help balance the typically commercial holiday season with a degree of feminist ideals and diversity consciousness – inside of our beloved art institutions and in broader society.
David Shrigley Frisbee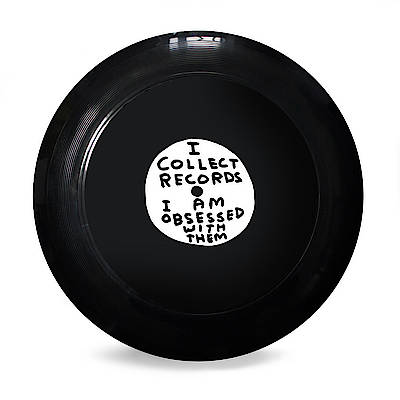 Do you have anyone in your life who enjoys throwing Frisbees? Or who has a record collection? Or who appreciates irreverent, British art? Chances are you know someone who checks one of those three boxes, or who knows? Maybe you've found yourself a unicorn who checks all three. Either way, buy this person a David Shrigley Frisbee (or, as it's known by no one else, a "Shrigsbee") and watch the look on their faces turn from one of confusion to one of deep, heartfelt appreciation (followed quickly by the attendant feeling of indebtedness which is the whole reason we exchange gifts in the first place). It makes a great gift, because it's one of the few things that can be hung on a wall or thrown at full strength, and both would be considered proper uses. And at 20 bucks, it fits neatly under the spending limit for most of those yankee swap/white elephant/secret Santa things. –Philip Leers, project manager for digital initiatives
Jacobsen Salt Co.'s Infused Flake Salts and Ceramic Salt Cellar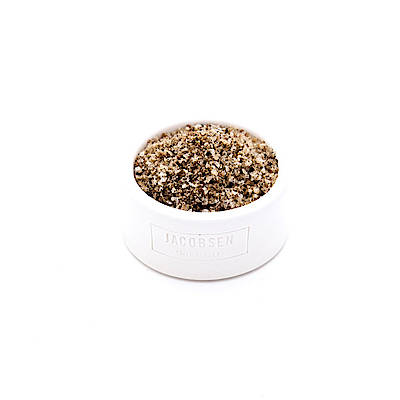 I grew up watching the Food Network religiously, and all of my food heroes always had a fancy salt dish for their fancy salts. You, too, can be like Ina Garten with these products from Oregon's Jacobsen Salt Co. It's the perfect indulgent gift for that person who has everything. Just imagine sprinkling some Pinot Blanc-infused flake salt on top of your wood plank grilled salmon. And then for dessert, some Stumptown Coffee-infused flake salt on top of those freshly-baked brownies. Hungry? Yeah, me too. –Arielle Sherman, assistant manager, digital communications
A Gift for Anyone on Your List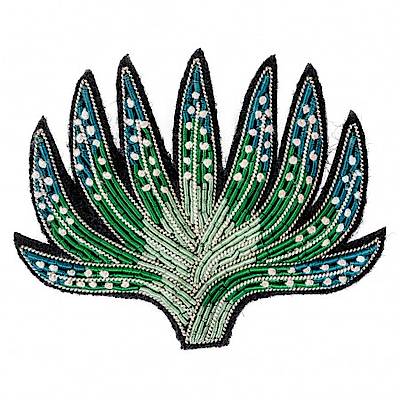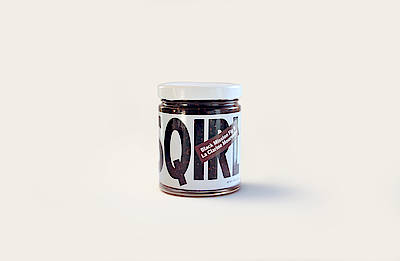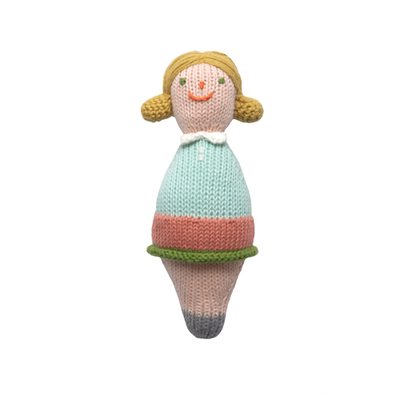 Throughout the year, the Hammer Store has been my go-to place for everything from Christmas to birthdays to baby showers to Mother's Day to hostess gifts and back again to Christmas. At this point, all of my teenage relatives have received a pin from Macon & Lesquoy. I don't pretend to know what they are into nowadays, but the pins are whimsical and rare enough to be cool finds. For the adults who already have everything, I like to buy the seasonal jams from SQRL and assorted chocolates from Compartes. Lots of my friends are having their first kids, so rather than buying something on their registry, I will pick up these super soft dolls by Blabla and an illustrated book. For myself, I am eyeing It Was + It Will Be's jewelry. –Emily Gonzalez-Jarrett, curatorial associate
Workman Stencil Workbook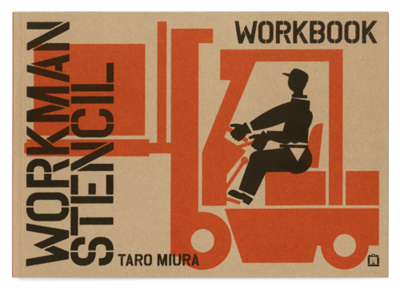 The Hammer Store has an excellent kids section, and whether I'm looking for a birthday present, baby shower, or gifts for my own two boys, I can always find something fun. You can't go wrong with the art supplies or colorful books, but at the moment my kids are loving this Workman Stencil book by Taro Miura. They are, of course, obsessed with tractors, machines, and all the things "workmen" do—so this provides lots of imaginative fun. And to tie on top of a gift, throw in a stocking, or give as party favors, grab a handful of the brightly colored and festive kazoos! –Catherine Massey, assistant director, institutional giving/development
Fantastic Cities Coloring Book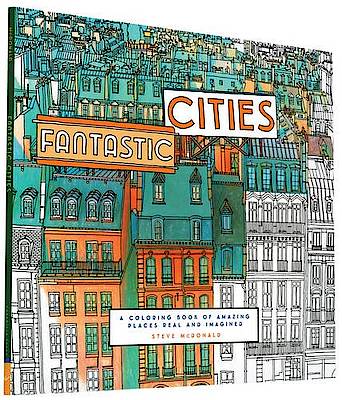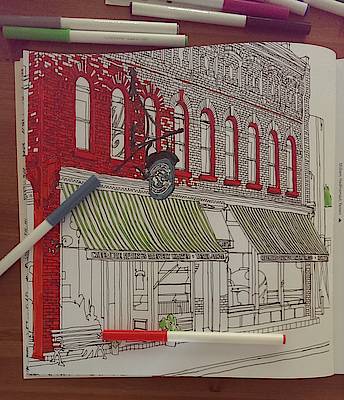 My favorite purchase this year from the Hammer Store is a coloring book. I did not buy this for my daughter; I bought it for myself!  I have been spending hours at a time coloring in the cityscapes in Steve McDonald's Fantastic Cities coloring book. The scenes come from cities all over the world. In several pages, McDonald repeats the buildings he draws in circles, creating kaleidoscopic compositions that he calls mandalas. As I color in these scenes I think about place, scale, pattern, perspective, the places I have traveled to and want to travel to, and more. This book is great for adults and kids alike—my three-year-old daughter joins in with me often. –Susan Edwards, associate director, digital content
March Pantry Kosher Salt, Norden Candle, and Good Mix
Thoughtfulness is what people remember so I make sure holiday gifts hit the right chord in message and quality. Classics with modern twist are always fun; it is an opportunity update long standing traditions and make them all your own. This year I suggest wishing friends and family the very best—health, wealth, love, happiness, and plain old goodness. –Lindsay Martin, director, administration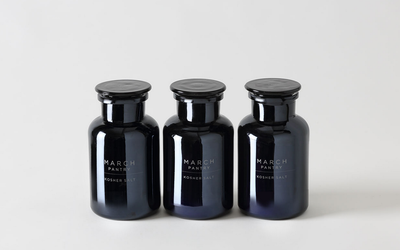 March Pantry's Kosher Salt will look amazing on the counter of any kitchen and symbolizes wealth and health as salt has been a valuable currency and preservative. 
Love and happiness are represented by the light of a candle. With Norden's Big Sur scent it is guaranteed, as the smell takes you straight to California's Central Coast with visions of sunshine, sea breeze, and redwood trees.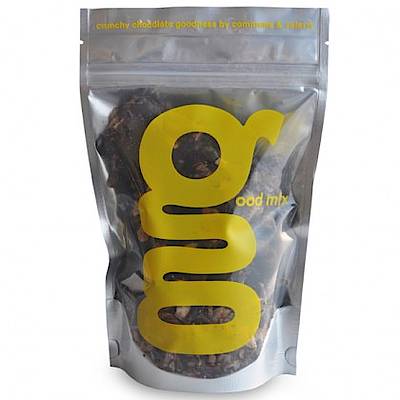 Then there is Valerie Chocolate's Good, a gluten free chocolate granola treat. It is so good, you'll eat it all within a couple hours—true story. I'd buy a couple; will hopefully guarantee at least one bag will make it out as a present.
Rodarte, Catherine Opie, Alec Soth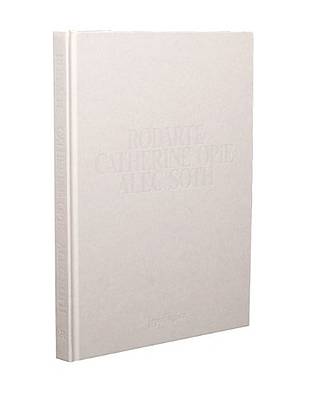 Rodarte, Catherine Opie, Alec Soth is an elegant book designed by Li Inc. and published by JRP Ringier. The contrast of the white-on-white debossed, clear-coated title treatment increases as the exterior cover ages. It would be a timely addition to your library leading up to Catherine Opie's exhibition at the Hammer this winter. –James Thompson, graphic designer
Amana Bakers Rolling Pin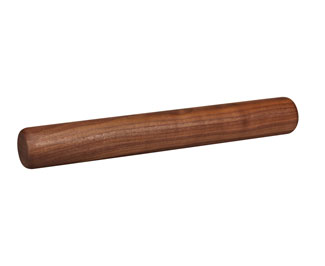 Hand-turned from solid walnut in Amana's Iowan workshop, this rolling pin is perfectly weighted and beautifully crafted. Priced at only $30, it's the perfect gift for anyone hosting a holiday meal and will ensure that you're invited back next year. –Michael Nock, administrative coordinator, curatorial
Mitsuko Ikeno Ceramics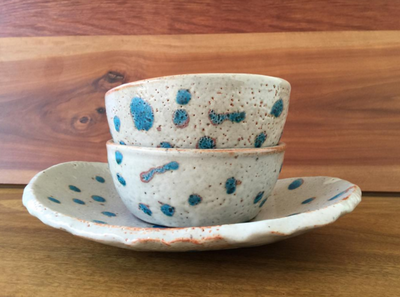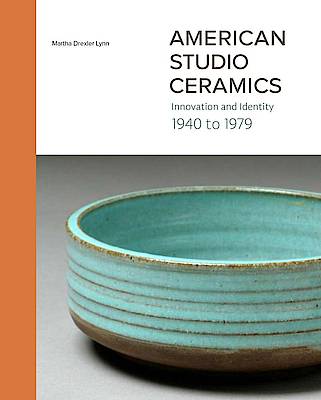 I love breathing life into someone's morning (or evening) with the gift of a handmade coffee (or night-cap) mug. The ceramics of Mitsuko Ikeno, a UCLA Department of Art alumna, make beautiful gifts for ANYBODY! My favorites are her vessels with the electric blue glaze, applied with equally electric drips and splotches. I'd pair the gift with a beautiful publication that's hot off the press: American Studio Ceramics: Innovation and Identity, 1940-1979, by Martha Drexler Lynn (Yale University Press). –Olivia Fales, academic programs assistant
brandnewnoise Zoots Gadget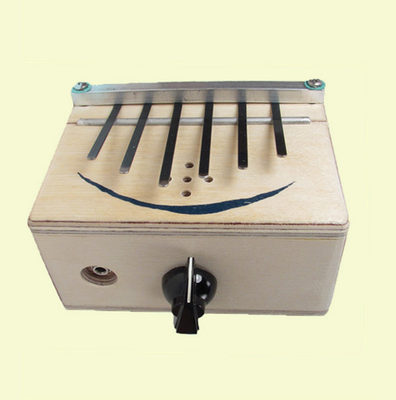 The Zoots gadget is a mini recording studio, loop pedal, and thumb piano. Whatever you record can be sped up or slowed down using the little black knob located on the front of the device. It's easy and creates more complex patterns to really layer over your musical talents. The six note instrument puts out tinny, metallic sound that is perfect for accompanying the lyrical poem you've been writing for your significant other, the lullaby for your sleepy puppy, or the personalized happy new year song for your #1 mom. –Lauren Molina, retail coordinator
Toast: The Cookbook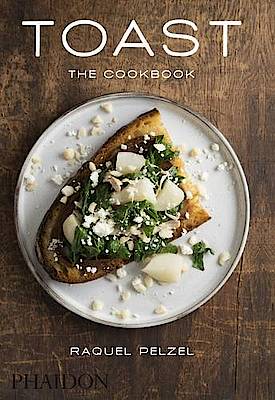 Looking for an easy way to impress dinner guests and stick to a favorite comfort food? Toast: The Cookbook is the gift that speaks to my stomach and my heart. Whether you're looking for a new take on the classic jam and toast spread or something more adventurous, like Dutch apple pie toast, there are recipes in here for everyone. –Haley Di Pressi, registrarial associate
Hammer Membership
Membership: the gift that keeps on giving! This holiday season, consider buying someone you love a Hammer membership. Members enjoy private events, special access at Hammer public programs, meeting new people, and unique exposure to contemporary art. Your loved ones receive an entire year of new experiences, and your contribution allows the Hammer to present a diverse slate of programs and exhibitions—free to all! –Andrea Lennox, visitor experience coordinator