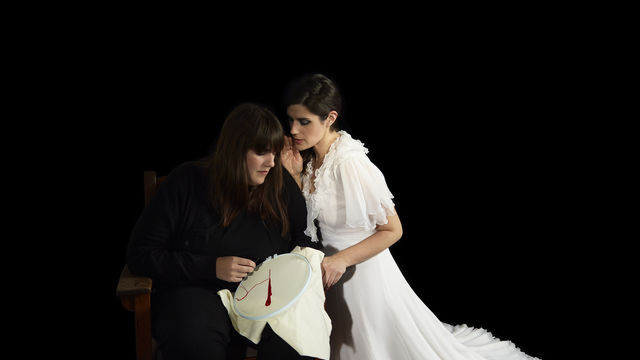 Hammer Projects: Catherine Opie: Portraits
–

This is a past exhibition
In 12 portraits of visual artists, fashion designers, and writers, Opie's most recent body of work engages directly with old master portraiture.
One of the preeminent artists of her generation working with photography, Catherine Opie (b. 1961, Sandusky, Ohio) is known for her evocative images of contemporary America. The artist has chosen a myriad of subjects throughout her career, including the S/M community, city buildings, domestic life, high school football players, surfers, and President Obama's first inauguration. Her pictures of the people, places, and events of the past 30 years are documents of the artist's life as well as of our times. Opie's work draws as much from Renaissance painting as from the traditions of street photography, and her most recent body of work most directly engages with old master portraiture. Drawn from her own circle of creative friends—visual artists, fashion designers, and writers—her sitters emerge from the darkness as if lit from within by their intellectual potency. The Hammer Museum will present 12 portraits from this recent series alongside a new abstract landscape.
This exhibition is organized by chief curator Connie Butler with Emily Gonzalez-Jarrett, curatorial associate.
Concurrently on view from January 23-May 8, 2016, Catherine Opie: 700 Nimes Road at MOCA Pacific Design Center, West Hollywood.
BIOGRAPHY
Catherine Opie was born in Sandusky, Ohio and received her MFA from California Institute of the Arts, Valencia in 1988. Opie's work has been exhibited extensively throughout the United States, Europe, and Japan. In 2008, Catherine Opie: American Photographer, a mid-career survey of her work, was on view at the Solomon R. Guggenheim Museum in New York. Recent solo exhibitions have been organized by the Wexner Center for the Arts in Columbus, Ohio; the Los Angeles County Museum of Art; the Aldrich Museum in Ridgefield, Connecticut; the Museum of Contemporary Art in Chicago; the Walker Art Center in Minneapolis; The Saint Louis Art Museum; the Photographers' Gallery in London; The Museum of Contemporary Art in Los Angeles; the Institute of Contemporary Art, Boston; and the Long Beach Museum of Art in California. Opie was a recipient of the Julius Shulman Excellence in Photography award in 2013 and a United States Artists Fellowship in 2006. Her latest book 700 Nimes Road, a portrait of Elizabeth Taylor, will be published by Prestel in September. Photographs from this body of work will be shown at the Museum of Contemporary Art, Los Angeles concurrently with her exhibition at the Hammer Museum. She is currently working on an installation for the new Los Angeles Federal Courthouse, to debut the Summer of 2016. Opie lives and works in Los Angeles and is a Professor of Photography at UCLA.
Essay
It might be said that the hardest thing to accomplish in visual culture these days is a portrait. At a time when the selfie dominates what passes for self-representation and human connection is reduced to a thumbs-up or thumbs-down with the swipe of a finger on a handheld image, it is hard indeed to know, at any one moment, what we are looking at. The Los Angeles–based artist Catherine Opie goes right to the heart of this problem with a group of portraits initiated in 2012 that now comprises some thirty pictures of artists, filmmakers, writers, designers, and other cultural producers, each with personal significance for the artist herself. Nearly human scale and surrounded by dark oval or rectangular frames, each face or figure is highlighted by an ethereal and very specific light. The Hammer Museum's presentation features eleven of these, punctuated by one landscape, an image of Bridal Falls in Yosemite National Park.
 
Opie has long been one of the preeminent inheritors of the social documentary tradition. While the pictures on view fall into a more conventional category of portraiture, carefully constructed images of sitters who pose and allow themselves to be choreographed and photographed over time, Opie's portraits arguably extend social documentary into the present moment. Following the tradition forged by such major photographers as Diane Arbus, Garry Winogrand, Robert Frank, or her teacher Henry Wessel over the course of her long career, Opie has documented what might be considered quintessentially American subjects. Not unlike the Swiss immigrant Frank, whose view of the American landscape was that of an outsider within his adopted culture, Opie chooses subjects that are both completely banal and in front of us but somehow foregrounds the periphery at the same time. Previous bodies of work have highlighted subjects that expand the territories of both portraiture and landscape, including freeways, surfers, ice fishermen, children, mini-malls, and gatherings of people engaged in protests, sporting events, a presidential inauguration, music festivals, and a Boy Scout jamboree. From her earliest self-portraits and images of her queer community, which explored the fluidity of gender and sexual identity, to her most recent portraits, which return to narratives of shifting identity, Opie is a fearless documentarian of our time.
Opie has said that her community is like her royal family, and in the images on view at the Hammer, artists dominate. Her portraits of friends and colleagues—Mary Kelly, seen from the back with her beautiful hands fixing her hair in an iconic knot, or the soft, poignant face of John Baldessari, elder statesman of the Los Angeles art world—draw us in. Kara Walker stands facing the viewer, dressed in midnight blue with one arm grasping the other, in a pose that is both powerful and at rest. Like Glenn Ligon, whose wise and angelic face is generously washed in light from the right, Walker is an intellectual force whose searing political critique has been visible and influential since the 1990s. The performance artist Ron Athey's tattooed torso is muscular and fully exposed, his deep blue eyes inviting and challenging—and psychologically engaged. Opie knows her sitters intimately, and by carefully controlling every aspect of each picture, she remarkably allows these compelling individuals to remain both vulnerable and ultimately unknowable.
The single landscape image in this selection, Untitled #12 (2015), is part of a series of what might be Opie's most American subjects to date, classic views made in national parks across the United States. As of this writing, the remaining picture she will take is of Old Faithful in Yellowstone. Understanding that these sites are iconic, Opie enjoys the fact that they are situated deeply within the history of photography and its relationship to landscape and are also an indelible part of the construction of national identity. As anyone who has visited any of these sites well knows, it is hard to separate the firsthand experience of, say, a destination waterfall from that of the countless images that preceded it. To produce a kind of rupture in this endless loop of image production and apprehension of nature, Opie uses different cameras—the portraits are shot with a digital 35mm, Hasselblad, and the land­scapes with a wider-angle, Canon DS—and then allows the focus to blur. The dysphoria of the blur creates a distance between viewer and subject, allowing us to see the waterfall, its rainbow, and the gorgeousness of nature anew. Presented here among a chorus of faces, the waterfall picture functions as a portrait of place and expresses an aspirational nineteenth-century idea of the preservation of nature.
Fundamental to understanding Opie's portraits is the element of time. This is most evident perhaps in the quiet portrait of the novelist and essayist Jonathan Franzen. Looking over his shoulder and past his face, which is almost completely in shadow, we see that he is reading Tolstoy's War and Peace. A writer who has opined on the fate of reading and publishing, as well as on the superficiality and unconnectedness of some social media, Franzen is at rest in this image and invites us to join him. There is a slowness to these pictures that extracts from the viewer an extended pause. Emerging from the rich, velvety blackness of the backgrounds, these individuals have a stillness and composure that, in some cases, is contrary to how each person actually is in life. Opie's light draws them out but enshrines them in something mute and other­worldly. The experience of an image or object slowing down our viewing, even for a moment, is rare. Stillness as a register both of making and of comprehension is as much a subject of Opie's work as is the creative intelligence of her subjects. 
Connie Butler
Chief Curator
This exhibition is presented in memory of Tom Slaughter, and with support from the Horace W. Goldsmith Foundation.
Hammer Projects is made possible by a gift from Hope Warschaw and John Law. Generous support is also provided by Susan Bay Nimoy and Leonard Nimoy and Robert Soros. Additional support is provided by Good Works Foundation and Laura Donnelley.