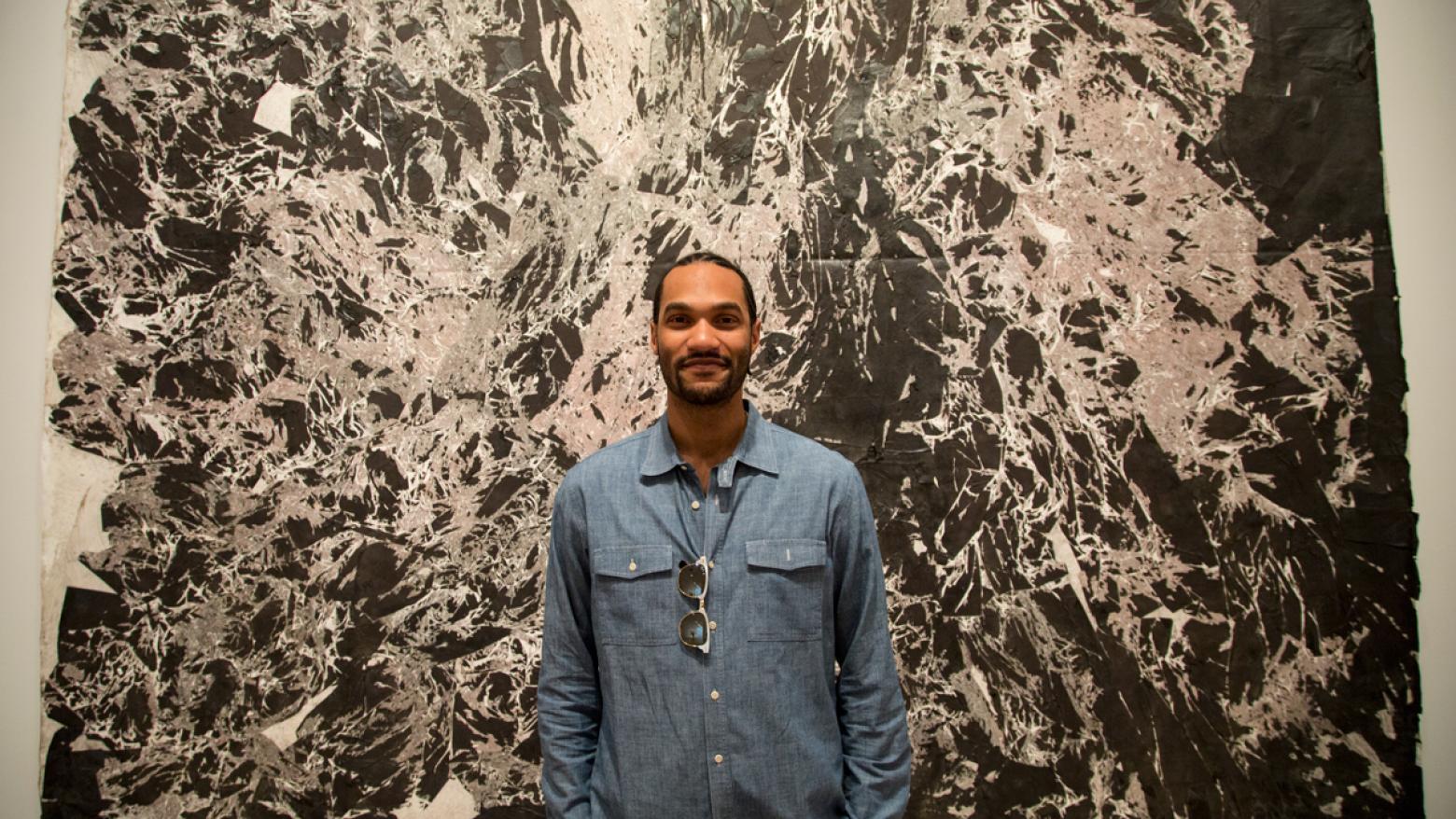 KCRW DJ Aaron Byrd Finds Personal Connections in Scorched Earth
Last Thursday we sat down with KCRW DJ Aaron Byrd before his opening set during Summer of Soul. In this interview, Aaron talks about our current Mark Bradford exhibition, the riots, and the intersection of music and art. 
Summer of Soul continues this Thursday with Dam-Funk, Martin Luther, and KCRW DJs Anthony Valadez and Raul Campos.
So you went to UCLA. Did you ever go to the Hammer while you were a student?
You know, it's crazy, I actually never did. A ton of my friends have been several times, and I've been at KCRW now for eight years and we always do something with the Hammer. But my show is on Thursday nights, so yesterday was literally my first time at the Hammer. I felt really bad. Like 'shame on me.' And this place is free?! 
Have you played at a cultural venue before?
I've done a bunch of stuff with the opera house, but it's never been during the summer. They have a thing called KCRW Opera Nights. I'm the curator of that. We just finished our third season, and it sounds like they'll bring me back for a fourth.
What are you most looking forward to in doing something like this in a museum?
I've always enjoyed any aspect or experience where I'm getting culture. Ever since I can remember, I've been attracted to or fascinated with things that are different or unfamiliar to me. So if it looks different, sounds different, or feels different, I have a natural tendency to be drawn to it. Within the world of museums or art, a lot of times that comes in the form of abstract art or so many things that fall under the umbrella of contemporary art. I'd actually heard about this exhibition [Mark Bradford: Scorched Earth] right before it opened up. I have a mutual friend whose father owns a museum in San Diego, and Mark Bradford is actually one of his favorite artists. So I did a little research to found out that he [Bradford] grew up basically where I grew up, near Leimert Park. The fact that the "scorched Earth" component in particular concentrates on the riots—I have such a vivid memory of that time. In fact, when I walked in yesterday and read the piece—"rebuild South Central without liquor stores"—I remember people talking about that. I have distinct memory of people talking about that, seeing it on the news, local activists talking about it. So it brought back quite a few memories. I remember thinking it [the riots] looked like a movie set. It didn't look real. I had never seen anything quite like that, and it was pretty wild. It took me right back to when I was 10 or 11 years old really quickly.
Rebuild South Central
So you were somewhat aware of Mark Bradford. Did you know he lived in L.A.?
No, I didn't know much about him. I just knew of him. Not even knowing I was going to be part of this series, I did a little research because I was just curious, and that's when I found out more information. Sometimes I'll take trips to other cities because they have cool exhibits going on. So I'll take a trip to New York to check something out. I love going to museums.
So you see a connection between what you do with music and contemporary art.
Absolutely. Music is obviously an art form, an extension of human emotion, just like [visual] art is. They are cousins of one another, for sure.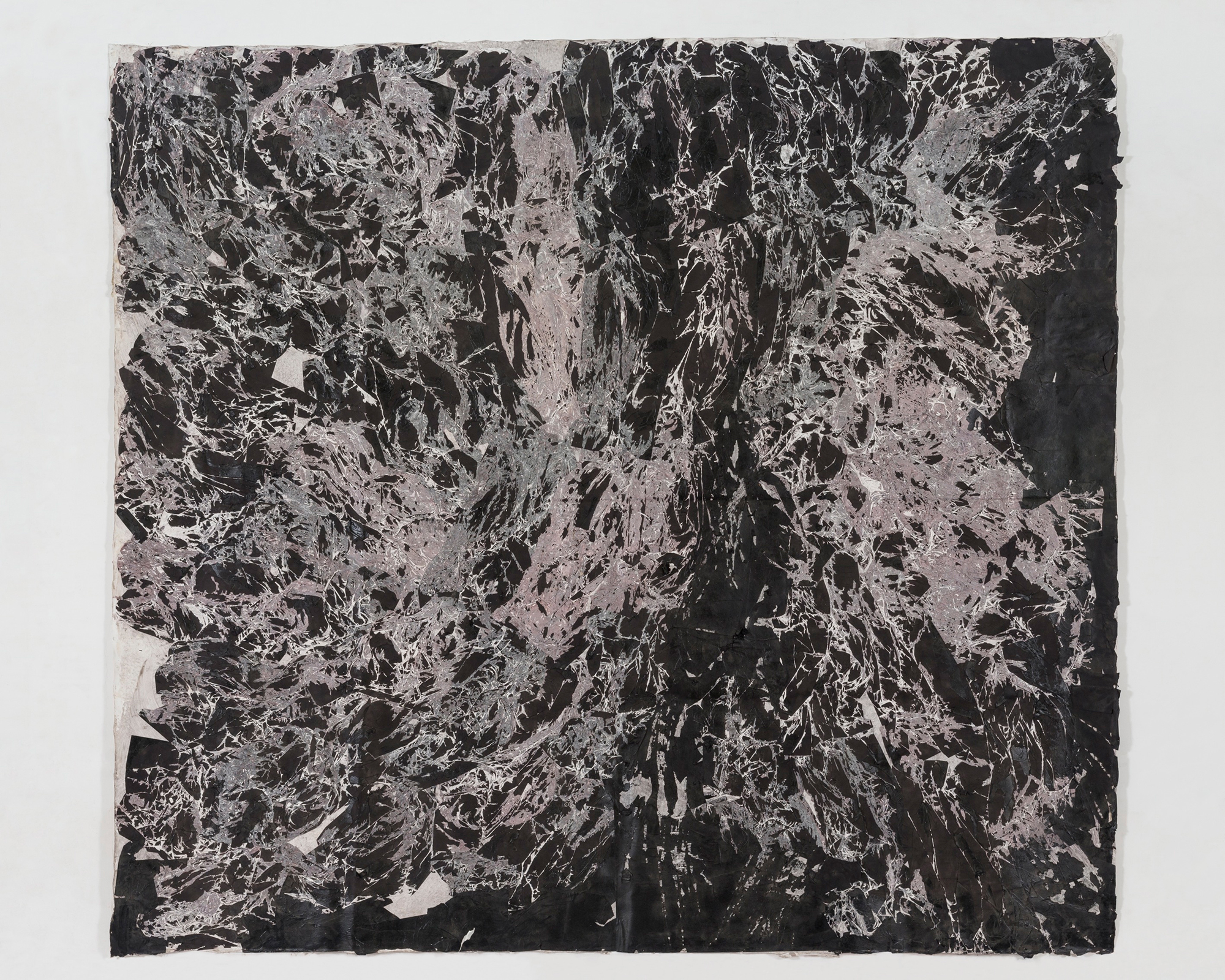 Untitled
You toured the Mark Bradford exhibition yesterday. Did you have a favorite piece in the show?
*points to Bradford's Untitled*
I like how it seems chaotic, and doesn't make much sense, similar to the experience of the riot but there it is, all as one complete piece. Especially when you stand close, it's like it doesn't end, it's infinite, the chaos is all around, and you don't know where it ends, but when you step back it's like being out of the experience, after the riots. You step back and say, "oh, it was crazy being in it." This is the centerpiece of the whole exhibition to me.
How did the show come about? 
Something the Hammer does really well is champion L.A. artists and emerging talent more broadly. Mark has been a part of the Hammer for a long time, but this is his first solo museum show in L.A.
That's amazing, and being a native too. You know, another thing I was thinking about, and telling a friend who lives in New York, is that the Hammer gets a few extra brownie points because—and maybe I just wasn't aware of it—but I don't know of that many museums that feature black contemporary artists in L.A. You see it or hear more about it in New York, and I imagine more so in Chicago too. But I'm not that aware of how often that happens in L.A., to be honest.
Mark Bradford actually still lives in L.A., and just created a new art and social services organization in Leimert Park called Art + Practice.
I saw he's going to be doing a lecture of some sort next week with Anita Hill. 
We can save you a seat if you want. It's at 2 p.m. on Sunday [August 2].
My day off. Seven minutes away. I'm there.
So you go to museums, and you go to exhibitions, but you've never been to the Hammer.
We can leave that out of the interview!
So now that you've been here, what's going to bring you back?
I don't know if that's the right question, simply because there wasn't anything stopping me coming to begin with. But to answer the question—you know when people encourage you to do something or try something, and you have every intention or desire to do it, but you just don't do it? But it isn't until you experience it that you realize what you've been missing out on. Now I realize what I've been missing out on. So that's what's going to bring me back. And, to be frank, "free" is by far my favorite four letter word.
I feel quite ashamed that I hadn't been before, but I'm here. I'm here now.
Well now you have to become a part of the family. Come back any time. 
It's done, it's done. I don't know if you guys are looking for a young black man to adopt, but 'hello, here I am!'