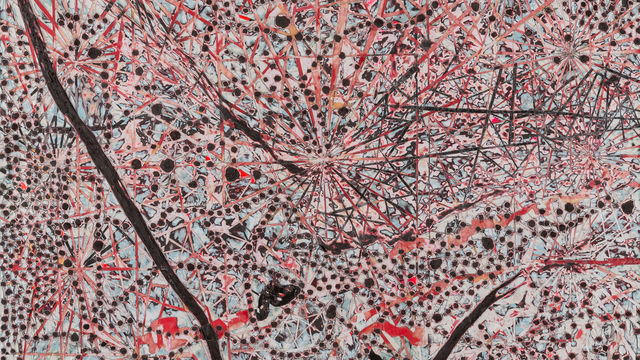 Mark Bradford: Scorched Earth
–

This is a past exhibition
Comprising a suite of new paintings (on view through September 20), a multimedia installation (on view through September 27), and a major painting on the Lobby Wall (on view through November 15), this new body of work by the Los Angeles–based artist Mark Bradford refers to formative moments in his life and ruminations on the body in crisis. As an artist who has long been interested in strategies of mapping and the psychogeography of the city he calls home, Bradford uses his characteristic painting style to excavate the terrain— emotional, political and actual—that he inhabits. Examining the moment and afterlife of the 1992 uprisings in Los Angeles, which he experienced from his studio in Leimert Park, Bradford has translated the outrage and lasting wounds of the riots into these new paintings. Scorched Earth is Bradford's first solo museum exhibition in Los Angeles. The multimedia installation Spiderman (2015) incorporates tropes of Black American stand-up comedy, inspired in part by Eddie Murphy's searing commentary on sexuality in his controversial 1983 concert film Delirious. The Lobby Wall features a map of HIV diagnoses in the United States as of 2009. The work was created using Bradford's signature process of excavating through layers of paint and drywall and topography. Bradford's early identification as an artist emerging in the mid-1980s was informed by queer and feminist politics during the developing AIDS crisis. With these works, he explodes the deep cultural fears and misrepresentations that misconceive of black identity and gender as one-dimensional, providing a trenchant critique of pervasive cultural racism and homophobia in society as a whole.
Mark Bradford's Finding Barry
Since 1999, the museum has commissioned artists to create site-specific projects for the Hammer Museum Lobby Wall. Mark Bradford created Finding Barry by excavating through 100+ layers of paint on the wall. Barry refers to Barry McGee, one of the earliest Lobby Wall artists. Bradford's rendering of a U.S. map shows the population of people diagnosed with AIDS per 100,000 in each state as of 2009.
Mark Bradford was born in 1961 in Los Angeles, California, where he lives and works. In 1997 Bradford graduated with a Bachelor's of Fine Arts and Master's of Fine Arts from the California Institute of the Arts in Valencia, California. In 2015, Bradford was presented with the National Medal of the Arts. Earlier this year he was elected as a National Academician by the National Academy Museum and School of Fine Arts in New York. He is also a recipient of The MacArthur Fellowship (2009); the Wexner Center Residency Award (2009) and the Bucksbaum Award, granted by The Whitney Museum of American Art (2006). Bradford has shown extensively in international and national exhibitions. Recent solo shows include The Rockbund Art Museum, Shanghai (2015); The Rose Art Museum, Waltham MA (2014); a major touring exhibition presented at the Wexner Center for the Arts, Colombus OH (2010), which travelled to Institute of Contemporary Art, Boston MA (2010); MCA Museum of Contemporary Art, Chicago IL (2011) and San Francisco Museum of Modern Art, San Francisco CA (2012). Upcoming solo exhibitions include Hammer Museum, Los Angeles CA; Wadsworth Atheneum Museum, Connecticut CT and Gemeentemuseum den Haag, The Hague, Netherlands. Bradford has exhibited widely in numerous group presentations such as America is Hard to See, The Whitney Museum of American Art, New York NY (2015); Sharjah Biennial 12: The past, the present, the possible, Sharjah, UAE (2015); Variations: Conversations In and Around Abstract Painting, Los Angeles County Museum of Art, Los Angeles CA (2014); Blues for Smoke, Wexner Center for the Arts, Colombus OH (2013); ROUNDTABLE: 9th Gwangju Biennale, Korea (2012); the 12th International Istanbul Biennial, Istanbul, Turkey (2011); and Eden's Edge: Fifteen L.A. Artists, Hammer Museum, Los Angeles CA (2007). Selected public collections include The Metropolitan Museum of Art, New York; The Museum of Contemporary Art, Chicago; The Museum of Fine Arts, Boston; The Museum of Modern Art, New York; The San Francisco Museum of Modern Art; The Solomon R. Guggenheim Museum, New York; The Walker Art Center, Minneapolis; and The Whitney Museum of American Art, New York; and Hammer Museum, Los Angeles.  Mark Bradford: Scorched Earth is organized by the Hammer Museum and curated by Connie Butler, chief curator, with Jamillah James, assistant curator. 
Mark Bradford: Scorched Earth is made possible by The Joy and Jerry Monkarsh Family Foundation.  
Generous support is provided by the Sumner M. Redstone Charitable Foundation through Manuela Herzer and Sydney Holland, The Broad Art Foundation, and The Fran and Ray Stark Foundation. Additional support is provided by Chara Schreyer, Agnes Gund, and Angella and David Nazarian. 
Major support for the catalogue is provided by Hauser & Wirth.