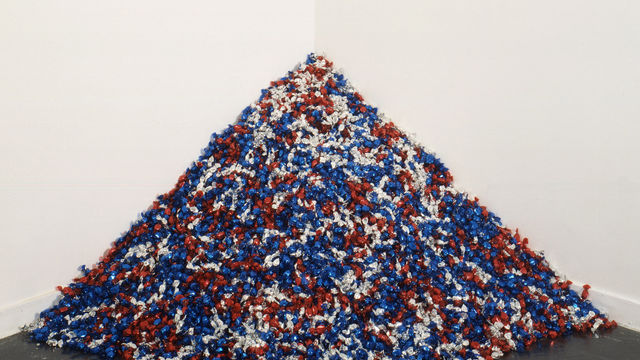 Felix Gonzalez-Torres is known for his minimal sculptures and installations that explore the poetic potential inherent in conceptual strate­gies. Remarkable for their clarity of message and their emotional power, his works are often activated by participatory actions that are like ripples on the surface of a still pond. Gonzalez-Torres joined the artists' collective Group Material in 1987. Founded in 1979 in New York City and disbanded in 1996, Group Material was dedicated to working collaboratively to raise social awareness and effect change around a variety of political and social issues. While Gonzalez-Torres's own work expresses his thoughts and feelings about the world in an often deeply personal way, his work with Group Material extended his critical positions into a collaborative social space that modeled demo­cratic practice in the activity of making projects.
Gonzalez-Torres employed a form of mini­malism that required strict formalism combined with a steadfast belief in the power of participa­tion. For his well-known candy pile sculptures, Gonzalez-Torres used candies of varying colors, shapes, and sizes. The sculptures differ in color and size, and the specific form of the installation is left up to the curator or collector. Participants are invited to take a piece of candy and eat it, and the piles may be continually replenished to maintain their approximate ideal weight or allowed to diminish, according to the wishes of the exhibitor. The parameters of the sculptures are specific but open-ended, allowing them to evolve depending on the circumstances sur­rounding each manifestation of the work. "Untitled" (USA Today) (1990) consists of three hundred pounds of red, silver, and blue candies, mimicking the color scheme of the American flag. The title refers to the newspaper USA Today, which has a broad circulation throughout the United States. The format of USA Today follows a practice of reductive journalism that boils down complex current events in politics, the economy, and international relations to short, simple articles intended for consumption during a morning commute or coffee break. USA Today makes the news conve­nient, and by rhyming the news—and in a play on words, the country itself—with a pile of candy, Gonzalez-Torres's piece asks us to con­sider what is lost in the process.
Like his candy sculptures, Gonzalez-Torres's stacks of printed paper are designed to be continually depleted and replenished, as viewers are invited to take a sheet from the stack. "Unti­tled" (Death by Gun) (1990) was inspired by an article in Time magazine called "7 Deadly Days," which examined gun violence in the United States. The printed sheet lists the name, age, and place of residence of many of the 464 people known to have been killed by firearms during the week of May 1, 1989, and includes photographs of the victims and brief descrip­tions of their deaths. As with many of Gonzalez-Torres's chosen subjects, the social issues that "Untitled" (Death by Gun) brings to light remain alarmingly relevant more than twenty years later. Today, when mass shootings and incidents involving targeted gun violence have become appallingly routine, his compilation of information reflecting the grisly toll of our gun culture is profound.
—Corrina Peipon