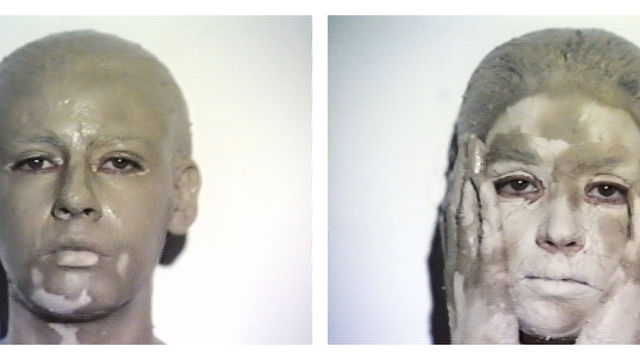 The performance and video duo Yeni y Nan (Jennifer Hackshaw [Yeni, b. 1948] and María Luisa González [Nan, b. 1956]) worked together in Venezuela from 1977 to 1986. Both artists were born in Caracas and met as students at the Escuela Técnica de Artes Visuales Cristóbal Rojas, where Yeni was studying from 1975 to 1977 and Nan between 1974 and 1977. The year they started working together they moved to London, where Yeni enrolled in a postgraduate degree program in muralism at the Chelsea School of Art and Nan studied graphic arts at the Central School of Art. After London, they both studied photography in Cannes, France. In 1980 they returned to Caracas to study film.
Their work constitutes one of the principal references in the field of conceptual art in Venezuela. As a duo Yeni y Nan developed a body of work that revolved around the limits of personal and shared space, especially as it occurs between the You and the I and elements found in nature. The body, specifically their bodies, was the vehicle used to express these ideas. For instance, in 1981 they presented Integraciones en agua I (Integrations in water I) at the 16th Bienal de São Paulo. In this performance the duo swam in a shallow bag filled with water; the visual, aural, and tactile qualities of the action evoke amniotic fluid and thus the source of life. The elements of nature referenced in their performances also highlight their ecological and environmental awareness. In Simbolismo de la cristalización—Araya (Symbolism of crystallization—Araya, 1984–86), they turned their attention to the salt mines in the Araya Peninsula of Venezuela and the role humankind plays in the transformative actions of a natural element such as salt.
Other outstanding performances include Nacimiento I and Nacimiento II (Birth I and II, 1979), Simbolismo sobre la identidad (Symbolism about identity, 1981), Autológica: Agua + aire (Autologic: Water + air, 1982), and Integración elemento tierra (Element earth integration, 1983). Awards they received while working together include first prize at the 3rd Salón Nacional de Artistas Jóvenes (1985), held at the Museo de Arte Contemporáneo de Caracas. Yeni Hackshaw lives and works in Salamanca, Spain, and Nan González resides and works in Caracas.
—Marcela Guerrero
Selected Exhibitions
1979 20 artistas venezolanos de hoy, Centro de Arte y Comunicación, Buenos Aires
1981 XVI Bienal de São Paulo
1982 XII Biennale de Paris, Musée d'Art Moderne de la Ville de Paris
2010 Yeni y Nan: El agua, la salina, la tierra (Acciones corporales, 1978/1986), Faría+Fábregas Galería, Caracas
2014 Body: Air, Water, and Earth, Henrique Faria, New York
Selected Bibliography
Benko, Susana. "Yeni y Nan: El agua, la salina, la tierra." ArtNexus, no. 78 (September–November 2010). https://www.artnexus.com/Notice_View.aspx?DocumentID=22103.
Calzadilla, Juan, and María Elena Ramos. Yeni y Nan: Evento de lenguajes de acción: Performance Art, 1979–1981. Caracas: Galeria de Arte Nacional, 1982.
Ramos, María Elena. Acciones frente a la plaza: Reseñas y documentos de siete eventos para una nueva lógica del arte venezolano. Caracas: Fundarte, 1995.
———. "Yeni and Nan: One's Body as a Body of the World." Henrique Faria, New York, 2013. http://www.henriquefaria.com/exhibition-about?id=69.
Terán, Pedro, Jennifer Hackshaw, and María Luisa González. Naturaleza tres tiempos: Alerto Asprino, Pedro Terán, Yeni y Nan. Caracas: Museo de Arte la Rinconada, 1987.