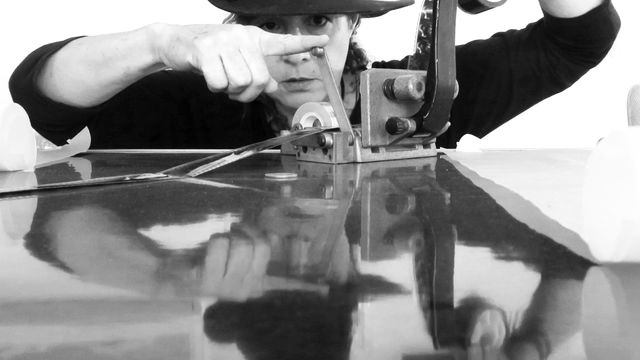 Born in 1963, Ximena Cuevas is a Mexican video artist whose work explores gender issues and social inequalities as well as the profound influences of Mexican art, music, culture, and politics. She studied film at the New School for Social Research and at Columbia University in New York. Her first experience with the moving image occurred in 1979, at age sixteen, when she began repairing old films at the Cineteca Nacional in Mexico City. During the 1980s and 1990s she worked on more than twenty feature films and held such diverse jobs as script supervisor, assistant director, art director, and stand-in. Her credits include script supervisor and production assistant for Under the Volcano (1984), directed by John Huston; art assistant and stand-in for The Falcon and the Snowman (1985), directed by John Schlesinger; and assistant director for Mentiras piadosas (1989), directed by Arturo Ripstein, and Encuentro inesperado (1993), directed by Jaime Humberto Hermosillo. Among her own video works, the most celebrated titles include Las tres muertes de Lupe (The three deaths of Lupe, 1984), Noche de paz (Silent night, 1989), Corazón sangrante (Bleeding heart, 1993), Un dios para Cordelia (A god for Cordelia, 1995), Cama (Bed, 1998), Marca registrada (Trademark, 2001), Turistas (Tourists, 2001–2), and Planetario (Planetary, 2002). Viewers can detect in her work a relentless exploration of the constructs of national identity and gender, and in that sense her videos toy with reality by blending truth and fiction.
Her videos have been shown in international festivals in New York; Park City, Utah (Sundance); Berlin; and Montreal. She was the featured artist in Video Viewpoints (1997), held at the Museum of Modern Art (MoMA) in New York. She has been invited to speak at numerous events, including those sponsored by the Berkeley Art Museum and Pacific Film Archive; Museum of Contemporary Art San Diego; Solomon R. Guggenheim Museum, New York; and Guggenheim Museum Bilbao, Spain. She has been the recipient of numerous awards, including grants from the Fondo Nacional para la Cultura y las Artes and the Rockefeller Foundation as well as the Eastman Kodak Worldwide Independent Filmmaker Production Grant and the Barbara Aronofsky Latham Memorial Award, which provides support to promising video artists at the inception of their careers. In 2001 MoMA acquired nine videos by Cuevas, the first time the museum added to its collection work by a Mexican video artist; today a total of twenty-four of her videos exist in MoMA's collection. The Centre Pompidou in Paris acquired Medias mentiras (Half lies) in 2004. Her work is also part of the collection of the Museo Universitario de Arte Contemporáneo in Mexico City. Cuevas lives and works in Mexico City.
—Marcela Guerrero
Selected Exhibitions
1999 Mexperimental cinema, Guggenheim Museum Bilbao, Spain
2004 Ximena Cuevas and the Laboratory of Life, University of California, Berkeley Art Museum and Pacific Film Archive
2014 FOCO: Ximena Cuevas, Centro de Cultura Digital, Mexico City
2014 Pulso alterado: Intensidades en la colección del MUAC y sus colecciones asociadas, Museo Universitario de Arte Contemporáneo, Mexico City
2016 Video: Shedding the Utopian Moment, University of Mary Washington Galleries, Fredericksburg, VA
Selected Bibliography
Amirsadeghi, Hossein, ed. Contemporary Art Mexico. London: Thames & Hudson, 2014.
De la Mora, Sergio. "Mexican Experimental Cinema and Ximena Cuevas." Jump Cut: A Review of Contemporary Media, no. 43 (July 2000): 102–5.
Gutiérrez, Laura G. Performing Mexicanidad: Vendidas y Cabareteras on the Transnational Stage. Austin: University of Texas Press, 2010.
High, Kathryn, et al. Risk / Riesgo. New York: Kathy High / Standby Program, 2003.
Varnedoe, Kirk, Paola Antonelli, and Joshua Siegel, eds. Modern Contemporary: Art at MoMA since 1980. New York: Museum of Modern Art, 2000.