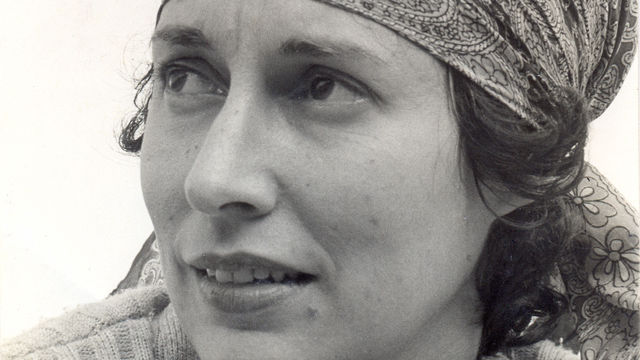 Born in Rio de Janeiro in 1943, Wanda Pimentel started her fine arts training at the Museu de Arte Moderna do Rio de Janeiro (MAM-RJ) in 1965 with the artist Ivan Serpa (1923–1973), one of the founders of the constructivist Grupo Frente. During her time at MAM-RJ, Pimentel met the artists Raymundo Colares (1944–1986), Antonio Manuel (b. 1947), and Cildo Meireles (b. 1948). Pimentel's practice is distinguished by a precise, hard-edge quality encompassing geometric lines and smooth surfaces in pieces that often defy categorization as abstract or figurative. In the late 1960s and early 1970s her paintings depicted domestic spaces and everyday objects in bright colors, in stylistic alignment with Brazilian new figuration. Her painting series Envolvimento (Entanglement) dates to this period and questions women's role in consumer society; cropped images of female feet and legs are placed in oppressive interior spaces filled with objects like hairdryers and sewing machines. Pimentel's first exhibition was held in 1969 at Galeria Relêvo in Rio de Janeiro.
During the late 1970s she incorporated common objects in pieces combining painting and sculpture in the series Bueiros (Manholes) and Portas (Doors). In the series Montanhas do Rio (Mountains of Rio, 1990s), the artist turned to the landscape, visible through a window. In the 1990s her colorful works gave way to a minimalist use of austere colors, as in Invólucros (Capsules) and her well-known series Linhas (Lines), in which ladders cross the painting surface. In the series Animais (Animals, 2000s) the artist sought to capture the poetic significance of creatures that are often despised as repugnant, such as beetles, flies, and snakes. In the 2010s Pimentel examined her past experiences: in the series Memórias (Memories) acrylic boxes contain objects related to the artist's personal history, and Geometria/Flor (Geometry/flower) includes elements from her earlier production, introducing fluid brushstrokes and gold paint.
Pimentel participated in numerous important group exhibitions, such as the 7th Paris Biennale and 11th Bienal de São Paulo, both in 1971, and International Pop, organized in 2015 by the Walker Art Center in Minneapolis. In 1969 she received the Jury Exemption Award at the 18th Salão Nacional de Arte Moderna in Rio de Janeiro and the Travel Award at the first Salão de Verão, organized by MAM-RJ. Besides private collections, her pieces are housed at several institutions, including MAM-RJ; Museu de Arte Contemporânea, Niterói; and Museo de Arte Latinoamericano, Buenos Aires.
—Mariana von Hartenthal
Selected Solo Exhibitions
1969 Wanda Pimentel, Galeria Relêvo, Rio de Janeiro
1994 Wanda Pimentel: Pinturas, Centro Cultural Banco do Brasil, Rio de Janeiro
1997 Wanda Pimentel: Invólucro, Paço Imperial, Rio de Janeiro
2004 Wanda Pimentel: Série animais, Museu de Arte Moderna do Rio de Janeiro
2015 Wanda Pimentel: Geometria/Flor, Anita Schwartz Galeria de Arte, Rio de Janeiro 
Selected Bibliography
Calirman, Claudia. "Pop and Politics in Brazilian Art." In International Pop, 119–30. Minneapolis: Walker Art Center, 2015.
Labra, Daniela. Wanda Pimentel. Niterói, Brazil: Museu de Arte Contemporânea, 2010.
Morais, Frederico, and Vera Beatriz Siqueira. Wanda Pimentel. Rio de Janeiro: Silvia Roesler Edições de Arte, 2012.
Pimentel, Wanda, and Frederico Morais. Wanda Pimentel: Pinturas. Rio de Janeiro: Centro Cultural Banco do Brasil, 1994.
Siqueira, Vera Beatriz. "Maldito silêncio: O canto de Wanda Pimentel." Concinnitas: Revista do Instituto de Artes da Universidade do Estado do Rio de Janeiro, no. 24 (July 2014). http://www.e-publicacoes.uerj.br/index.php/concinnitas/article/view/13268/10167.