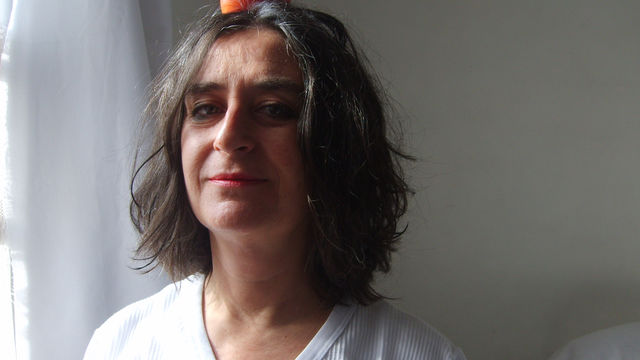 The mixed-media, installation, video, and mail artist and writer Sybil Brintrup was born in Puerto Montt, Chile, in 1954. She studied fine arts, specializing in painting, at the Pontificia Universidad Católica de Chile in Santiago, graduating in 1979. She has distinguished herself as a video artist. Some of her works in this genre include La comida (The meal, 1983), which she made with Magali Meneses (b. 1950); Lavado de lechugas (Washing lettuces, 1997); and La voz (The voice, 2002). In La comida, two women, Brintrup and Meneses, prepare and consume in a contemplative yet almost sexual way a meal that consists of breaking and eating piures, a mollusk resembling a mass of organs inside a rock. Brintrup's installations and other object-based works are always meticulously planned and accompanied by rigorous documentation that comments on the social condition of women and expresses experimental and conceptual methods in art. Her pedagogic work has been paramount to her practice. Starting in 1976, she was a teaching assistant in a figure-drawing course at the Universidad Católica. From 1982 to 1983 she taught enamel techniques at the Centro Cultural Mapocho, a course she taught again in private workshops from 1986 to 1990. She worked at the design firm Bobenrieth & Brintrup from 1990 to 1994 and then returned to teaching design, self-portraiture, drawing, color theory, and video art as well as literature at universities across Chile. Brintrup has received several awards and fellowships in her native Chile. In 1983 she and Meneses received for La comida first place at the Concurso Nacional de Video Creativo at the Plaza Mulato Gil de Castro in Santiago. From 1995 to 1999 the Universidad Santo Tomás in Santiago granted her three research scholarships that allowed her to focus on a project she would develop as the art piece Los romances: Ella y los fardos de pasto (The romances: She and the bales of grass, 2001). Likewise, the Fondo Nacional para el Desarrollo Cultural y las Artes awarded her six grants between 1995 and 2008. Her work is in the collections of the National Gallery of Canada in Ottawa; Museo Nacional de Bellas Artes de Santiago; Museo de Arte Contemporáneo, Universidad de Chile, Santiago; and Museo de Arte Moderno de Chiloé, Chile.
—Marcela Guerrero
Selected Solo Exhibitions
1984 Poemas, Bibliothèque de Louvain-la-Neuve, Belgium
1988 Esmaltes en relieve, Galería Enrico Bucci, Santiago
1992 Vaca mía, Museo de Arte Contemporáneo, Universidad de Chile, Santiago
2005 Ordeña, Parque Forestal, Santiago
2014 Planchado, Museo Nacional de Bellas Artes, Santiago 
Selected Bibliography
Bravo, Víctor Hugo. Laboratorio 6: 2222. Santiago: Galería Balmaceda, 1999.
Brintrup, Sybil. Los romances: Ella y las ovejas. Santiago: Cuarto Propio, 1995.
———. Vaca mía. Santiago: Bobenrieth & Brintrup, 1993.
Sepúlveda, Magda. "Metáforas de la higiene y la iluminación en la ciudad poetizada bajo el Chile autoritario." Acta Literaria, no. 37 (2008): 67–80.
"Sybil Brintrup." In Taxonomías (textos de artistas), 117–21. Santiago: Jeremy Button, 1995.