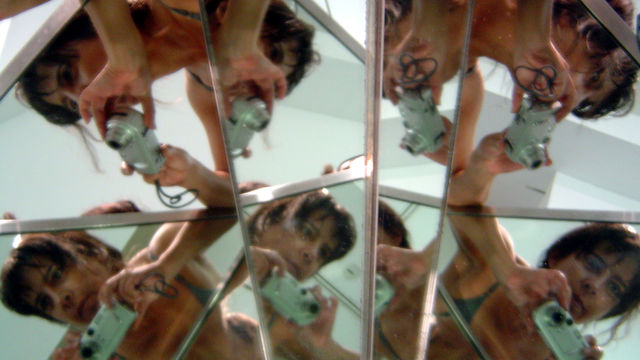 Born in Puebla, Mexico, in 1953, the video art pioneer Sarah Minter produced 8mm and 16mm films, video installations, and documentaries. Marked by formal experimentation and the search for a language intrinsic to video, her pieces explored the intersections of the political, the body, and the city. Minter started her career in theater in the early 1970s, when she participated in the experimental group Ergónico, based in Mexico City and led by the Argentine director Juan Carlos Uviedo (1930–2000). In 1980 Minter realized her first Super 8 movie, Adagio. In the same year she had her first contact with video and became attracted to the independence afforded by the medium, which did not require the expensive financing and elaborate structure demanded by cinema at a time when opportunities for moviemakers in Mexico were few. In Nadie es inocente (No one is innocent, 1985–87), Minter used video to document the life of punk youth living in the impoverished setting of Nezahualcóyotl, on the outskirts of Mexico City. Youth rebelliousness, economic instability, and inadequate political representation are themes of her Alma punk (Punk soul; 1992). Minter revisited the protagonists of her earlier piece in Nadie es inocente: 20 años después (No one is innocent: 20 years later, 2010).
Video installations gained prominence in her work in the 2000s, with such pieces as Viajes (Trips, 2000) and Intervalos (Intervals, 2004). Minter was also a teacher, curator, and promoter of video. She was one of the founders of the video workshop at the Escuela Nacional de Pintura, Escultura y Grabado "La Esmeralda" in Mexico City and a professor there between 1996 and 2002. She taught video at Casa del Lago and at the Universidad Iberoamericana. The artist received the Rockefeller Foundation Intercultural Film and Video fellowship in 1992. In 1994 Minter and the Mexican filmmaker Gregorio Rocha received a grant from the Fondo Nacional para la Cultura y las Artes, which allowed them to organize a series of screenings and other video-related programs, an initiative they named La sala del deseo. Minter's pieces received numerous awards. Nadie es inocente was awarded at the 9th Festival de Nuevo Cine Latinoamericano de la Habana, Cuba, and at the 1st Festival Cine San Juan, Puerto Rico, both in 1987. Nadie es inocente: 20 años después received prizes at the Festival Internacional de Cine de Morelia and at Festival de Cine Documental Zanate in Colima in 2010 and Festival Internacional de Cine de Puebla in 2012. In 2015 the Museo Universitario de Arte Contemporáneo in Mexico City organized Ojo en rotación: Sarah Minter; Imágenes en movimiento, 1981–2015, a retrospective exhibition of Minter's career. The artist died in 2016.
—Mariana von Hartenthal
Selected Exhibitions
1990 Mexican Video, Bronx Museum of the Arts, New York
1994 Third Bienal de Video, Mexico City
1997 Femme totale: Sixth International Women's Film Festival, Dortmund, Germany
1997 Mexican Video: Thorn of the Mountain, Museum of Modern Art, New York
1999 Vid@arte: Festival de video y artes electrónicas, Centro Nacional de las Artes, Mexico City
Selected Bibliography
Baigorri, Laura, ed. Video en Latinoamérica: Una historia crítica. Madrid: Agencia Española de Cooperación Internacional, 2008.
Debroise, Olivier, and Carl Good. "Dreaming on the Pyramid: Responses to Globalism in Mexican Visual Culture." Discourse 23 (Spring 2001): 44–60.
Iglesias Prieto, Norma, and Rosa Linda Fregoso, eds. Miradas de mujer: Encuentro de cineastas y videoastas mexicanas y chicanas. Tijuana, Mexico: Colegio de la Frontera Norte; Davis, CA: Chicana/Latina Research Center, University of California, 1998.
Mayer, Mónica. Doc, 09: De sexo-s, amor y humor / Sexuaz,-ez, maitasunaz eta aumoreaz / On sex-es, love and humor. Vitoria-Gasteiz, Spain: Centro Cultural Montehermoso, 2010.
Sarah Minter: Ojo en rotación; Imágenes en movimiento, 1981–2015. Mexico City: Museo Universitario de Arte Contemporáneo, 2015.