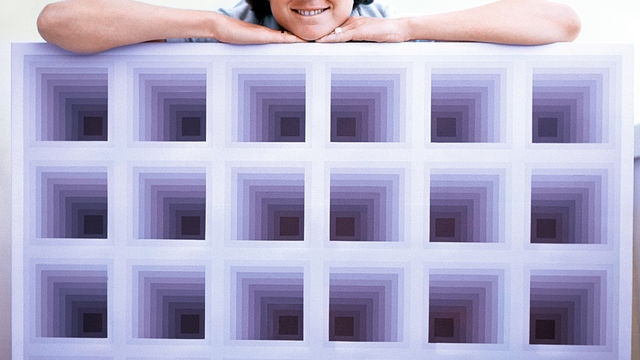 A daughter of Jewish parents from Greece and Hungary, Sara Modiano was born in Barranquilla, Colombia, in 1951. She first studied mathematics and then fine arts at the Universidad de los Andes in Bogotá. From 1969 to 1971 Modiano was enrolled in the Escuela de Bellas Artes in Barranquilla. Her paintings from the 1970s followed the abstract geometricism associated with Josef Albers (1888–1976) and his series Homage to the Square (1950–76). Her penchant for color gradations arranged in concentric squares or rectangles gave her paintings a decidedly kinetic quality. Her work of the 1980s is characterized by a translation into three-dimensional forms, made of wood or brick, of the pictorial representation of concentric quadrangles.
The year 1980 was pivotal in her life; her participation in the 6th Salón Atenas, organized by the Museo de Arte Moderno de Bogotá (MAMBO), marked Modiano's incursion into more conceptual concerns and a full commitment to three-dimensionality, construction, and on-site production. For this salon Modiano presented Construcción (Construction), a large-scale brick pyramid placed on the first floor of the museum. The most successful of her pyramidal forms was made in 1981, when Modiano, along with three other artists, represented Colombia at the 16th Bienal de São Paulo, curated by Walter Zanini. Her site-specific work Cenotafio (Cenotaph)—built in the shape of a tunnel and with downward stairs placed on both ends of the covered structure—cemented her interest in evoking, through architectural forms, burial chambers, which she referred to as hypogeum. In 1984 Modiano participated in the 5th Biennale of Sydney with a series of works titled Desaparece una cultura (A culture disappears). For the first time the artist showed in a photographic sequence the documentation of an action, namely, the washing over by the sea of fifteen sand pyramids made at a beach on the Caribbean coast of Colombia, which spoke to her ideas of death vis-à-vis the political climate in Latin America.
From 1987 to 2001 Modiano stopped participating actively in the art scene, although she continued making artwork related to the human body. Her work from the first decade of the 2000s includes a series of paintings made about the sea surrounding the island of Mallorca as well as experiments with mesh and wire. After receiving a diagnosis of ovarian cancer in 2006, Modiano continued experimenting, this time with video and performance art. Since her death in 2010 at age fifty-nine her children have kept alive the memory and legacy of their mother through the Fundación Sara Modiano para las Artes. Her work is in public collections such as those of MAMBO; Museo de Antioquia, Medellín, Colombia; Museo de Arte Contemporáneo, Caracas; and Bass Museum of Art, Miami.
—Marcela Guerrero
Selected Solo Exhibitions
1974 Galería Barrios, Barranquilla, Colombia
1975 Galería Belarca, Bogotá
1979 Galería de la Oficina, Medellín, Colombia
1982 Galería Quintero, Barranquilla, Colombia
2003 La Resistencia de l'Art, Palma de Mallorca, Spain 
Selected Bibliography
Breukel, Claire, Silvana Roiter Modiano, and Eduardo Serrano. Sara Modiano. Bogotá: Fundación Sara Modiano para las Artes, 2012.
McGuire, Kathleen Matolcsy. Women of the Americas: Emerging Perspectives. New York: Kouros Gallery and the Center for Inter-American Relations, 1982.
Los novísimos colombianos. Caracas: Museo de Arte Contemporáneo, 1977.
Serrano, Eduardo. Los Salones Atenas en la colección del Museo de Arte Moderno de Bogotá. Bogotá: Museo de Arte Moderno, 2003.
XVI Bienal de São Paulo. São Paulo: Fundação Bienal de São Paulo, 1981.