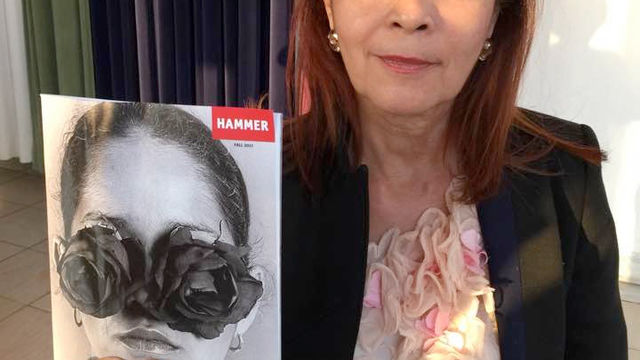 The photographer and mixed-media artist Rosa Navarro was born in Barranquilla, Colombia, in 1955. She studied art at the Universidad del Atlántico, located in her birth city. At the beginning of the 1980s Navarro began a body of work that made use of the language of conceptual art as a way of exploring the semiotic possibilities of her name (rosa means both "rose" and "pink" in Spanish) and its relationship to formal attributes in art. Her photographic series from the 1980s can also be classified as self-portraits not only because the artist references her name in each work but also because she utilizes her body as a vehicle to represent herself. For instance, in one of her series the artist spells Rosa in sign language; each photograph is one letter, and each one has been colored by the artist with pink ink. In another series, Juego de palabras (Puns), the artist makes puns with her name, as in the work Dolorosa (Painful) or in Amorosa (Loving). Given Navarro's use of her name and body as a means of exploration, it becomes impossible not to read her works through the lens of gender. In her photographs she comments on the gender bias that certain signs carry and that culture has attributed to women, which in her case is quite literal since she is also the bearer of the name.
Despite being an artist with limited international exposure, between the early 1980s and mid-1990s Navarro exhibited in group and solo exhibitions in Colombia and received awards at national salons organized in cities around the country. She won second place at the 1st Salón Colombo-americano (1982) in Barranquilla and at the 4th Muestra de Medios de Expresión Plástica (1983), celebrated at the Universidad Autónoma del Caribe, also in Barranquilla. Navarro lives and works in Barranquilla.
—Marcela Guerrero
Selected Exhibitions
1982 Segundo Salón Rabinovich, Museo de Arte Moderno, Medellín, Colombia
1983 El cuerpo como lenguaje, Museo de Arte Moderno, Cartagena
1984 Rosa Navarro, Galería Quintero, Barranquilla, Colombia
1986 Retratos para una ceremonia, Galería Círculo, Bogotá
2015 Siete décadas de vanguardia II, Universidad del Atlántico, Barranquilla, Colombia
Selected Bibliography
Marenco Better, Gilberto. "El arte conceptual sigue dando palo." Intermedio—suplemento del Diario del Caribe, October 31, 1982.
"El Salón Atenas." El Heraldo—Revista Dominical (Barranquilla), April 15, 1984.
Serrano, Eduardo. Historia de la fotografía en Colombia: 1950–2000. Bogotá: Planeta, 2006.
———. Los Salones Atenas en la colección del Museo de Arte Moderno de Bogotá. Bogotá: Museo de Arte Moderno, 2003.
Valencia, Luis Fernando. "Consideraciones sobre la pedagogía del arte." Revista del arte y la arquitectura en América Latina (Medellín) 2, no. 8 (1982): 31–35.