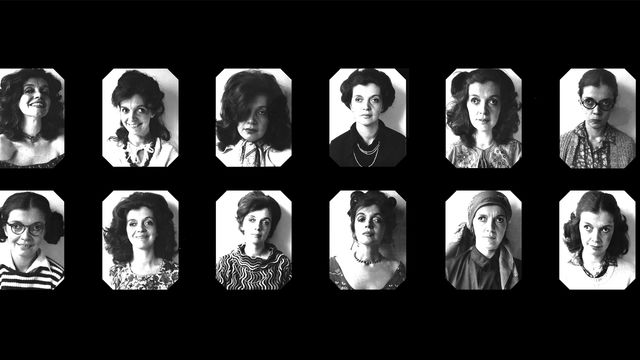 The Brazilian artist Regina Vater was born in Rio de Janeiro in 1943. She studied painting and drawing with Frank Schaeffer (1917–2008) between 1958 and 1962 and with Iberê Camargo (1914–1994) between 1962 and 1965. Vater studied architecture at the Universidade Federal do Rio de Janeiro in the 1960s. Her production explores a variety of mediums, including photography, artist's books, mail art, visual poetry, and especially installations. Her early work, conceptual in nature, commented on the oppression, censorship, and conservatism prevalent during Brazil's military regime. Themes related to the interaction between humans and the environment as well as African and indigenous Brazilian traditions are central to her practice.
Vater had her first exhibition in 1964, at Galeria Alpendre in Rio de Janeiro. In the 1960s she worked as a set design assistant for the Brazilian channel TV Tupi. In 1970 she created her first performance installation, Magi(o)cean, in which she invited friends to build an altar to the orishas (gods) Ogum and Oxumaré at Joatinga Beach in Rio de Janeiro. In the early 1970s she created the series of works on paper Nós (Knots or Us), and in 1972 she organized an art happening at Nossa Senhora da Paz Square. After receiving a travel prize at the Salão Nacional de Arte Moderna in 1972, Vater spent time in New York, where she photographed piles of garbage. The resulting images, inspired by the 1965 poem Luxo/Lixo (Luxury/Trash) by the concretist author Augusto de Campos, unfolded in multiple artworks, an artist's book, an audiovisual piece, installations, and postcards.
In 1980 Vater received a John Simon Guggenheim Memorial Foundation Fellowship to further her art research on installation, a format that she continued to expand. In 1985 she moved to Austin, Texas, with her husband, the video artist Bill Lundberg (b. 1942). Three years later she became a resident artist at ArtPace Foundation in San Antonio, Texas. She has also curated exhibitions of Brazilian art, such as Contemporary Brazilian Works on Paper (1979) at Nobé Gallery, New York, and Brazilian Visual Poetry (2002), the first exhibition of Brazilian visual poetry in the United States, at the Mexic-Arte Museum in Austin. Vater lived in Austin until 2012, when she returned to Brazil. In addition to many solo exhibitions, she participated in major exhibitions such as the Bienal de São Paulo (1969, 1976) and Venice Biennale (1976). Her work was included in Transcontinental: Nine Latin American Artists (1990) at Ikon Gallery in Birmingham, England, curated by Guy Brett. Her work can be found in the Museu de Arte Contemporânea, Universidade de São Paulo; Museu de Arte Moderna de São Paulo; and Blanton Museum of Art, University of Texas at Austin.
—Mariana von Hartenthal
Selected Solo Exhibitions
1964 Regina Vater, Galeria Alpendre, Rio de Janeiro
1976 Regina Vater, Museu de Arte Moderna do Rio de Janeiro
1977 Regina Vater, Centro de Arte y Comunicación, Buenos Aires
1986 Regina Vater, Blanton Museum of Art, University of Texas at Austin
2012 Regina Vater: Quatro ecologias, Oi Futuro, Rio de Janeiro 
Selected Bibliography
Alzugaray, Paula, ed. Regina Vater: Quatro ecologias. Rio de Janeiro: F10 Editora, Oi Futuro, 2013.
Amaral, Aracy A., and Paulo Herkenhoff. Ultramodern: The Art of Contemporary Brazil. Washington, DC: National Museum of Women in the Arts, 1993.
Brett, Guy. Transcontinental: An Investigation of Reality; Nine Latin American Artists. London: Verso, 1990.
Cottingham, Laura. Regina Vater 99.2. San Antonio, TX: ArtPace, 1999.
Vargas, Kathy, and Connie Arismendi. Intimate Lives: Work by Ten Contemporary Latina Artists. Austin: Women and Their Work, 1993.