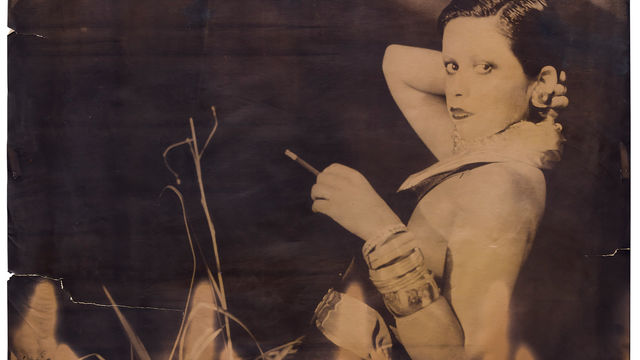 Born in 1951 in East Los Angeles—where she grew up immersed in a Hispanic urban culture attuned to fashion, music, and films—Patssi Valdez began her artistic career while still in high school. With friends Gronk (Glugio Nicandro, b. 1954), Harry Gamboa Jr. (b. 1951), Willie Herrón (b. 1951), and other collaborators, she founded in 1974 the seminal experimental group Asco (Spanish for nausea). Through performance, photography, and conceptual art, Asco responded with an independent and rebellious attitude to the dearth and negativity of Latino representations in popular culture, as well as to their lack of identification, with Aztec imagery and Mexican nationalistic mural painting. Exemplifying Asco's artistic stance is the series No Movies, still shots that portray Asco members posing in costume as they stage cinematic scenes. To support her artistic work, Valdez worked as a hairdresser at her mother's beauty salon before entering the Otis Parsons School of Art and Design, Los Angeles (BFA 1985).
After Asco disbanded in 1987, Valdez moved on to a successful solo career, dedicating herself primarily to photography, photo collage, and clothing design. By 1990, however, painting became her focus as she started to depict, in a saturated dark palette, interior domestic spaces. One example from this period is The Kitchen (1988), an interior space populated by sharp flying utensils. Her pictures gradually became brighter and lighter, and since 2010 she has experimented with gouache in smaller, more intimate works. Valdez's dynamic interiors have caught the attention of movie directors, and she has been the design consultant for such films as Gregory Nava's Mi Familia (1995) and Jose Luiz Valenzuela's Luminarias (1999).
Asco's trajectory was revisited in the exhibition Asco: Elite of the Obscure; A Retrospective, 1972–1987 (2011). Valdez's solo work was included in such major traveling group exhibitions of Chicano art as Le démon des anges, 16 artistes chicanos autour de Los Angeles (1989), which began at the Centre de Recherche pour le Développement Culturel, in Nantes, and Chicano Art: Resistance and Affirmation at the Wight Art Gallery at the University of California, Los Angeles (1990). Among many accolades, the artist received a Brody Art Fellowship in Visual Arts (1988), an artist-in-residence grant from the National Endowment for the Arts (1994), and a J. Paul Getty fellowship (1998) and was named Regent's Lecturer at the University of California, Berkeley (2013). Her work is held in the Whitney Museum of American Art, New York; Los Angeles County Museum of Art; and Smithsonian American Art Museum, Washington, DC.
—Mariana von Hartenthal
Selected Solo Exhibitions
1992 Patssi Valdez: Distant Memories, Daniel Saxon Gallery, Los Angeles, CA
1995 Patssi Valdez: A Room of One's Own, San Jose Museum of Art, San Jose, CA
1999 Patssi Valdez: A Precarious Comfort, Mexican Museum, San Francisco, CA
2001 Patssi Valdez: Pictures of Home, Patricia Correia Gallery, Santa Monica, CA
2014 Patssi Valdez: Picture Windows, Space Gallery, Pasadena, CA 
Selected Bibliography
Chavoya, C. Ondine, and Rita González, eds. Asco: Elite of the Obscure, a Retrospective, 1972–1987. Ostfildern, Germany: Hatje Cantz; Williamstown, MA: Williams College Museum of Art; Los Angeles: Los Angeles County Museum of Art, 2011.
González, Rita, Howard N. Fox, and Chon A. Noriega. Phantom Sightings: Art after the Chicano Movement. Berkeley: University of California Press; Los Angeles: Los Angeles County Museum of Art, 2008.
James, David E. "Hollywood Extras: One Tradition of 'Avant-garde' Film in Los Angeles." October, no. 90 (Fall 1999): 3–24.
McMahon, Marci R. Domestic Negotiations: Gender, Nation, and Self-fashioning in US Mexicana and Chicana Literature and Art. New Brunswick, NJ: Rutgers University Press, 2013.
Romo, Tere. Patssi Valdez: A Precarious Comfort / Una comodidad precaria. San Francisco: Mexican Museum, 1999.