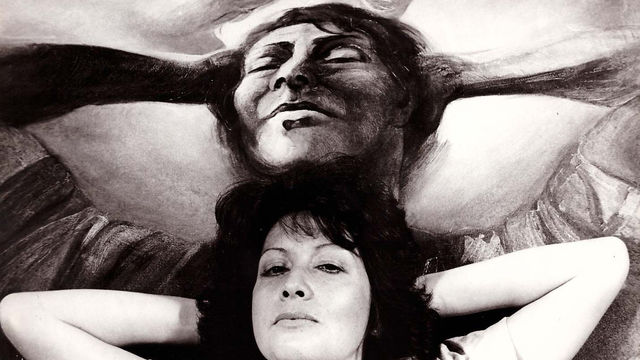 The painter and printmaker Nirma Zárate was born in Colombia in 1936 and died in 1999 at age sixty-three. In Bogotá she studied painting and sculpture at the Universidad de los Andes and music and painting at the Escuela de Bellas Artes, Universidad Nacional de Colombia, graduating in 1960. In 1961 she received a grant to travel in South America, and in 1962 she visited the United States, where she lived for four years. Her informalist paintings from the late 1950s and 1960s were celebrated by the Argentine art critic Marta Traba. At the end of the 1960s Zárate turned her attention to tackling social concerns in a neofigurative pop language based on objects and subject matter from daily life. A British Council scholarship allowed her to travel to England from 1969 to 1970 to study silk screen.
The period from 1971 to 1974 marked a moment of political activity in Zárate's art life: she joined the collective Taller 4 Rojo, which included the artists Fabio Rodríguez Amaya (b. 1950), Umberto Giangrandi (b. 1943), Carlos Granada (b. 1933), Jorge Mora (b. 1944), and her husband, Diego Arango (b. 1942). The silk screens and photomontages they made as Taller 4 Rojo responded to a collective dissatisfaction with the interven-tionist policies of the United States, especially in Vietnam. Through their graphic work the group advocated an art that promoted ideas of social welfare and justice for peasants and the urban working class. After separating from Taller 4 Rojo, Zárate, Arango, and other artists founded Taller Causa Roja, a much more politically committed workshop that completely renounced mainstream art circuits and opted to show its work in the countryside, in trade union halls, and in working-class neighborhoods.
Between 1983 and 1984 Zárate received a scholarship to study printmaking at Pratt Institute in Brooklyn. On returning to Colombia, she left behind the language of social realism and became interested in using paper as her preferred medium. Her work from the 1980s is characterized by the manipulation of handmade paper and the creation of abstract compositions. Zárate dedicated many years to the teaching of art as a member of the faculty of the Universidad Nacional de Colombia. Her work was accepted in eight national salons in Colombia, and she was awarded second place in the painting category in the 1963 national salon. With Taller 4 Rojo she showed in many important exhibitions, such as the 36th Venice Biennale (1972). Her work has been collected by all the major museums in Colombia and can also be found in private collections such as Fundación Proyecto Bachué.
—Marcela Guerrero
Selected Solo Exhibitions
1964 Nirma Zárate of Colombia: Oils, Organization of American States, Washington, DC
1968 Nirma Zárate, Biblioteca Luis Ángel Arango, Bogotá
1986 Huellas papel hecho a mano: Nirma Zárate, Museo de Arte Moderno de Bogotá
1989 Fibras, Centro de Arte, Medellín, Colombia
1992 Atmósferas andinas, Museo Bolivariano de Arte Contemporáneo, Santa Marta, Colombia 
Selected Bibliography
Gómez Echeverri, Nicolás. "Colombia y el arte pop." Biblioteca Luis Ángel Arango, Banco de la República. http://www.banrepcultural.org/warhol/colombia/zarate.html.
Nirma Zárate of Colombia: Oils. Washington, DC: Organization of American States, 1964.
Puccini, Rosa Margarita. "Ganadora de Concursos de Pintura Abre Exposición." El Espectador, August 18, 1964.
Serrano, Eduardo, and Gloria Zea. Huellas papel hecho a mano: Nirma Zárate. Bogotá: Museo de Arte Moderno, 1986.
Traba, Marta. Nirma Zárate. Bogotá: Biblioteca Luis Ángel Arango, 1968.