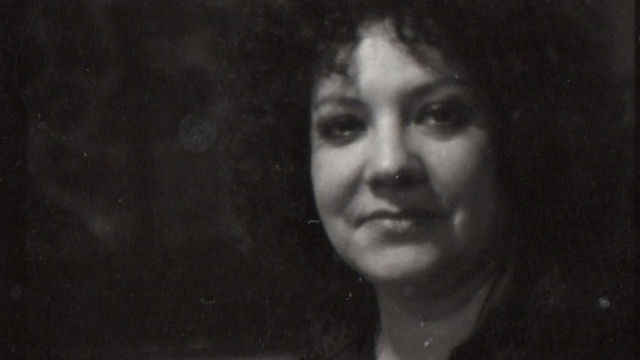 Born in 1938 in the town of Durazno in central Uruguay, Nelbia Romero began her artistic studies in 1959 at the Taller de Artes Plásticas there. Encouraged by her teacher the sculptor Claudio Silveira Silva (1939–2007), in 1962 she moved to Montevideo to attend the Escuela Nacional de Bellas Artes. Her father's death in 1967, however, forced her to abandon her studies. Between 1968 and 1969 she resumed her art education by taking printmaking classes at the school of the Club de Grabado and attending courses in art history and art education at the Universidad de la República. In the following years she became an active member of the club, producing her own work there, illustrating print publications, and teaching workshops to children and adults. In 1976 she had her first solo exhibition.
At the same time she coproduced, with three other draftswomen—Beatriz Battione (b. 1949), Irene Ferrando, and Marta Restuccia (b. 1937)—and with Nelson Advalov (b. 1950) her first audiovisual work. Moving images and recorded sound would become constant elements in her work. In 1983 Romero presented the multimedia installation Sal-si-puedes (Get out if you can), a project unprecedented in its scope and ambition in Uruguay. It also delineated the conceptual makeup of future critical works: the reliance on historical (and anthropological) research; incorporation of music, sound, and body movement; and juxtaposition of actual bodies and their representations. In Sal-si-puedes, Romero drew a parallel between the 1831 massacre of the indigenous Charrúa people in Salsipuedes and the politics of the civic-military dictatorship (1973–85) in Uruguay. After the country's return to democracy in 1985, she continued to unearth Uruguay's pre-Hispanic heritage and the role of the indigenous Guaraní people, which had been practically erased from the country's official history and national identity, in the performance Uru-gua-y (1990); the installations Garra Charrúa (1992), Más allá de las palabras (Beyond words, 1992), and Bye, bye Yauguru (1995); and projects for the Museo Nacional de Antropología (1994) and Museo de Arte Precolombino e Indígena (2007). Between 1998 and 1999, together with Alcides Martínez Portillo (1951–2001), she developed participatory work questioning the notion and implications of patrimony.
Romero's installations, performances, and multimedia works brought her significant recognition: a John Simon Guggenheim Memorial Foundation Fellowship (1994) and Uruguay's major national prize, the Premio Figari (2005). She participated in the Havana Biennial (1986, 1994, 2000) and Mercosul Bienal in Porto Alegre, Brazil (2005). Between 1969 and the early 1990s Romero was a member of the Communist Party of Uruguay. She died in 2015 in Montevideo.
—Dorota Bizcel
Selected Solo Exhibitions
1983 Sal-si-puedes, Galería del Notariado, Montevideo, Uruguay
1992 Más allá de las palabras, Centro de Exposiciones del Palacio Municipal, Montevideo, Uruguay
1995 Bye, bye, Yauguru: Ojos que no sienten corazón que no ve, Salón Municipal de Exposiciones Subte, Montevideo, Uruguay
2003 Lunfardeces, Salón Municipal de Exposiciones Subte, Montevideo, Uruguay
2006 Nelbia Romero, Sala Figari del Banco Central del Uruguay, Montevideo, Uruguay
Selected Bibliography
Camnitzer, Luis. "Nelbia Romero." Art Journal 51 (Winter 1992): 12.
Giunta, Andrea. "Archives, Performance, and Resistance in Uruguayan Art under Dictatorship." Representations 136 (Fall 2016): 36–53.
Haber, Alicia. "Mitologías de ausencia en el arte uruguayo de hoy: Las instalaciones de Rimer Cardillo y Nelbia Romero." In Artes plásticas na América latina contemporânea, edited by Maria Amélia Bulhões and Maria Lúcia Bastos Kern, 151–65. Porto Alegre, Brazil: Editora da Universidade, 1994.
———. "Nelbia Romero: Rites of Farewell and Greetings." ArtNexus 21 (August–October 1996): 72–75.
Larnaudie, Olga. Nelbia Romero. Montevideo, Uruguay: Banco Central del Uruguay, 2006.