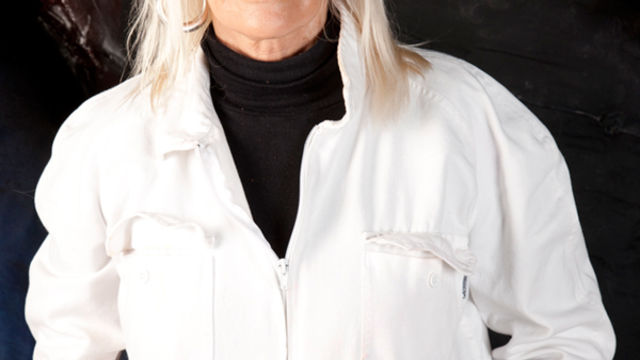 Born in Buenos Aires in 1943, Marta Minujín studied painting, sculpture, engraving, and drawing at a number of Argentine art schools in Buenos Aires, including the Escuela Nacional de Bellas Artes Prilidiano Pueyrredón, Escuela Superior de Bellas Artes Ernesto de la Cárcova, and Universidad de Buenos Aires. In 1953 she enrolled in the Escuela de Bellas Artes Manuel Belgrano and in 1957 received a degree in art education. Between 1960 and 1963 Minujín lived in Paris, where she staged her first happenings: El gallo (The rooster) at R. Cordier Gallery and Destrucción (Destruction) at Impasse Roussin. Minujín continued to stage happenings on her return to Argentina, including one of her best-known works, La menesunda (Mayhem, 1965), a group of environments spread over two floors and 1,614 square feet of the Instituto Torcuato Di Tella (ITDT), produced in collaboration with Rubén Santantonín (1919–1969), with assistance from Pablo Suárez (1937–2006), David Lamelas (b. 1946), Leopoldo Maler (b. 1937), Floreal Amor, and Rodolfo Prayón.
In 1966, in collaboration with Allan Kaprow (1927–2006) and Wolf Vostell (1932–1998), she conceived Three Country Happening and contributed to this international project the work Simultaneidad en simultaneidad (Simultaneity in simultaneity). Incorporating an address to selected audience members—transmitted by local television and radio stations, a newspaper message, telephone calls, and telegrams—Simultaneidad en simultaneidad demonstrated Minujín's prescient interest in the effects of mass media and social interactions on individual creativity and institutional critique.
In 1966 she moved to New York on a John Simon Guggenheim Memorial Foundation Fellowship. Minujín continued to stage happenings and large-scale public actions during the next two decades. In the late 1970s Minujín embarked on several monumental and participatory sculptures, including El obelisco de pan dulce (The obelisk of sweet bread, 1979). In this work, which showcased her ironic attitude toward authority, Minujín used more than ten thousand individual cakes to create a reproduction of a 118-foot-tall obelisk commemorating the founding of Buenos Aires. The anti-monument was exhibited for eleven days and then toppled over and eaten. During the 1980s Minujín inaugurated another group of sculptures quoting famous monuments and references from classical and Renaissance art, including the Venus de Milo and the Statue of Liberty, presented as multiples in the process of falling to the ground. Minujín's recent work reprises the series Colchones (Mattresses), first initiated in the 1960s, including sculptures fashioned from brightly painted, pliable, foam-mattress fabric and abstract paintings featuring similar motifs.
In 1964 Minujín was the recipient of the Premio Di Tella, awarded by the ITDT and presented by Clement Greenberg, Pierre Restany, and Romero Brest, for her happening Eróticos en technicolor (Erotica in technicolor, 1964). She has participated in major national and international exhibitions, such as the São Paulo Bienal (1983, 2010); the Mercosul Bienal, Porto Alegre, Brazil (1999, 2013); and the Venice Biennale (1986). In 2017 she participated in Documenta 14, Kassel, Germany. Her works are in major public collections around the world, including the Solomon R. Guggenheim Museum and Museum of Modern Art in New York, Centre Pompidou in Paris, and Museo Nacional de Bellas Artes in Buenos Aires.
—Leslie Cozzi
Selected Exhibitions
1962 Marta Minujín, Galería Lirolay, Buenos Aires
1975 La academia del fracaso, Centro de Arte y Comunicación, Buenos Aires
1986 Le sacre du printemps, Venice Biennale, Argentina Pavilion
2010 Marta Minujín: Minucodes, Americas Society, New York
2010 Marta Minujín: Obras, 1959–1989, Fundación Costantini, Museo de Arte Latinoamericano de Buenos Aires
Selected Bibliography
"Marta Minujín contra el caballete." Confirmado (Buenos Aires), November 7, 1965.
Noorthoorn, Victoria. Marta Minujín: Obras, 1959–1989. Buenos Aires: Fundación Costantini, Museo de Arte Latinoamericano de Buenos Aires, 2010.
Noorthoorn, Victoria, Sofía Dourron, and Javier Villa. La menesunda según Marta Minujín. Buenos Aires: Museo de Arte Moderno de Buenos Aires, 2015.
Rangel, Gabriela, ed. Marta Minujin: Minucodes. New York: Visual Arts of the Americas, 2015.
Ready, Sylvia, and Bárbara Becker. "La cultura del espectáculo: Marta Minujín: El arte se toma la calle." In Arte Contemporáneo, 34–49. Santiago: Contrapunto, 2015.