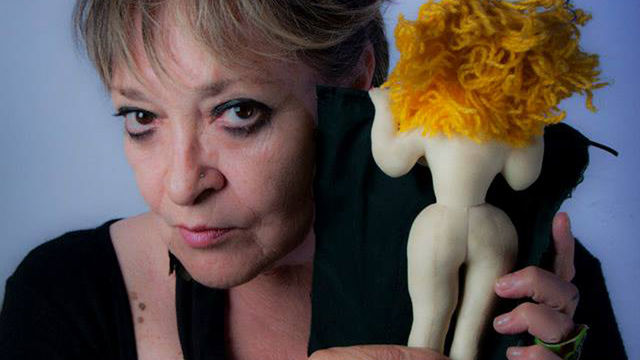 Maris Bustamante was born in Mexico City in 1949 to a Mexican mother and a Catalan father, a refugee of the Spanish Civil War. Between 1968 and 1973 she studied at the Escuela Nacional de Pintura, Escultura y Grabado "La Esmeralda." The ferment of the 1970s led Bustamante to cofound the contrarian collective No-Grupo, together with Alfredo Nuñez, Melquiades Herrera, and Rubén Valencia (all b. 1949). No-Grupo began with mail-art interventions and represented Mexico at the 10th Paris Biennale in 1977. Between 1979 and 1983 Bustamante, Nuñez, Herrera, and Valencia realized eleven events, or participatory performances, which they referred to as Montajes de momentos plásticos (Installations of visual moments) to resist imported, foreign classifications. Their work was informed by the ideas of the Peruvian Mexican critic Juan Acha, specifically his notion of arte no-objetual (nonobjectual art). In this context Bustamante developed projects that—through a combination of sardonic, sexually charged humor and references to Mexican popular culture—sought to recalibrate the perceptions and beliefs of mass audiences and affect institutional structures, including family, schools, museums, and politics. Between 1983 and 1993 she was active with the artist Mónica Mayer (b. 1954) in the feminist collective Polvo de Gallina Negra. Throughout the 1990s and 2000s she continued to produce critical performances focused on gender and sexuality, imbued with irony, black humor, and iconoclasm, such as Instantánea con Frida (Snapshot with Frida), broadcast on Mexican television in 1991.
Bustamante is a respected teacher and for more than thirty years has been a professor at the Universidad Autónoma Metropolitana de la Unidad Azcapotzalco. Since the 1990s she has maintained a robust career as a researcher and writer on themes related to conceptual art, performance, and participation. Her writing has appeared in seminal books and exhibition catalogues, including Corpus Delecti: Performance Art of the Americas (2000), Arte [no es] Vida: Actions by Artists of the Americas, 1960–2000 (2008), and Asco: Elite of the Obscure, 1972–1987 (2011). In recent years her work was included in such international exhibitions as Vídeo a la mexicana: De sexo-s, amor y humor (2010), curated by Mónica Mayer for Centro Cultural Montehermoso in Vitoria-Gasteiz, Spain; Perder la forma humana: Una imagen sísmica de los años ochenta en América Latina (2012–13) at Museo Nacional Centro de Arte Reina Sofía in Madrid; and Playing with Fire: Political Interventions, Dissident Acts, and Mischievous Actions (2014–15) at El Museo del Barrio in New York. Bustamante received grants from the Fondo Nacional para la Cultura y las Artes (1990) and Fideicomiso para la Cultura México-Estados Unidos (2001), among others. In the academic year 2008–9 she was a Fulbright Scholar at San Francisco State University. Since 2005 she has directed the Centro de Artes, Humanidades y Ciencias Transdisciplinarias.
—Dorota Bizcel 
Selected Actions and Performances
1979 La patente del taco, Palacio de Bellas Artes and Museo de Arte Moderno, Mexico City
1982 El pene como instrumento de trabajo, Museo de Arte Moderno, Mexico City
1990 Obsenikus, Bar La Bugambilia, Mexico City
1992 Yo Tarzán, Tú América, Mexic-Arte, Austin, TX
2004 Corazón sangriento, Maris Bustamante's kitchen, Mexico City 
Selected Bibliography
Bustamante, Maris. "1963–1983: Veinte años de no objetualismos en México." Ramona, June 2008. http://www.ramona.org.ar/node/20993.
Costantino, Roselyn. "Lo erótico, lo exótico y el taco: El reciclaje cultural en el arte y performance de Maris Bustamante." Chasqui 25, no. 2 (1996): 3–18.
Dumit Estévez, Nicolás. "Nicolás Dumit Estévez Interviews Maris Bustamante." Crossfire: Artist Interviews (blog), Museo del Barrio, New York, December 11, 2014. http://www.elmuseo.org/wp-content/uploads/2014/12/maris_by_nicolas_ed_da2.pdf [PDF, 4 pp., 25 KB]
Henaro, Sol. No Grupo: Un zangoloteo al corséartístico. Mexico City: Museo de Arte Moderno, 2011.
Jauregui, Gabriela. "No-grupo." Frieze, no. 137 (March 1, 2011). https://frieze.com/article/no-grupo.