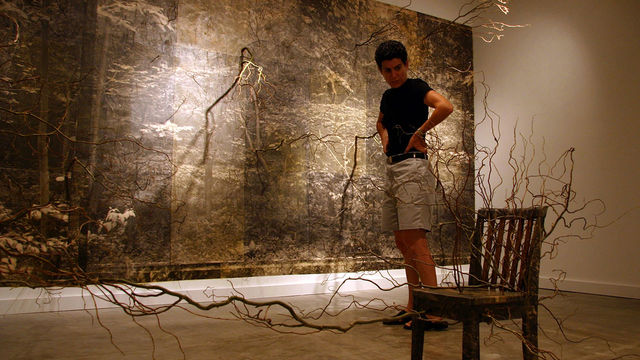 The experimental photographer María Martínez-Cañas was born in Cuba in 1960. When she was still a child, her family left Cuba and moved to Miami and then to Puerto Rico in 1964. A precocious photographer, she had her first exhibition in 1977, Reflejos, at Galería Casa Aboy in San Juan. Martínez- Cañas left Puerto Rico to attend the Philadelphia College of Art (BFA 1982) and School of the Art Institute of Chicago (MFA 1984). Martínez-Cañas had her first solo museum show, María Martínez-Cañas: Photographs, at Museo de Historia, Antropología y Arte, Universidad de Puerto Rico, in 1983. A Fulbright-Hays grant awarded in 1985 allowed her to move to Spain, where she frequently visited the Archivo de Indias in Seville and Biblioteca Nacional in Madrid. The archival sources she culled from these institutions, such as historical maps and documents, inspired her to create negatives based on Cuban maps. She returned to the United States in 1986 and settled in Miami.
Her career has been marked by an insatiable drive to experiment with different photographic techniques. Two important series from the 1990s—Totems and Quince sellos cubanos (Fifteen Cuban stamps)—epitomize her interest in a photomontage aesthetic and use of imagery drawn from her Caribbean childhood. In the mid- to late 2000s she created several series for which she digitally manipulated photographs taken by the art critic José Gómez-Sicre and photographs of her father, José Martínez-Cañas. The result is a technical intervention of images that pays homage to and defies the fatherly figures in her life. Martínez-Cañas's experiments with photography have included such diverse methods as utilizing stains, saliva, and onion skin and printing on tapestry, newsprint, and vellum. In 2007 she began to combine photographic images with hand-traced drawings printed on canvas in her Tracing series.
Martínez-Cañas has been nominated for a Pollock-Krasner Foundation grant and has been the recipient of many awards and grants, including a National Endowment for the Arts grant (1988) and a Civitella Ranieri Foundation fellowship (2014) in Umbertide, Italy. Her photographs are in private and public collections, including the Los Angeles County Museum of Art; Lowe Art Museum, University of Miami; and Museum of Modern Art and Whitney Museum of American Art in New York.
—Marcela Guerrero
Selected Solo Exhibitions
1991 Fragmented Evidence, Catherine Edelman Gallery, Chicago
1994 Cronologías, 1990–1993, Iturralde Gallery, Los Angeles
2000 María Martínez-Cañas: Works, 1980–1999, Frederic Snitzer Gallery, Miami
2009 Tetralogy, Julie Saul Gallery, New York, and Freedom Tower, Miami
2015 What Remains, Julie Saul Gallery, New York
Selected Bibliography
Grundberg, Andy, Jorge Hilker Santis, and Olga M. Viso. María Martínez-Cañas: A Retrospective. Fort Lauderdale, FL: Museum of Art Fort Lauderdale, 2002.
María Martínez-Cañas: Piedras (Stones) Series. Los Angeles: Iturralde Gallery, 1998.
Moreno, Gean. Tetralogy: Lies, Adaptation, Tracing, Duplicity as Identity. Miami: Miami Dade College Art Gallery System, 2009.
Nordström, Alison Devine. Black Totems: Photographs by María Martínez-Cañas. Daytona Beach, FL: Southeast Museum of Photography, 1995.
Sullivan, Edward J. Jardines de sombra. Buenos Aires: Galeria Arte x Arte, 2000.