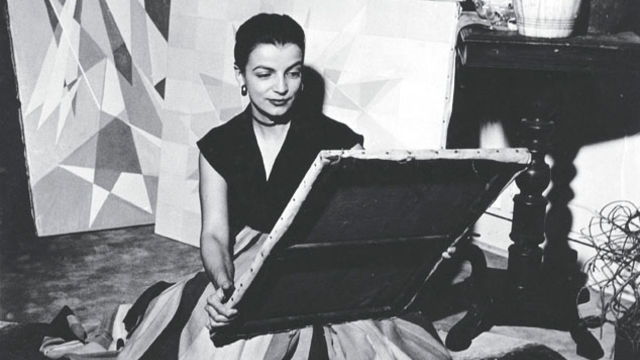 Born in 1920 in Belo Horizonte, Brazil, Lygia Clark began formal studies in painting in 1947, first with Roberto Burle Marx (1909–1994) and Zélia Ferreira Salgado (1904–2009) and then in Paris with Fernand Léger (1881–1955), Isaac Dobrinsky (1891–1973), and Árpád Szenes (1897–1985). In 1952 Clark returned to Rio de Janeiro and opened her first solo exhibition at the Salão Nacional de Arte Moderna. Over the following years she became closely associated with the concrete and neoconcrete Grupo Frente alongside fellow Brazilian artists, including Hélio Oiticica (1937–1980) and Lygia Pape (1927–2004). Throughout the 1950s Clark produced abstract paintings with geometric arrangements in a variety of colors. By the end of the 1950s she had pared her compositions to an exclusively black-and-white palette. At the same time she moved from two to three dimensions, a journey fully realized by the artist's interactive folding-metal sculptures, the Bichos (Critters), which earned her the sculpture prize at the 6th Bienal de São Paulo (1961). In 1964, the year of Brazil's military coup, Clark left for Paris and largely remained abroad until 1976. During this period her reputation grew through international exhibitions, including a midcareer retrospective at Signals Gallery in London and group presentations at Yale University Art Gallery, Whitechapel Gallery, and Arnolfini Gallery, among others.
Increasingly turning her attention to engagement, Clark taught gestural communication at the Sorbonne, Paris, in 1972, began studying psychoanalysis with Pierre Fédida (1934–2002), and took lessons in therapeutic relaxation treatments. When she returned to Rio de Janeiro in 1976, her primary focus was creating what she called objetos relacionais (relational objects) to foster therapeutic experiences. By the end of the 1970s her art production ceased as she focused exclusively on private therapeutic practice. She died in Rio de Janeiro in 1988. A mainstay of international group exhibitions, Clark exhibited her work at the Venice Biennale (1954, 1960, 1962, 1968) and in every São Paulo Bienal between 1953 and 1967. She received numerous awards and grants, including the Guggenheim International Award (1958, 1960). Her work has been acquired by public collections, including the Arts Council Collection and Tate Modern, London; Centre Pompidou, Paris; Museum of Fine Arts, Houston; and Museu de Arte Moderna de São Paulo.
Selected Solo Exhibitions
1963 Lygia Clark, Museu de Arte Moderna do Rio de Janeiro
1965 Lygia Clark, Signals Gallery, London
1971 Lygia Clark, Galeria Ralph Camargo, São Paulo
1997 Lygia Clark, Fundació Antoni Tàpies, Barcelona
2014 Lygia Clark: The Abandonment of Art, 1948–1988, Museum of Modern Art, New York
Selected Bibliography
Brett, Guy. "Lygia Clark: In Search of the Body." Art in America 82 (July 1994): 57–63, 108
Butler, Cornelia H., and Luis Pérez-Oramas. Lygia Clark: The Abandonment of Art, 1948–1988. New York: Museum of Modern Art, 2014.
Clark, Lygia, and Yve-Alain Bois. "Nostalgia of the Body." October, no. 69 (Summer 1994): 85–109.
Coëllier, Sylvie. Lygia Clark (l'enveloppe): La fin de la modernité et le désir du contact. Paris: Harmattan, 2003.
Rolnik, Suely. "Politics of Flexible Subjectivity: The Event Work of Lygia Clark." In Antinomies of Art and Culture: Modernity, Postmodernity, Contemporaneity, edited by Terry Smith, Nancy Condee, and Okwui Enwezor, 97–112. Durham, NC: Duke University Press, 2008.