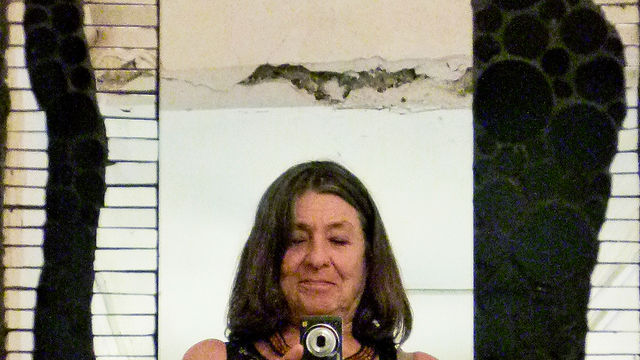 The photographer Lourdes Grobet was born in 1940 in Mexico City. She studied fine arts at the Universidad Iberoámericana under Mathias Goeritz (1915–1990) and Kati Horna (1912–2000). In her early years as a painter Grobet worked as an assistant to the Mexican artist Gilberto Aceves Navarro (b. 1931), whom she considers, along with Goeritz and Horna, one of her greatest mentors. After a trip to France, she began to focus on photography as she never felt completely comfortable with the medium of painting. Three important exhibitions followed in the first half of the 1970s. At Galería Misrachi in Mexico City in 1970, Grobet presented the installation Serendípiti (Serendipity), a maze of raised floors, lights, and mirrors, which the audience was invited to walk through. In A la mesa (To the table), presented at Casa del Lago in Mexico City in 1973, she showcased photomurals of household appliances, referring to the acts of cooking and eating. In 1975, again at Casa del Lago, Grobet carried out a photo performance titled Hora y media (Hour and a half). For this presentation Marcos Kurtycz (1934–1996) photographed Grobet as she walked across a wooden frame and tore away the stretched aluminum foil that covered it. Having turned the exhibition space into a darkroom of sorts, she then enlarged and developed photographs without the use of a fixer. When the lights were turned on, the photos disappeared in the presence of the audience.
After these experiments in photography, in 1977 Grobet moved to Great Britain, where she studied at Cardiff School of Art and Design in Wales. On returning to Mexico in the late 1970s, she became involved with the newly founded Consejo Mexicano de Fotografía, a cultural institution established to promote and develop the photographic arts in Mexico, and the Grupo Proceso Pentágono, a group that defined experimentation and collective work as its main artistic tools and to which Grobet belonged from 1978 to 1993. In the 1980s and following decades, Grobet photographed the popular sport lucha libre (freestyle wrestling) and its main figure, El Santo, and published several photo-essays documenting the tradition and its players. From 1986 to 2002 she photographed members of the Laboratorio de Teatro Campesino e Indígena. A multifaceted and prolific artist, Grobet has participated in or carried out projects in theater, film, and video. One such example was her participation from 1983 to 1984 in De mugir a mujer, an experimental multimedia play in which seven women were invited to reflect on what it means to be female. Her photographs can be found in several collections, including the Fundación Cultural Televisa and Centro de la Imagen, Mexico City; Harry Ransom Center, University of Texas at Austin; and Musée du Quai Branly, Paris.
—Marcela Guerrero
Selected Solo Exhibitions
1970 Serendípiti, Galería Misrachi, Mexico City
1985 53 cuadras, Museo del Chopo, Mexico City
1996 La Filomena, Centro de la Imagen, Mexico City
2005 Lourdes Grobet: Retrospective, Bruce Silverstein Gallery, New York
2012 El nuevo hombre de Bering, NegPos, Nîmes, France
Selected Bibliography
Conger, Amy, and Elena Poniatowska. Compañeras de México: Women Photograph Women. Riverside: University Art Gallery, University of California, 1990.
Grobet, Lourdes. Lucha Libre: The Family Portraits. Mexico City: Editorial RM, 2009.
Hernández Carballido, Elvira. "En la vanguardia: Lourdes Grobet." Fem 17 (January 1993): 44–45.
Lourdes Grobet. Madrid: Turner, 2005.
Morales, Alfonso, ed. Lucha Libre: Masked Superstars of Mexican Wrestling. New York: D.A.P., 2005.