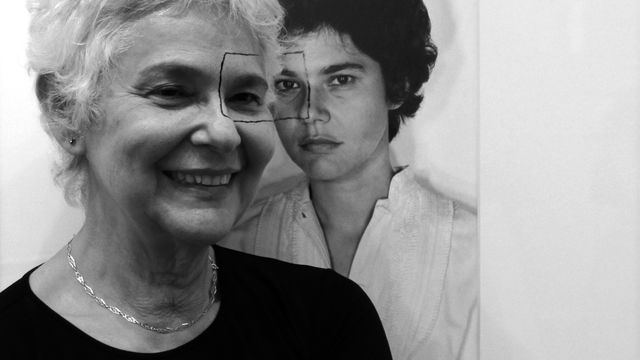 Born in Buenos Aires in 1941, Liliana Porter studied at the Escuela Nacional de Bellas Artes in Buenos Aires (1954–58) and the Universidad Iberoámericana in Mexico City (1958–61). She has lived in New York since 1964. Her diverse oeuvre comprises printmaking, works on canvas, and time-based media as well as installations and public art projects. Porter began her career as a printmaker and studied at Pratt Institute in Brooklyn in the mid-1960s, shortly after arriving in the United States. In 1964 she and Luis Camnitzer (b. 1937), her then husband, whom she had met at Pratt, as well as the Venezuelan printmaker José Guillermo Castillo (1938–1999), founded the experimental New York Graphic Workshop, active until 1970, which promoted the destruction and disposability of the art object through the creation of FANDSO (Free, Assemblage, Nonfunctional, Disposable, Serial Object). Among her most celebrated early works was a series of photoengravings and installations of sheets of crumpled paper from the 1960s that troubled obvious distinctions between object and image and cemented Porter's reputation as an important early exponent of conceptualism. 
By the late 1960s photography would replace printmaking as her primary vehicle, prompting a profound change in the character of her work over the next several decades as she increasingly employed photomontage and appropriation to question distinctions between mimetic images and their referents. In the early 1970s Porter created a series of photographic installations of faces and hands, including her own, augmented with pencil lines, often extending into the space surrounding the image, which continued the trenchant critique of representation begun in her earlier works. Since the mid- 1980s she has created paintings, drawings, collages, videos, and photographs of kitsch and everyday objects, often integrating images of books and other textual represen-tations, which expand her engagement in processes of illusion and signification.
Porter was awarded a John Simon Guggenheim Memorial Foundation Fellowship (1980) and has also been the recipient of three New York Foundation for the Arts Fellowships (1985, 1996, 1999) as well as numerous other honors. She served as a professor at Queens College, City University of New York, between 1991 and 2007. Her work belongs to several major public and private collections internationally, including the Bronx Museum of the Arts, Metropolitan Museum of Art, Museum of Modern Art, and Whitney Museum of American Art, all in New York; Philadelphia Museum of Art; Museum of Fine Arts, Houston; Museo Tamayo, Mexico City; Museo de Bellas Artes, Caracas; Museo Nacional de Bellas Artes, Buenos Aires; Tate Modern, London; Museo Nacional Centro de Arte Reina Sofía, Madrid; and Daros Latinamerica Collection, Zurich.
—Leslie Cozzi
Selected Solo Exhibitions
1973 Projects: Liliana Porter, Museum of Modern Art, New York
1990 Liliana Porter: Selección de obras, 1968–1990, Museo Nacional de Artes Plásticas, Montevideo, Uruguay (traveled)
1992 Liliana Porter: Fragments of the Journey, 1968–1991, Bronx Museum of the Arts, New York
2003 Liliana Porter: Fotografía y ficción, Centro Cultural Recoleta, Buenos Aires
2013 Liliana Porter: El hombre con el hacha y otras situaciones breves, Fundación Costantini, Museo de Arte Latinoamericano de Buenos Aires
Selected Bibliography
Katzenstein, Inés, and Liliana Porter. Liliana Porter in Conversation with / en conversación con Inés Katzenstein. New York: Fundación Cisneros, 2013.
Liliana Porter: Fotografía y ficción. Buenos Aires: Centro Cultural Recoleta; Museo de Arte Latinoamericano de Buenos Aires, Colección Costantini, 2004.
Liliana Porter: Fragments of the Journey. New York: Bronx Museum of the Arts, 1992.
Mosquera, Gerardo. Liliana Porter: Photographs. New York: New York Foundation for the Arts and Monique Knowlton Gallery; Buenos Aires: Ruth Benzacar, 1996.
Porter, Liliana, and Ana Tiscornia. "Axonometry of the Future, or Prophecies for the Twenty-First Century." Translated by Rosalía Bermudez. In The Next Thing: Art in the Twenty-First Century, edited by Pablo Baler, 95–104. Madison, NJ: Fairleigh Dickinson University Press, 2013.