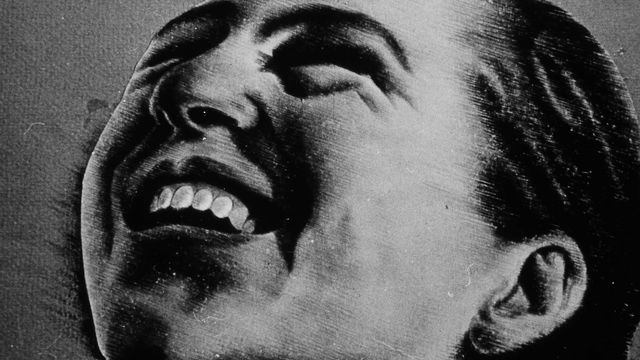 Katalin (Kati) Deutsch Blau was born in 1912 in Budapest to a family of Jewish bankers. Known for her documentation of the Spanish Civil War, Horna was an accomplished photo-journalist, portraitist, and architectural photographer who also created photomontages and photo collages. When she was nineteen, Horna moved to Berlin, where she frequented a group of artists and writers that included the German playwright Bertolt Brecht and her childhood friend the photographer Robert Capa (1913–1954). In 1933 she left Berlin to escape the rise of Nazism and spent three months in Budapest, learning photography with József Pécsi (1889–1956). Horna then moved to Paris, where she collaborated with Agence Photo and developed her first photographic series, Marché aux puces (The flea market, 1933).
Committed to the anarchist cause, Horna went to Spain in 1937 during the civil war, where she contributed to publications such as Umbral, Tierra y libertad, and Mujeres libres and registered the everyday life of communal pueblos. In 1938 the photographer married the Spanish painter and sculptor José Horna (1909–1963). After José's imprisonment and subsequent escape, the couple fled to Paris in 1938. There she began to take pictures of masks and dolls, which remained a recurrent theme in her work. With the beginning of World War II in 1939, the couple moved to Mexico City, where their house became a meeting point for exiled artists, among them the surrealist painters Remedios Varo (1908–1963) and Leonora Carrington (1917–2011).
For the rest of her career, Horna worked as a photographer for such publications as Nosotros, Mujeres, Mexico This Month, and Diseño. In 1962 she created the series Fetiche (Fetish), for the influential if short-lived magazine S.nob, which offered the photographer unique opportunities for creative exploration. Between 1958 and 1968 she was the photography editor for Mujeres, a publication dedicated to women writers, artists, and other cultural agents. From 1958 to 1963 Horna taught photography at the Escuela de Diseño at the Universidad Iberoamericana in Mexico City. Still in the 1960s, she collaborated with renowned Mexican architects, for example Pedro Ramírez Vázquez (1919–2013) and Ricardo Legorreta (1931–2011). The photographer died in Mexico City in 2000. Her works are held by the Archivo General de la Guerra Civil Española in Salamanca, Spain, and the Centro Nacional de Investigación, Documentación e Información de Artes Plásticas in Mexico City, and by her daughter, Ana María Norah Horna y Fernández.
—Mariana von Hartenthal
Selected Solo Exhibitions
2003 Las series de Kati Horna, Museo Nacional de Arte, Mexico City
2009 Kati Horna: El compromiso de la mirada; Fotografías de la Guerra Civil Española, 1937–1938, Casa de Velásquez, Madrid
2012 Kati Horna: Nostalgia de lo perdido, asombro por lo encontrado, Museo de Arte Contemporáneo de Oaxaca, Mexico
2013–14 Kati Horna, Museo Amparo, Puebla, and Jeu de Paume, Paris
2016 Told and Untold: The Photo Stories of Kati Horna in the Illustrated Press, Americas Society, New York
Selected Bibliography
Horna, Kati. Fotografías de la Guerra Civil Española, 1937–1938. Salamanca, Spain: Ministerio de Cultura, Dirección General de Bellas Artes y Archivos, 1992.
Kati Horna. Barcelona: RM Verlag; Mexico City: Editorial RM; Madrid: Brizzolis, 2013.
Krinsky, Emma Cecilia García, ed. Kati Horna: Recuento de una obra. Mexico City: Cenidiap, 1995.
Sánchez-Mejorada, Alicia. Kati Horna y su manera cotidiana de captar la realidad. Mexico City: Fondo Kati Horna and Cenidiap-Inba, 2004.
Los sentidos de las cosas: El mundo de Kati y JoséHorna. Mexico City: Instituto Nacional de Bellas Artes, 2003.